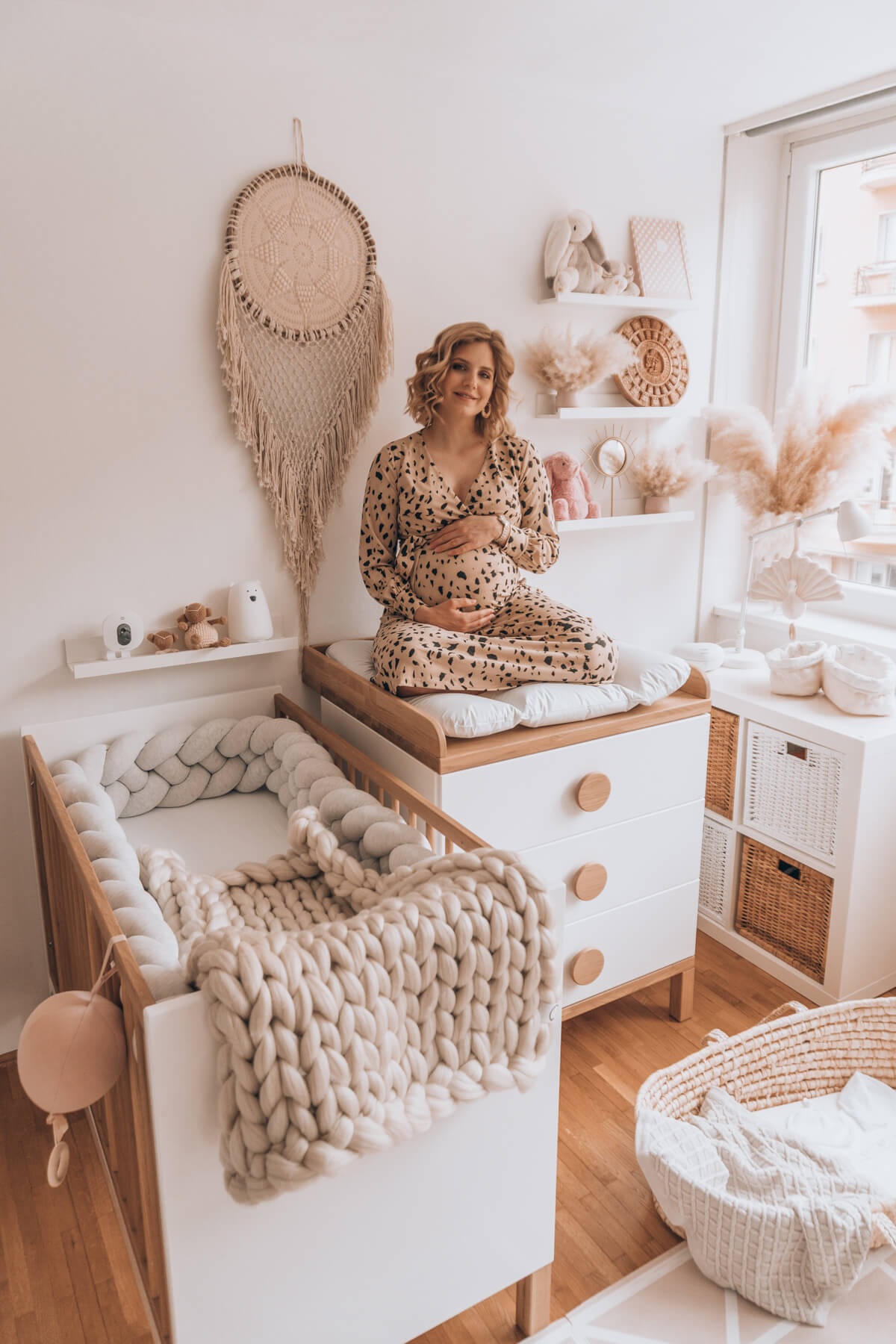 The stroller is ready, the baby car seat is securely attached to the isofix base in the back seat of our car, the maternity bag is packed (a blog post is coming up soon), most of the clothes are washed and ironed, the furniture is assembled, so I think practically everything is ready for arrival our baby.
Among the choice of children's equipment that took us the most time, there is definitely the stroller, baby car seat and the changing table/dresser with bed. It was with the furniture that we felt that we really had to choose something that would be in use for years to come – something that is of good quality, has a long lifespan and is therefore a bit more sustainable. Of course, I also diligently scrolled through Pinterest and Instagram, saving inspirational photos. While walking through the Baby Center in Ljubljana's BTC, I immediately looked at the Magicland changing table and crib, and was surprised to find that Satler Lip was a Slovenian brand.
We've selected the following baby items, you can see featured in this blog post:
Satler Lip caby changing dresser Magicland
Satler Lip Children's bed Magicland
Tommee Tippee Sangenic Twist & Click nappy disposal system
Tiny Love Gymini
Childhome Moses basket
Rabbit & Friends soft touch lamp
Angelcare AC517 touchscreen movement, video and audio baby monitor
The magical world is ready for the arrival of our little bug
The combination of white and solid oak wood impressed me with its modern Scandinavian design, which is just minimalist and at the same time unique to brighten up the space and bring warmth (not to mention the beautiful and not at all aggressive natural smell of wood). We followed the color scheme: the color of the wood (oak Magicland series is really beautiful – if you could choose all the furniture in the apartment in this color of wood), white, gray and a calm light pink. We attached some small (book) shelves, hung a big dream catcher that we brought from Mexico some time ago, added some pampache grass, toys, etc.
In addition to all the other little things of course – tetra diapers/burp cloths, teethers, all the hygiene items and everything else that goes with it. You could say that in fact all things are in place. That I have therefore completed the main part of the "nesting" and so now I am (more or less) calmly waiting for the arrival of our baby.
Voziček je sestavljen, lupinica je varno pritrjena na isofix bazo na zadnjem sedežu avtomobila, spakirana je torba za v porodnišnico (o tem še prihaja blog objava), oprana je večina oblačil, pohištvo je sestavljeno, mislim, da je torej praktično vse pripravljeno na prihod najine male bube.
Med izbiro otroške opreme, ki nama je vzela največ časa, so zagotovo voziček, lupinica in pohištvo – posteljica in previjalna komoda torej. Prav pri pohištvu se nama je zdelo, da resnično morava izbrati nekaj, kar bo v uporabi še leta – nekaj, kar je dobre kvalitete, ima dolgo življenjsko dobo in je torej nekoliko bolj trajnostno. Seveda sem tudi pridno scrollala po Pinteresu in Instagramu, si shranjevala inspirativne fotografije. Ob sprehodu po Baby Centru v ljubljanskem BTC sem se takoj zagledala v Magicland previjalno komodo in posteljico, presenečeno pa ugotovila, da gre za slovensko znamko Satler Lip (tisti Satler Lip, ki je še posebej znan po posteljici Julija, ki je vsaj sodeč po pripovedovanju mamic njihov paradni konj).
Magični svet je pripravljen na prihod najine male bube
Kombinacija bele barve in masivnega hrastovega lesa me je navdušila z modernim skandinavskim dizajnom, ki pa je ravno prav minimalističen in istočasno unikaten, da prostor popestri in vanj vnese toplino (da ne omenjam čudovitega in nič kaj agresivnega naravnega vonja po lesu).
Previjalna komoda Magicland se nama je zdela idealna izbira, ker je res stabilna, trdna in ima tri velike predale, ki se mehko zapirajo in nudijo nemalo prostora za otroške potrebščine in oblačila. Notri sem sama dodala razdelilnike in prvi predal napolnila s pleničkami, vlažilnimi robčki, krpicami, kremicami, fiziološko raztopino, termometrom in vsemi ostalimi potrebščinami, za katere je fino, da so vedno hitro pri roki. Druga dva predala sem napolnila z otroškimi oblačili in dodatki (zaenkrat so notri v velikosti do treh mesecev), tetra pleničkami in brisačami. Velika prednost previjalne komode Magicland je tudi, da ima veliko površino previjalne plošče z varovalno ograjico oziroma nastavkom, ki pa se kasneje lahko odstrani, tako da od takrat naprej, ko previjanja ne prakticirate več, služi kot lep predalnik. Na previjalni del se je dobro ujela mehka previjalna podloga Haberkorn, ki sva jo prav tako našla v Baby Centru.
Otroška postelja Magicland je seveda ujemajoči se set, izdelana je iz masivnega hrastovega lesa (v kombinaciji z MDF materiali), prihaja pa sicer v dveh standardnih velikostih. Midva sva se odločila za manjšo – 120 x 60 cm, saj nama trenutno stanovanje ne dopušča večje, sem pa prepričana, da nam bo vseeno služila res dolgo. Ima namreč 3 višine posteljnega dna, 3 iztične palice na stranici postelje, kasneje pa lahko namestiš namesto ene daljše stranice varovalno ograjico, tako da je posteljica uporabna do 5-6 leta starosti otroka.
Vse je že na svojem mestu…
Sledila sva barvni shemi: barva lesa (hrast Magicland serije je res čudovit – če bi lahko bi kar celotno pohištvo v stanovanju izbrala v tej barvi lesa), bela, siva in umirjeno svetlo rožnata. Pritrdila sva nekaj manjših (knjižnih) poličk, obesila velik lovilec sanj, ki sva ga pred časom prinesla iz Mehike, dodala nekaj pampaške trave, igračk… Ob previjalni komodi na uporabo čaka Tommee Tippee Sangenic koš za plenice na kasete (ki sva ga izbrala predvsem z vidika praktičnosti), sestavljen je tudi igralni center Tiny Love (čeprav bi realno zagotovo lahko še počakal v škatli, a se nisem mogla upreti), v Baby Centru sva našla tudi čudovito Childhome Moses košaro (v kateri bo prvih nekaj mesecev lahko počivala najina buba v dnevni sobi ali pa kjerkoli drugje, saj je prenosljiva in je resnično tako lep kos, da bi ga imel že za samo dekoracijo lahko v kateremkoli prostoru), majhno mehko nočno lučko Rabbit & Friends (ki spreminja barvo osvetlitve, kar pridno testiram že zadnjih nekaj tednov) in verjetno enega najpomembnejših varnostnih izdelkov – Angelcare elektronsko varuško s senzorjem dihanja, zvokom in videom (izbrala sva model AC517). Poleg vseh ostalih malenkosti seveda – tetra pleničk, grizal, pripomočkov za higieno in vsega ostalega kar sodi zraven.
Lahko bi rekla, da so pravzaprav vse stvari na svojem mestu. Da sem glavni del »gnezdenja« torej zaključila in tako sedaj (bolj ali manj) mirno čakam na prihod najine dojenčice.