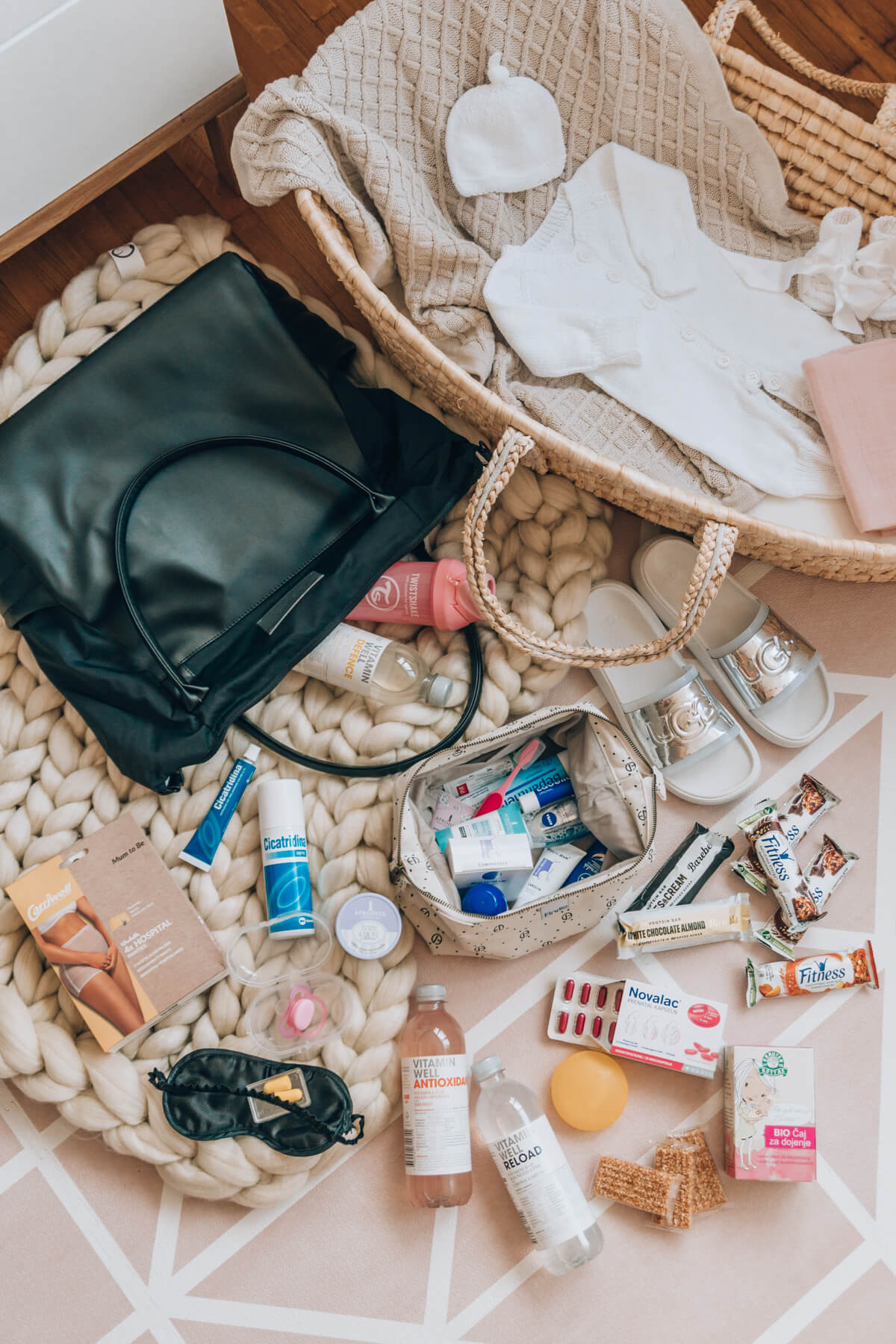 All set for the big day? Well, packing your hospital bag is definitely something you should do, about a month before your due date, just in case. While preparing my hospital maternity bag for labor and delivery I decided to also create this blog post, which might help you while organizing and packing your own.
What to pack in your hospital bag for labor and delivery?
Hospital maternity bag: I decided to go for my Cybex Priam changing bag, which I will be also using and carrying around with me in the lower basket of our Cybex Priam stroller. The bag was big enough to fit all the necessities for labor and delivery in it (note that I packed a separate bag for going-home outfits for me and our little one).
Documents (for giving birth in Slovenia):
insurance card
maternity/pregnancy medical journal with copies of important medical records
wallet with your ID card and some money (+ coins for vending machine or parking)
birth plan (or rather birth wishes written down, if you have some)
Toiletry bag with all the essentials:
travel size shower gel
travel size shampoo and conditioner
deodorant (no scent)
toothbrush, toothpaste and dental floss
facial wash
facial moisturizer
lipbalm
hair ties
travel size hair brush
nail file
What you need for your post-partum care:
Maternity pads: I heard recommendations for Vir 80 and to.to mama maternity pads, I decided to go for the latter, they are apparently better for you, if you get stiches. Most hospitals give you some, but usually the stock is not enough for the whole duration of your hospital stay.
Mesh net hospital panties: you usually get them in most Slovenian hospitals, but I still wanted to bring an additional pack. I will probably also use them when I come home.
Nursing bra: for my hospital stay I decided to bring soft and stretchy Carriwell Seamless GelWire nursing bra (I would suggest you check Carriwell's offer in your local store, such as Baby Center, but overall you won't miss with this one).
Nursing pads: I am planning to give Carriwell washable nursing pads a try later at home, but for the time period of my hospital stay I opted for to.to mama disposable nursing pads.
Nursing top + shorts: just in case I might be too hot in the hospital gown (mamas suggest to bring socks, if you are giving birth during colder months).
Support panties: Carriwell support panties are extra stretchy and comfortable with tummy and back support, I decided to bring them in my hospital and I will probably wear them for our trip back home from the hospital.
Nipple shields: by the recommendation of several moms and Baby Center staff, I selected Medela Contact nipple shields.
Nipple cream and compresses: lanolin is supposed to be helping soothe and moisturize nipples, the same goes for special nipple compresses, I bought both from the brand Multi-Mam.
Bephanten: the pink version of Bephanten is great for nourishing nipples and baby skin.
Ciciatridina spray and ointment: I also packed Cicatridina spray and ointment, as they help with healing wounds, abrasions or tears. I also read and heard many positive feedbacks of mothers while dealing with an episiotomy wound or skin tears after childbirth. Many moms say they are a must have later in child's life, when your toddler starts to run around wild (well, it's great for crazy cycling dads also, right Jan?). The code AJDA10 brings you free shipping and a 10% discount on dr. Gorkič webpage for both of the products (valid until 18th June 2020).
Breastfeeding tea Dr. Kottas BIO: I packed a few bags of herbal Dr. Kottas bio tea to help with acceleration of milk supply, supporting the digestive system and also generally contribute to better physical well-being. A larger supply is waiting for me at home, of course. At Flora Zelišča webpage you can also find the famous raspberry leaf tea, some baby teas, as well as this mix for breatsfeeding moms.
Additional things to bring:
Phone, charger and headphones: headphones are already packed, while I added a "phone + charger" sticky-note on the top of the bag, so I don't forget to bring them.
Medicine and supplements: besides my medicine, I am packing vitamin C, magnesium and Novalac Prenatal capsules.
Slippers, slides or flip-flops: I decided to bring plastic slides, which I can also wear in the bathroom.
Water cup with a straw: or just straws – so you can also drink while lying down.
Snacks: for you or your partner also.
Pacifier: you will probably head a lot of mixed reviews, some say not to bring it (because it can cause nipple confusion, especially in the early days), some say do. I decided to bring Philips Avent Ultra Air just in case.
Ear plugs and sleep mask
For going-home from the hospital:
going-home outfit for mom: a comfy, lightweight dress
going-home outfit for baby: a white body with a cotton light-knit onesize, hat and slippers made by my mother-in-law
light muslin blanket
infant car seat: we decided to choose the Cybex Cloud Z i-size car seat, which is safe, flexible and comfortable for a newborn; it's already installed in our car on an isofix car base and waiting for our first trip home!