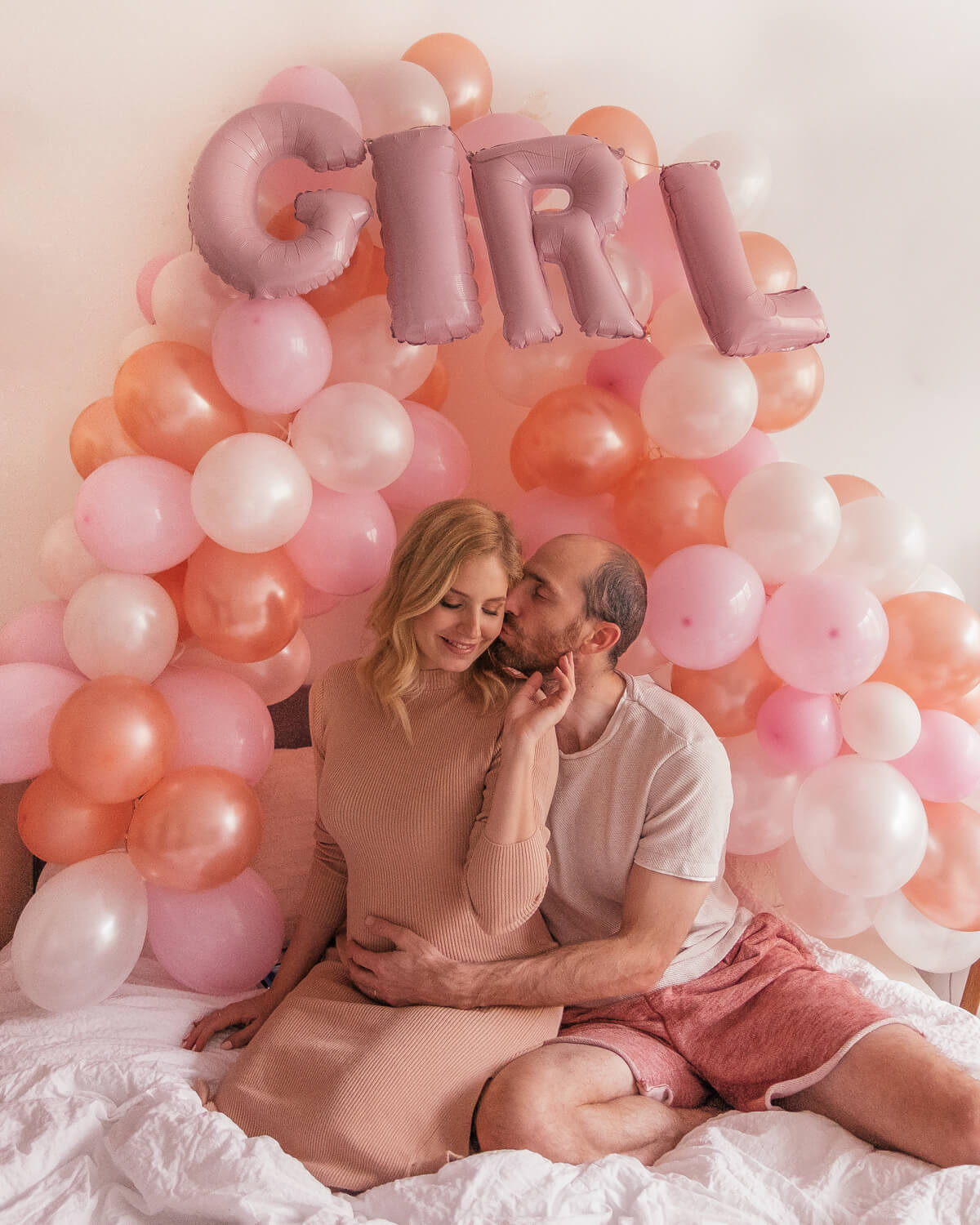 In my experience, the second trimester was the exact opposite of the first one. I felt better each week passing by, I had lots of energy and the morning sickness disappeared god knows where (almost forgot about it – almost!). It was, however, a time to get some preparations done for the newborn.
We are expecting a girl!
We had our first clue about the sex of our baby while the gynecologist performed the nuchal scan. But the gynecologist warned us we can't rely on the clue just yet, so we "shouldn't buy pink clothes just yet". Luckily we didn't have to wait for the morphology, because we took a Nifty Plus test in the 13th week. Nifty Plus test is the leading non-invasive prenatal test to detect the risk of certain genetic abnormalities, but it can also predict the gender with 98% confidence (it can be done from week 10 of pregnancy) – I've already written about it in the post about the first trimester of pregnancy, otherwise you can read more about the Nifty test here. We got the results a week later by a doctor by phone (then they also came by regular mail), who also confirmed the announcement – that we were, indeed, expecting a girl. Until the night before the nuchal scan, I "felt" that it was going to be a boy, I had dreamed about it many times and in shops my eyes were leaking to boy clothes … The night before the examination, I dreamed for the first time that I had given birth to a girl and that is why I was especially confused. Well, obviously my original instinct was more than wrong, and to be perfectly honest, I really wanted to have a girl. I would have been equally happy with a son, but my memories of all the shopping, talking and all the sillines with my mom and sister were so beautiful that I really wanted to experience them with my daughter as well. Anyway, the most important thing for us is that the child is healthy. The additional guarantee was given to us by the "low risk" Nifty Plus test results and morphology.
Morphology
In the second trimester, each pregnant woman goes through an examination of fetal morphology, which is considered one of the most important examinations in pregnancy. Between the 20th and 22nd week of pregnancy, the development of the fetus, its size, heart rate, individual organs and any developmental abnormalities are checked. It amazed me how meticulous the examination was, how the gynecologist measured every single thing, checked all the organs, and also made a beautiful picture for memory. Our baby did the exam with excellence (with the exception of a little nagging going on), so far it shows that she will have long legs. She had been extremely active throughout the examination, so the sports genes are clearly inherited.
Working out during pregnancy
The first trimester of my pregnancy passed with a sign of nausea, so it never occurred to me to exercise during this time. Thankfully, I went into pregnancy somehow physically well prepared, I was a little more prosperous (read: preparing for a wedding with FormaX), but still had to turn over a new leaf in the second trimester. None of the group exercises attracted me, which made me convinced even more by the personal approach of Simon Uršič (Stance Uplifted), who, together with Karla Oblak (currently on maternity leave), created a special exercise program for pregnant women, which is individually tailored to each individual . The exercise is monitored by measurements in the center of Synovia, unfortunately due to the current "Corona quarantine" situation all measurements were not made. Our training is currently done via video call, but in the first few weeks, though, he got to know me a lot in person, checking what I could do, where my weaknesses were, and what I needed to watch so that I could now train smoothly 3x a week. I move much less now (since I am practically quarantined all day), so I try to take an even longer walk with my husband Jan 2-3x a week. For the time being, I'm feeling great, Simon is adjusting excercises to my pregnancy and tummy-growth. I'm not able to do the same as before of course, but I still believe that I'm strong and fit enough to get through the rest of my pregnancy and to return to the "old rails" easily. The entire second trimester went by without pain or any other problems. Also, I am still adding Novalac Prenatal folic acid, C vitamin, D vitamin, magnesium and imunobiotics from Malinca to my diet (more in the First Trimester recap blog post).
Face skin shift and regular tummy skin care routine
If my well-being completely turned around in the second trimester, fortunately, this also applies to my skin. For the entire first trimester, and in fact, until the 15th week of pregnancy, I was accompanied by the so-called catastrophic skin. I already wrote about this in one of the blog posts where I also outlined my current skin cleansing routine. Thankfully, the skin has returned to normal, partly thanks to really strict care, but also partly due to the hormone damping.
Before pregnancy, I missed body skin care several times (I just couldn't stand the sticky or oily feeling on my skin), as soon as I saw two bars on the pregnancy test however, that changed. The first ointment I've been loyal to since I was pregnant is Afrodita Baby & Mom 100% natural ointment that is just oily enough to provide skin care for hours. This is undoubtedly my favorite way of caring for my tummy, but it's also used by mums to protect the diaper area for babies with the most sensitive skin. Another way to care for my beautifully rising belly is a combination of light lotion or body milk and Afrodita Baby & Mom almond oil. Belly care (plus hips) is part of my daily routine after a shower and so far I haven't missed it once. Partly because my skin is itchy; partly to do at least something small to prevent any stretch marks. While stretch marks are genetically conditioned, you can still influence and blend them out with the right, regular skin care and a healthy diet.
Filling out the Pregnancy Diary with dedication
Towards the end of the first trimester, I started filling out the Pregnancy Diary – Nosečkin dnevnik, recording weekly events, beautiful (and those slightly less beautiful) moments, examinations and other events related to pregnancy or the expectation of our babyboo. At the end of the second trimester, I added all the photos previously taken. I fill in my pregnancy diary about once a week or two, so much so that the memories are still fresh, and the little book will remain in the memory of that time. I also have a later intention to keep the Infant's Diary – Dojenčkov dnevnik covering the first year of the infant's life. Memories will be in this way stored securely.
Maternity clothes
Although I said "good-bye" to some of my regular-sized clothes towards the end of the first quarter, the second quarter posed a serious challenge for my wardrobe. Currently, I can only wear three of my old bras (all boneless), a new Carriwell sports bra without the discomfort, and also the Carriwell pregnancy leggings I literally live in during quarantine from the same brand. Two of them were also bought by my dad in Lidl before quarantine, but otherwise there are about 5 pregnancy pants and 3 pregnancy dresses in my closet – all of them are more than unused since I spend most of my time at home; I bought a few pieces at the beginning of the year at regular fashion departments, only in larger numbers. Although I have repeatedly and clearly stated that leggings are not my pants, I still spend 90% of my time in them – they are the best choice for a home sofa and a walk. I sincerely hope that we will soon return to the old rails of normal life so I can wear some of my pregnancy clothes in public as well.
The second trimester was marked by well-being. Unforeseen quarantine due to the COVID-19 epidemic is resulting in slightly less frequent pregnancy checks, fewer shopping visits (and therefore some online shopping). I will be showing my first purchases for our baby soon, while you can follow me on Instagram @ajdasitar where more content is waiting for you.