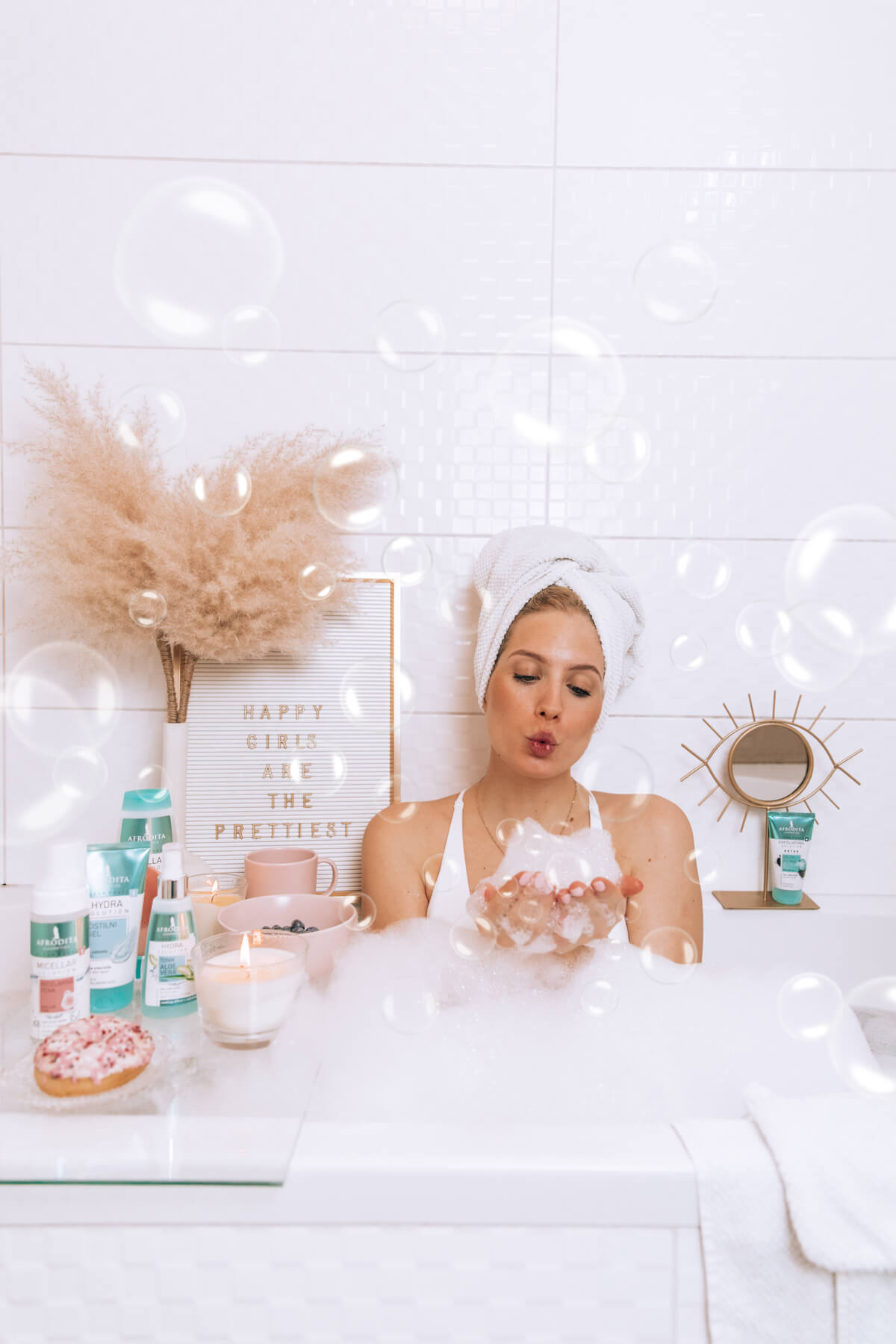 If I ever realized the true meaning of a proper skin cleaning routine it was years ago, when I stopped taking the contraception pills. I've been taking them for almost a decade without any problems during or before taking them when I was in puberty. I guess I could say I had a non-problematic, maybe a bit dry skin, but it all changed once I stopped taking the pill. I haven't expected it, even though I've heard such stories many times. The condition of my skin or choosing the right product was, until then, no challenge for me.
Somewhere at the end of last winter I've met with the annoying subcutaneous pimples for the first time. They appeared on my cheek/temple area and luckily weren't inflamed, so they looked more like clogged pores rather than the classical pimples. Nevertheless I couldn't get rid of them. Time heals, it was no different for me, so it took time for my hormones to get in balance, but in the meantime I sought help in regular skin care.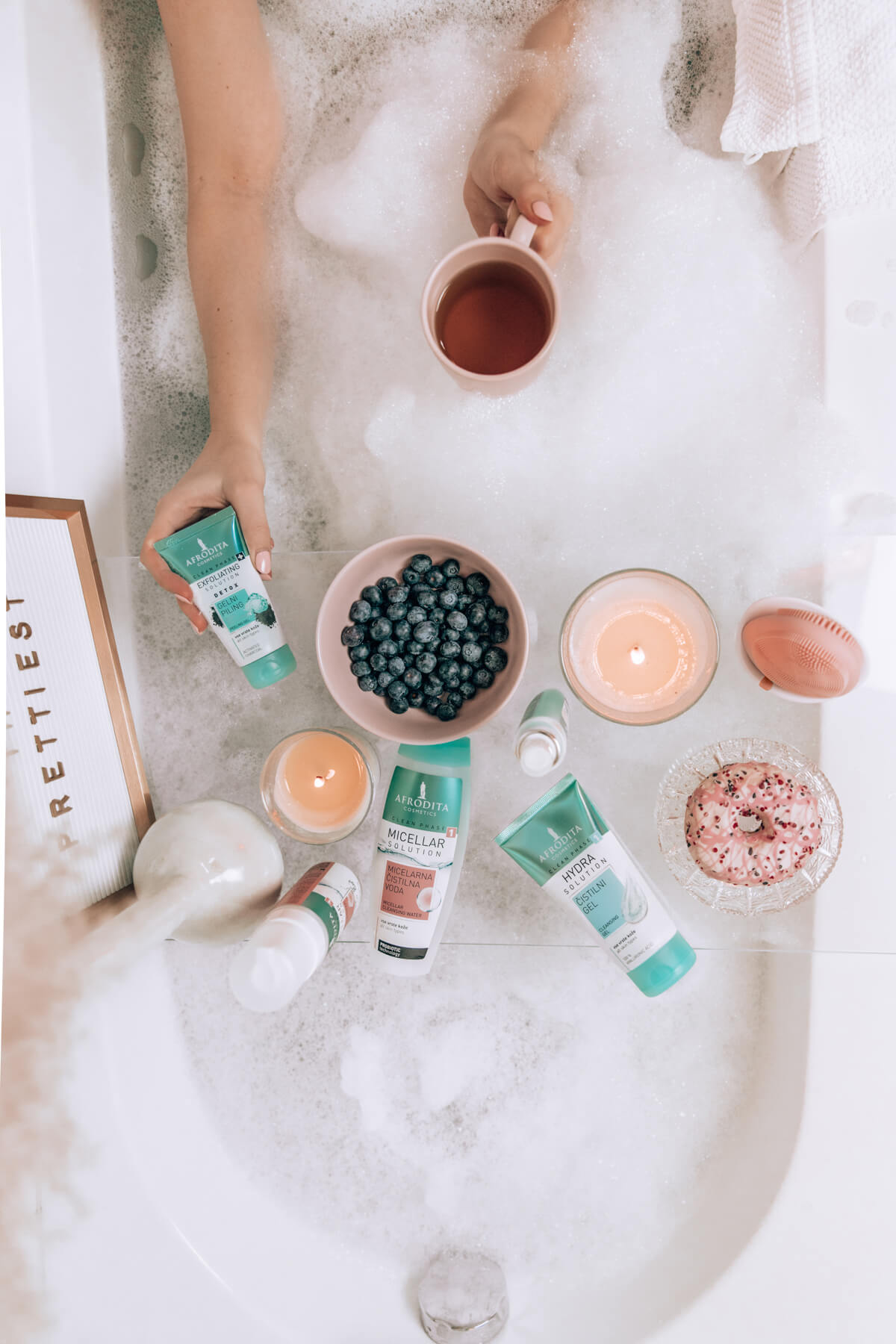 In the evenings I relied on double skin cleansing – usually in a combination of micellar water + a gel or a cleansing foam. In the morning I used only the gel/foam. Even today I religiously stick to a thorough skin cleaning and care, since I'm not one of the lucky ones who shine with the bursting healthy pregnancy glow. If I barely put my skin into balance for my wedding, the first trimester was a catastrophe for me (you can read more about my pregnancy in the first trimester in my blog post). Luckily my skin turned for the better in the second trimester. Surely, partly because of the hormones, but also because I finally found the right skin care combo. Who knows, maybe after pregnancy some other change for the worse is waiting for me, or maybe my skin will go back on it's good old ways.
What is my winning cleaning product combination you ask?
IN THE MORNING
I start my morning with a glass of water for my body and a cold water wake-up for my facial skin. I always cleanse my face with cold or lukewarm water – never hot, since the latter makes the epidermis even dryer. When the skin is soaked I apply Afrodita Clean Phase Hydra cleansing gel on it, which is one of the products that's being "stolen" by Jan on a regular basis. After the gel I continue with Afrodita Clean Phase Hydra tonic with aloe vera in a spray form. I spray it directly on my face and then apply a moisturizing cream.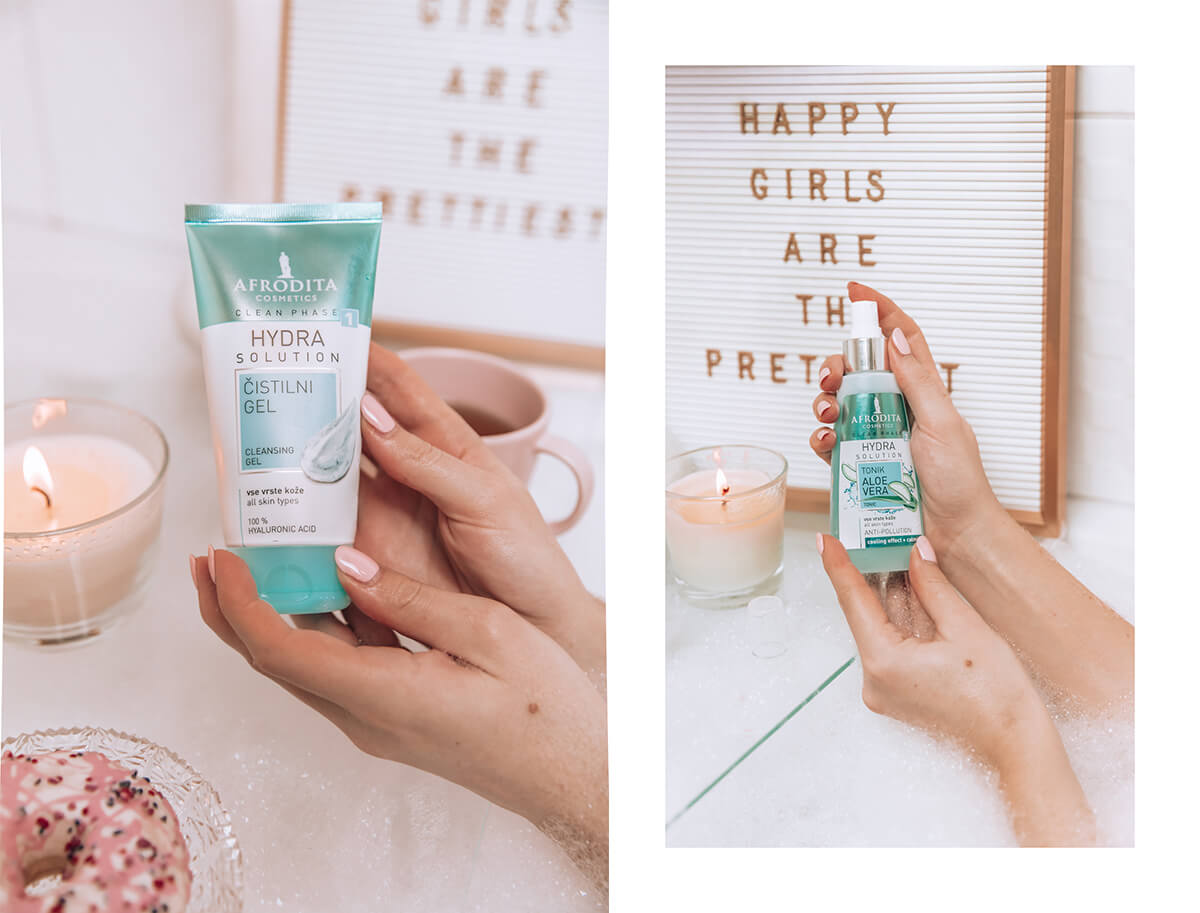 IN THE EVENING
My evening skin cleansing routine is a bit more complex. If I wear makeup through the day, I start the cleansing with two cotton pads soaked in Afrodita Clean Phase micellar water, which I press against my eyelids and wait for a few seconds and then gently rub on my eyelashes. For me, the Afrodita micellar water is one of the best, because it's effective, it doesn't irritate the eyes or the skin and it also doesn't contain the controversial ingredient polyaminopropyl biguanide, which is frequently added to other micellar waters and is said to be carcinogens. I use the other side of the pads for a fast clean of my face before I attend to the second step – cleansing with the Afrodita Clean Phase micellar foam, which I mostly use in the combination with a little gadget called Eggo. The foam is very practical and economical, since it makes sure that it gets evenly spread out throughout the face and a small amount is sufficient. The combination of the micellar water and foam functions great for my skin and I have "infected" some of my friends with it as well.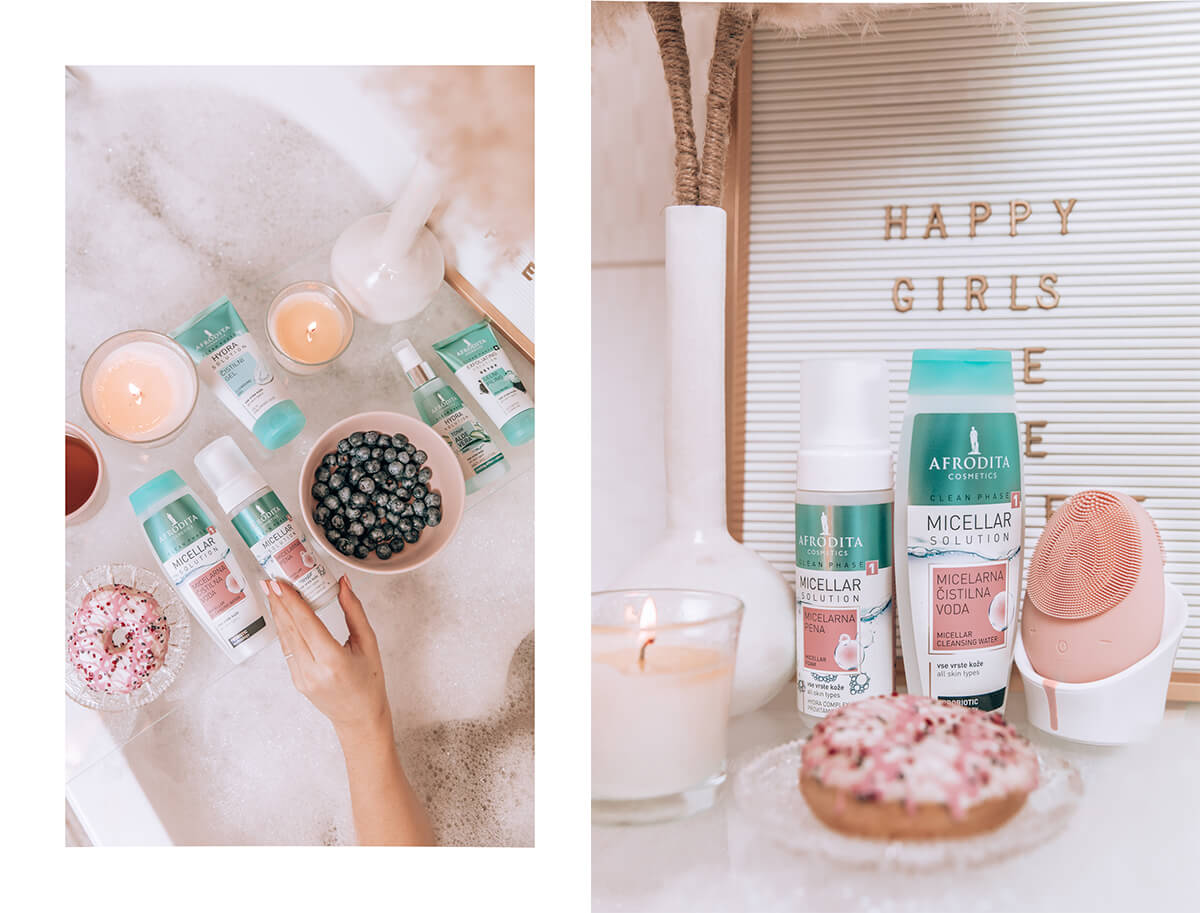 Whenever I wore a water resistant mascara (which I had frequently, since the hormones help with crying in any emotional situations; an advice for all the pregnant ladies out there: DON'T go to the movies without a water mascara) is Afrodita Clean Phase dual-phase eye-makeup remover my choice. It is very efficient, even when I apply 4 layers of the water resistant mascara when I want the dramatic effect.
I gift my skin a face peeling 2 times a week as well. I avoid chemical peelings in the time of pregnancy for safety reasons. So I get rid of my dead skin cells with Afrodita Clean Phase gel peeling with active charcoal. Let me mention that it's a product, which I would totally overlook in my non-problematic skin times. Sometimes we really need to step out of the static trends in try something new. The black little marbles melt while massaging the gel. I concentrate mostly on the nose and cheek/temple area and then I wash it off carefully with water and proceed with the skin care. I use the tonic at night as well.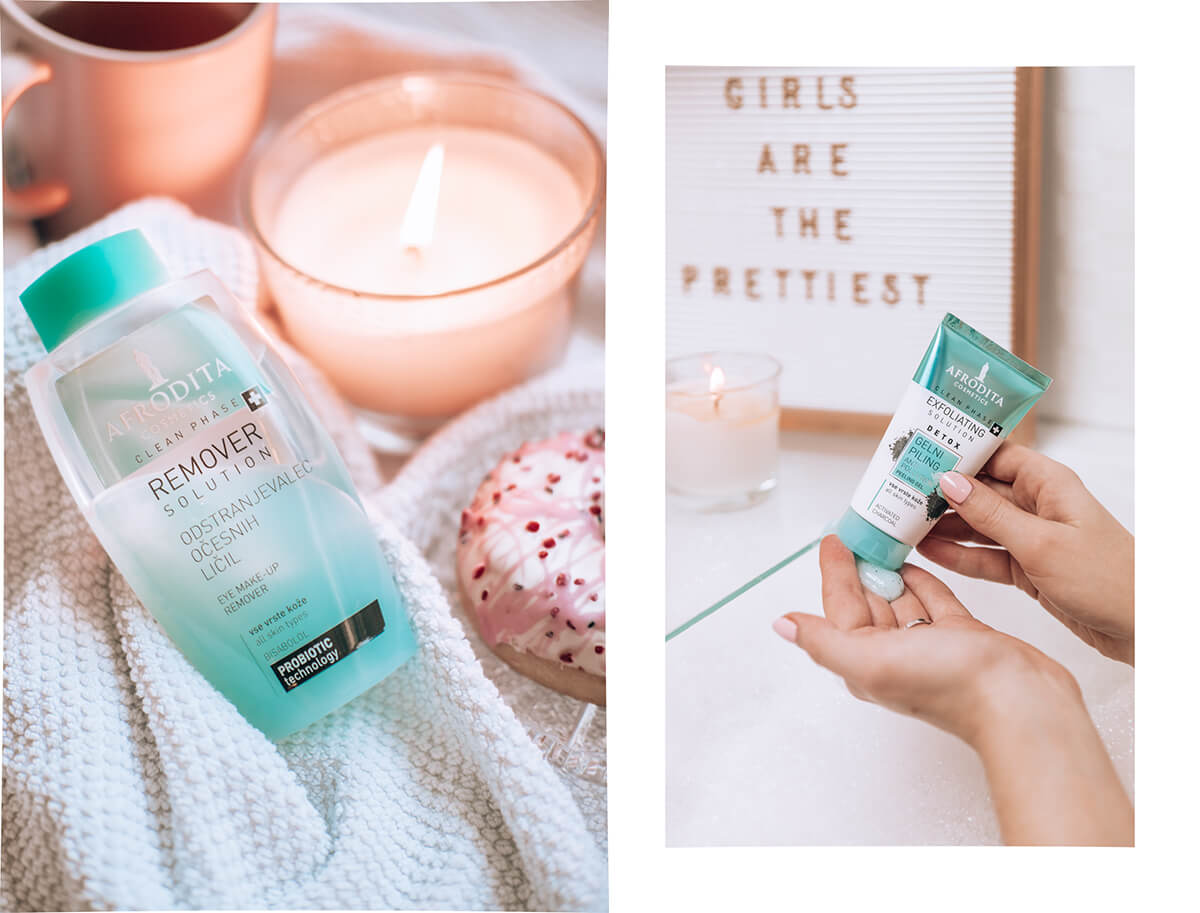 Maybe it seems to you like I'm a complete fanatic of Afrodita Clean Phase product line, which is actually true, but mostly because of their vast offer. The mentioned above are my all time favorites. If I counted right the line has 12 products, of which I had tried almost all and my sister who has slightly oily skin tried out the Clean Phase Re-balance. It is very easy to find a combination, which is appropriate for any individual's needs. The biggest plus of all is their price, the products cost around 4-6 euros and are accessible basically in any bigger drug store.
Until next time (of my skin update) don't forget – thorough cleansing and a carefully chosen skin care are key for the beautiful skin. Bad "foundations" aren't fixed not even the best makeup. And skin is also a very complex organ, which is affected by the environment, diet and other processes going on in the body, like hormonal change. Sometimes we just need to accept such changes and not give up on finding the best combination of products to aid them.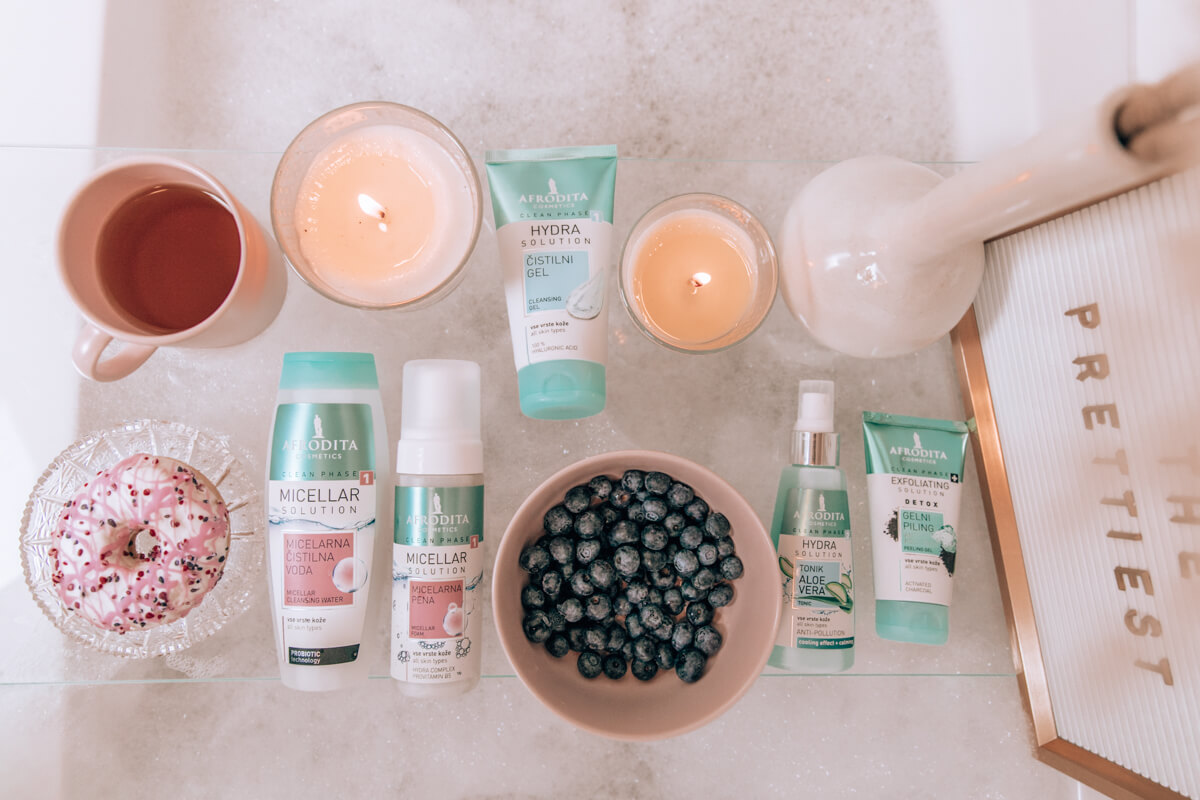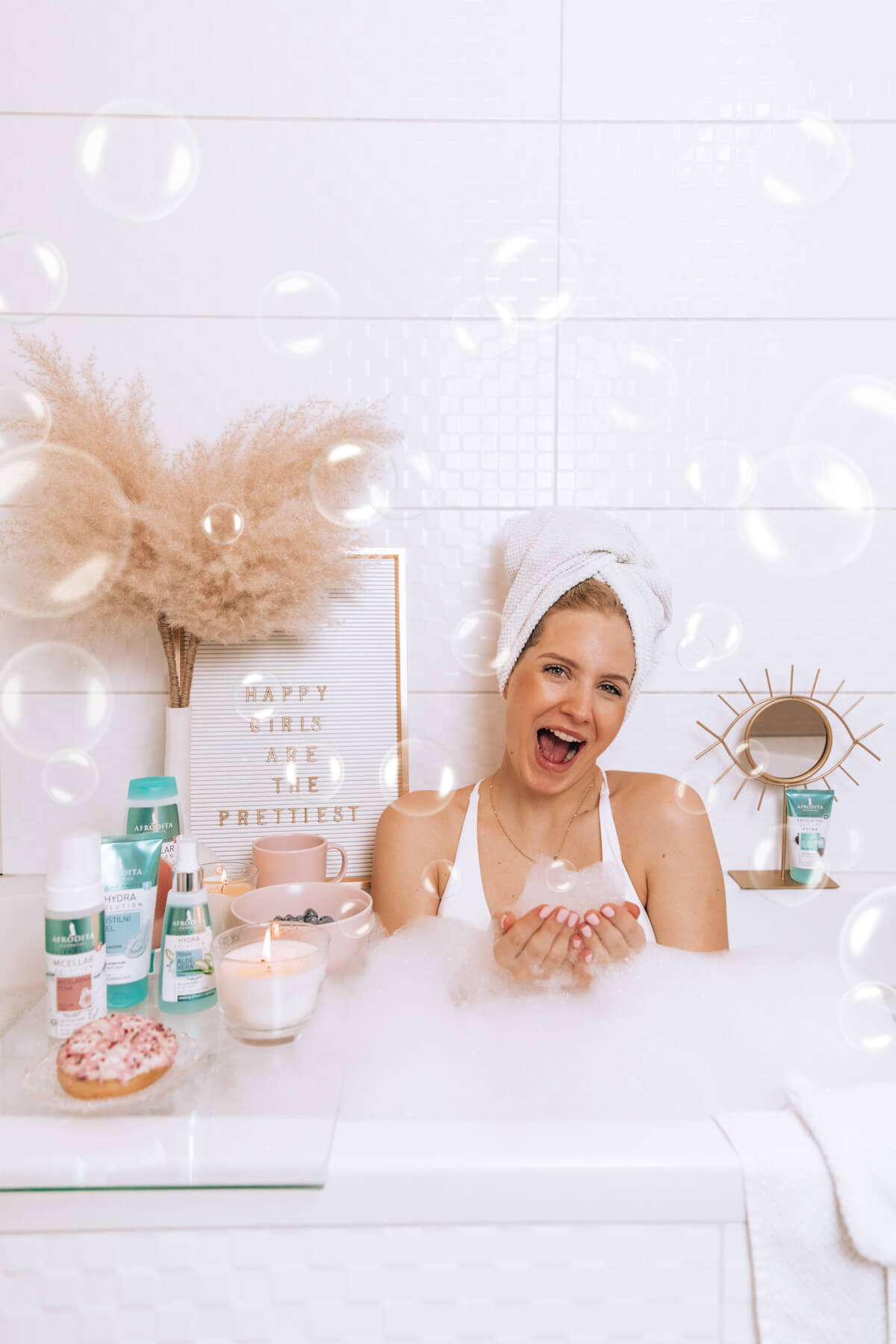 This post was created in collaboration with Afrodita Cosmetics. As always all images, thoughts and opinions are my own.