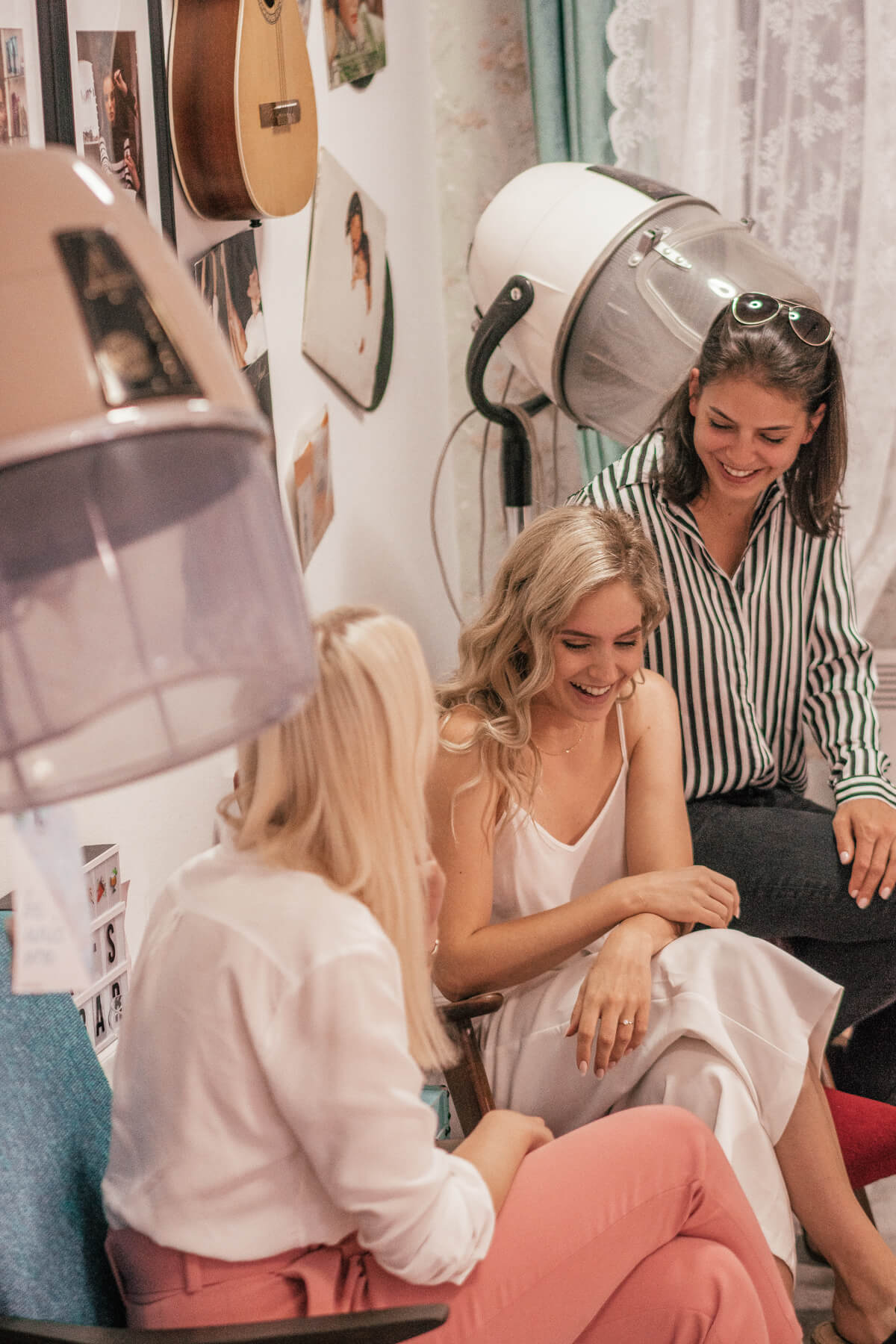 I wanted to spoil my closest 5 girls for the best support they gave me. My sister Alja (who was my maid of honor), Tesa, Gala, Aida, and Ajda really did their best jobs even before the wedding. They were the most beautiful (literally!) and the best company on my wedding day, that's why I knew I had to pamper them properly even before the big day – with a special pre-wedding beauty party. Viki's Bar was perfect for it-a cozy atmosphere in the heart of Ljubljana and just the right offer to enhance our weddings looks.
Cocktails, desserts and beauty treats
On the Thursday before the wedding my girls and I met at Viki's bar, where they arranged manicure for all with Shellac, which I've been a fan of for years, eyebrows using the Anastasia Beverly Hills method (I only trust my eyebrows to Viki as she really does her job perfectly) and above all arranged a great time filled with laughter, chatting and goodwill. Having a good time with the girls was particularly great for me to stop thinking about "is everything going to be ok, do we have everything and what if I forget something" fears and really just enjoy the evening.
In the end, Viki made me visit the magical Bahamas for a few minutes so that I was able to enjoy a naturally tan complexion on Saturday. Well, it looked natural, but unfortunately, I wasn't able to see Bahamas, so Viki made sure to help me with the Vita Liberata's spray tan – so I looked as close as if I really came from a three-week vacation in the Caribbean. If the spray tan is something you are interested in, make sure to check out my blog post or the highlight tab on my Instagram profile @ajdasitar. Again, she did a great job and I was really ready for the wedding weekend on Friday morning (when I washed the tan color from my skin).
A quick tip for all brides-to-be: do pamper yourself before the wedding, but make sure you try all the services beforehand. Wedding time is not time to experiment, but still trust the professionals who will make sure you have everything you need on the big day.
Shellac manicure (if handled by someone who knows it's job) is an ideal solution for any bride, as it ensures that the nail polish is not stained and the manicure lasts not only on the wedding day but also until the end of the honeymoon (if you travel right after the wedding). Beautiful and well-groomed eyebrows are the best foundation for a good makeup, and the same goes for quality facial care. I went for the Aquapeel Innofacial skin treatment at Viki's Place twice before the marriage, which made my skin moisturized, shiny and really clean. So treat yourself with something extra – for your body and soul!