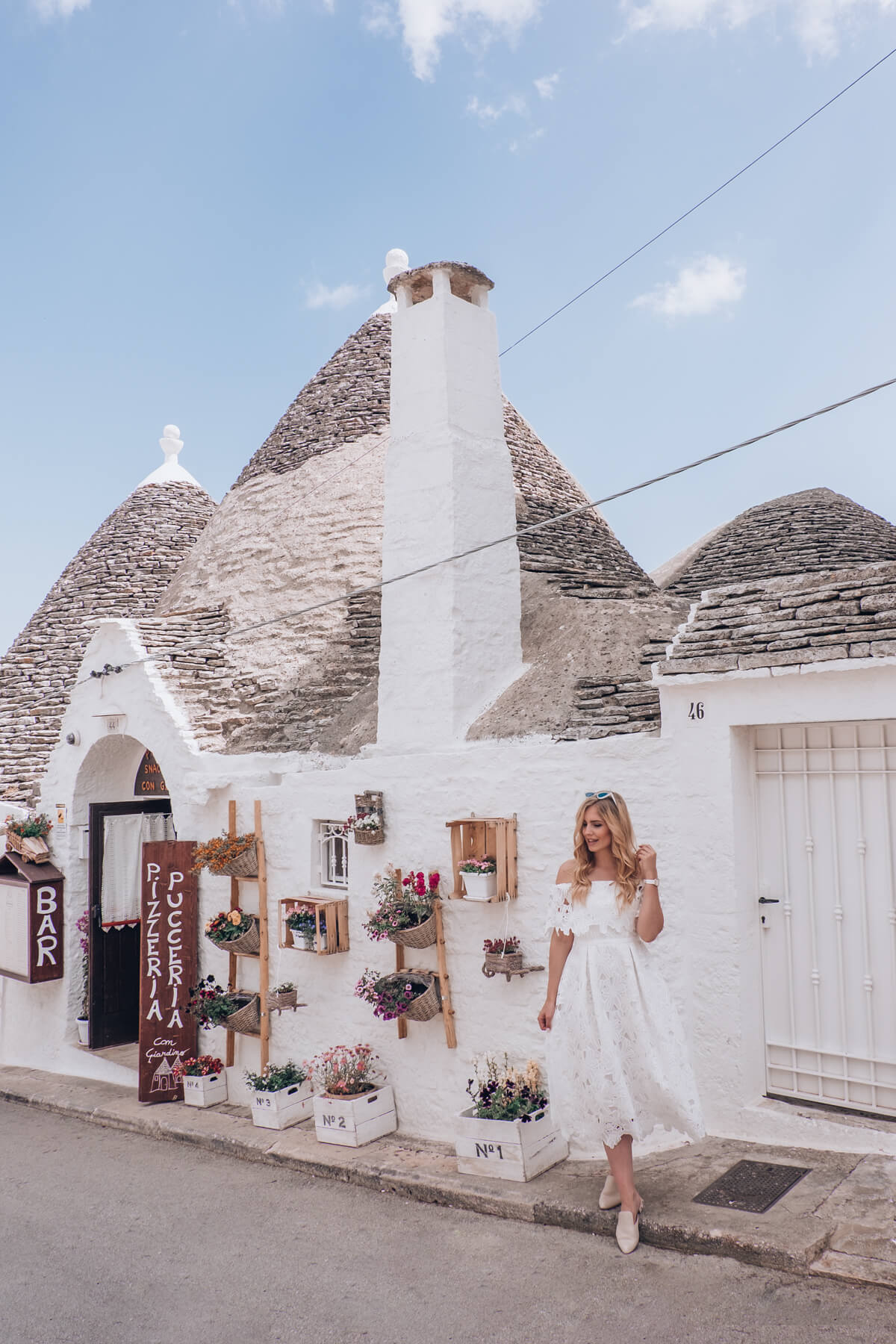 Alberobello is gradually becoming more popular among tourist destinations due to its position with only an hour drive away from the bigger town of Bari, which is known to be the starting point for many explorers of the eastern part of Italian coast and Puglia. Small grey-white houses, hilly countryside, surrounding towns with baroque elements, incredible food, beaches … Tempted? I will return to Alberobello for sure, since it's a small town, where the trulli houses charm you.
How to get to and around the town of Alberobello?
The simplest choice is to fly to Bari airport, followed by renting a car and driving to the valley of Itria. You can get a very affordable plane tickets to Bari, Ryanair flies from Trieste for the price of one's lunch (you get a return ticket Trieste-Bari for 30 euros). For your Itria travels a car rental is almost a must (be cautious though: make sure that you fill the gas tank completely before you come back, because they said to us that we can leave it almost empty as it pays off, which is absolutely NOT true). I advise you to drive with Flixbus for moving between the bigger cities, which is affordable and quite reliable (and it has WiFi).
Where to stay?
Without the doubt – the most beautiful, attractive and once in a lifetime experience will be a night stay in the authentic trulli. I recommend you to book a night-stay at the Leonardo Trulli Resort, one of the most beautiful "hotels" in the world. You won't regret it! (you can read all about my experience here)
What are trulli houses and what do they look like?
You surely remember the Middle Ages from your history classes (feudalism and feudal tributes – does it ring a bell?). The interesting story of trulli houses starts in the 14th century. Behind the enchanting appearance lays a cruel past and the answer hides in the inventiveness of the serfs. Due to the high taxation on property, the people of Apulia built dry stone wall constructions so that they could be dismantled quickly when tax inspectors were in the area. Medieval "real-estate" taxes were namely gathered by the rulers from people who've had houses built on their territory/land. The innovative poorer serfs therefore improved their way of construction and have built small huts with a conical roof from a dry stone (plenty of that stone is nearby), without a mortar. Why without a mortar? Because the house would turn into a pile of stone if you removed only one (exact) small brick. They had to perfect their way of construction to the extent to rebuild these houses again. This style of construction is specific to the Itria Valley and has also been used before the middle ages. Locals have constructed them as a temporary field shelters and storehouses for agricultural labourers. While in the 18th century feudalism had been abolished, these type of houses remained – this time in a firm and durable form. Small houses became bigger, got extensions and eventually became two-storeyed. These two-storeyed trullis are named after Trullo Sovrano and are considered to be luxurious real-estate. The huts are the real tourist attraction in the town of Alberobello, offering great panoramic views from the roofs and upper floors. The majority of the houses in Alberobello have been transformed into hotels, restaurants (food is surprisingly inexpensive; you'll pay around 5 euros for a pizza in the city centre) and tourists shops, with more authentic ones by the local roads nearby. Visiting Alberobello is a truly splendid experience, because the houses among olive trees and blossoming cherries on hills and valleys offer a special charm. Alberobello is a tourist town, but still not over-crowded. You can still pose for a lovely, tourist-free photo in the middle of a sunny day. I truly hope that it remains this authentic and charming. More than 1500 trulli are concentrated in two town quarters, Rione Monti (more touristic and an iconic quarter, seen on the majority of the photos) and Aia Piccola (people still live there). These trulli of Alberobello have been designated as a UNESCO World Heritage site since 1996.
Enchanting Alberobello with its surroundings is an ideal tourist destination and an excellent choice for a short getaway. I recommend you to visit this lovely town as soon as possible.