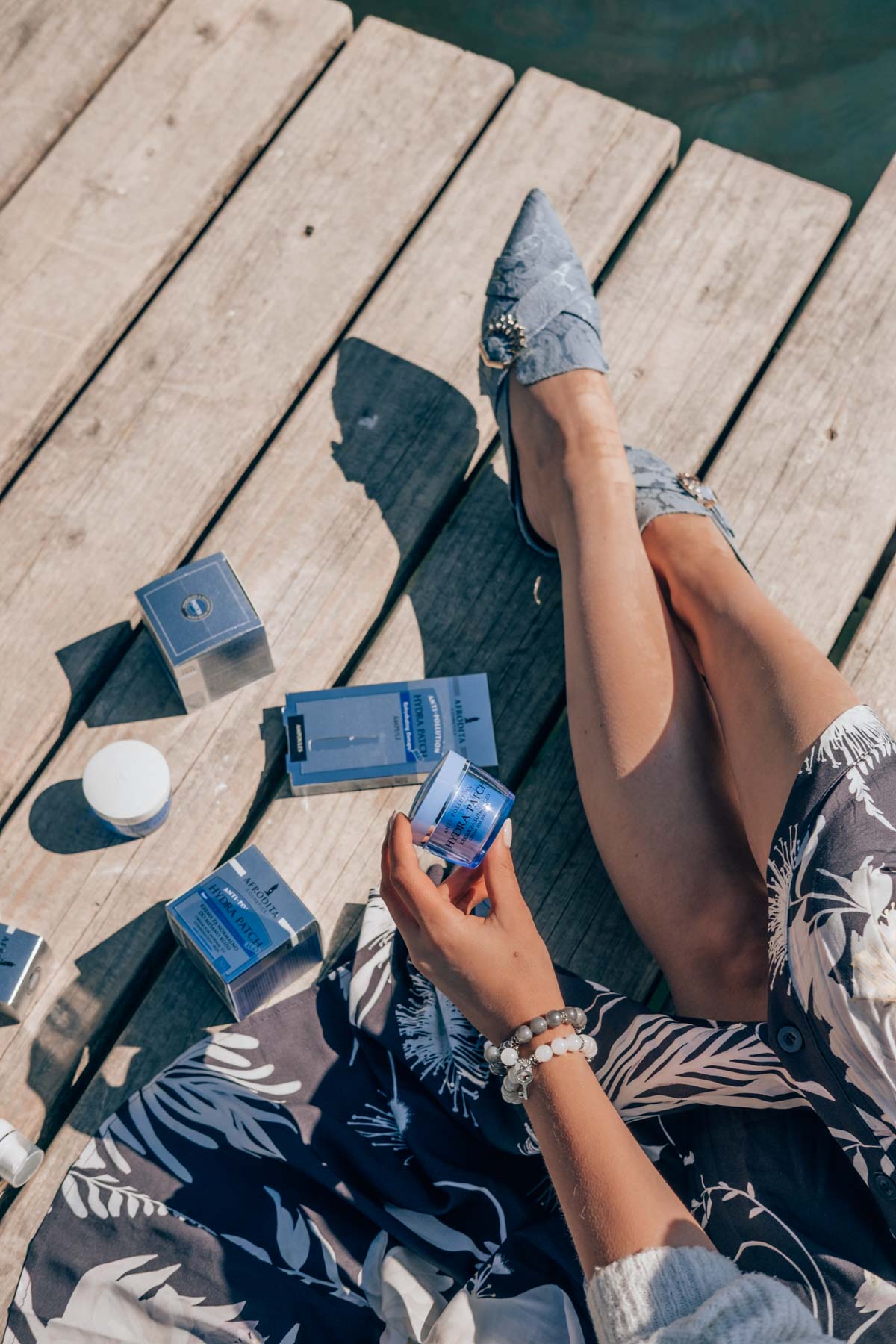 I first got my hands on Afrodita Hydra Patch H2O skincare range a few months ago and I put it to the ultimate test this winter. It was an ideal time to try the products out – dry air, drastic temperature change indoor and outdoor, pollution, plus my schedule was quite stressful. Today I am sharing with you my, my sister Alja's, blogger friend Tesa's thoughts. So, 3 ladies with 3 different lifestyles and totally different skin – what do they say about the Afrodita Hydra Patch H2O?
What does Cosmetics Afrodita say about the Hydra Patch H2O skincare range?
Afrodita Hydra Patch H2O is a new generation of moisturising skincare with active anti-pollution protection. Unique PatcH2O technology works as a protective H2O "shield" that protects cells against pollution damage, maintains the vitality of skin cells and strengthens the protective function of the skin. The Hydra Patch range includes products for the care of all types of skin. It offers intensive, instantaneous hydration with a long-lasting effect and helps fight the adverse effects of pollution and combat the signs of premature ageing.
What do I say about the Afrodita Hydra Patch H2O skincare range?
Afrodita Hydra Patch H2O cream for dry skin is an ideal face cream for dry skin during winter months. It is a very thick and very rich cream that provides moisture to your skin. Despite the rich texture it is a good base for makeup, but keep in mind that it works only for dry skin type. If your skin type is mixed/normal/oily it will be too much (try the other version instead), because your face will have a greasy shine for sure. For me (and also my boyfriend Jan) it was a great choice during cold winter days, I really felt it created a protection "patch" for the harsh environment. My second favourite from the Afrodita Hydra Patch H2O skincare range is the Afrodita Hydra Patch H2O Hydraboost serum, with lighter consistency (which makes it ideal for most of the skin types). By itself it was not enough for my dry skin, but it worked great as an additional hydration step underneath the face cream. Hydration boost with Afrodita Hydra Patch H2O ampoules is also a great option. The effect totally convinced be, but I am not sure about the packaging – it is practical when it comes to traveling (such as taking it with you on an airplane), but on the other hand I'd rather see a classic packaging with a pipette. A big plus this skincare range is getting from me is because of the fact that it's not heavily perfumed and it doesn't irritate your skin. Also, the price is amazing – each of the product is cheaper than the 10eur mark. Affordable skincare with an amazing hydration effect!
What does my sister Alja say about the Afrodita Hydra Patch H2O skincare range?
»I tried out Afrodita Hydra Patch H2O cream for normal to mixed skin, which provided moisture to my dehydrated skin during the colder months. It didn't cause any breakouts or clogged pores, my skin felt soft and supple. In addition to the face cream, I also used Afrodita Hydra Patch H2O eye cream, which was actually my first eye cream I used on a daily basis. They both worked great for my skin and also were a great base for applying makeup (which is a huge plus!). My message to Ajda is: I wouldn't mind testing out the serum as well! haha…« Alja said.
What does my blogger friend Tesa say about the the Afrodita Hydra Patch H2O skincare range?
»The month of February (aka the fashion month), has been pretty crazy and hectic, not only for a crazy schedule, but also for my constant travelling which as we all know, can be pretty brutal on your skin. Airplanes, hotels, crazy New York wind or Parisian cold, my skin definitely needed my full attention and a really special care. One of my favorite products to use was Hydraboost serum, that I would apply before the cream, as an excellent base and of course (as the name says) an extra hydration boost, while my ultimate winner are definitely the ampoules. A real special treatment, which is pretty much a new generation of skincare!« You can read all about her experience on her blog Magnifique.