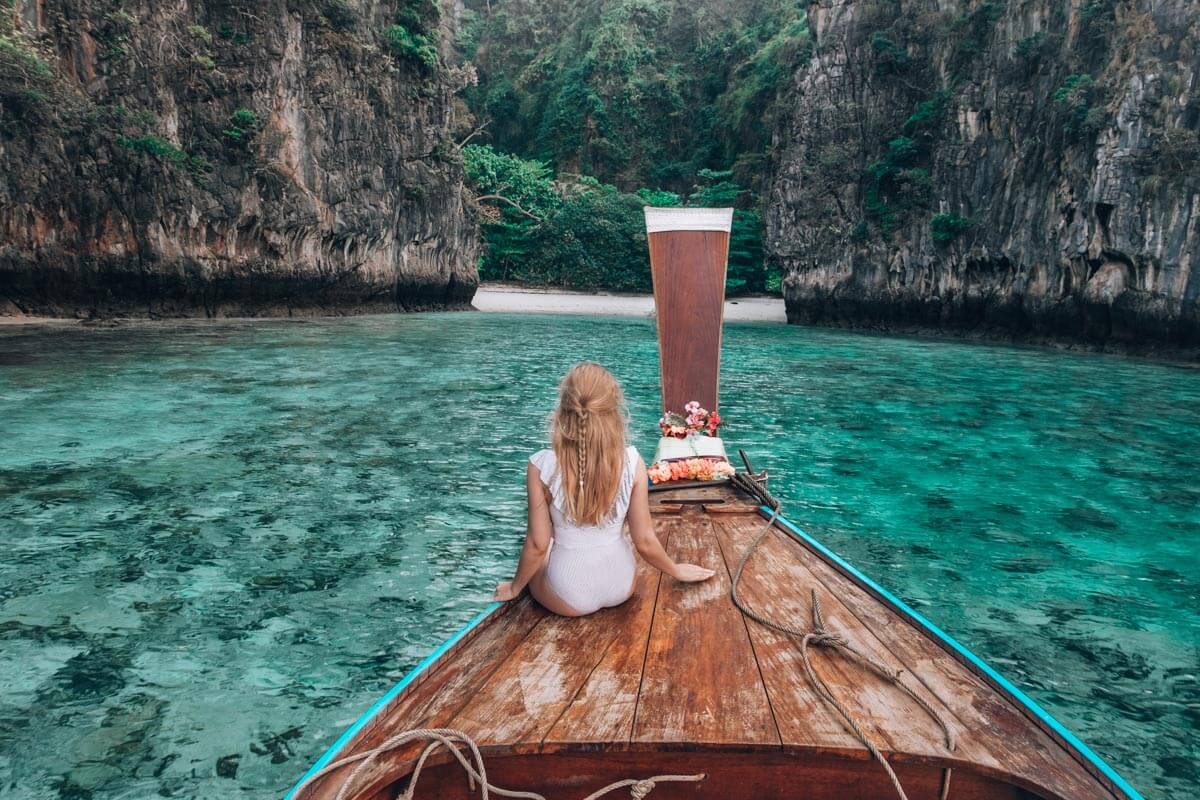 All about Koh Phi Phi – the good, the bad, sweet, sour and salty!
I am sure you heard about the famous Koh Phi Phi before. Or least see it in all of its glory in the movies. Doesn't ring a bell? Well, I am sure you remember film The Beach starring Leonardo DiCaprio. The movie brought eternal fame to (uninhabited) Koh Phi Phi Leh and the wholw archipelago thanks to the outstanding Maya Bay. In this blog post I am sharing with you all about Koh Phi Phi – the good, the bad, sweet, sour and salty!
Koh Phi Phi is actually a small archipelago of 6 islands in the Krabi province, southern part of Thailand. It is considered to be one of the most popular beach destinations in Thailand. And not only in Thailand – in the whole world for sure, due to its aqua blue sea, white sand beaches, green mountains, vibrant nightlife and of course thanks to the famous Maya Bay on the island of Koh Phi Phi Leh.
Why the island is so popular among tourists, you will see the first moment you arrive there. It is stunning. Nothing like you've seen before. But on the other hand, you also should expect (especially in high season) lots of people. And by lots I truly mean LOTS. If you arrive in the famous Maya Bay on Koh Phi Phi Leh in the middle of the day, you probably won't see the white sand, you will see the colourful spectrum of hundreds and hundreds of tourists. No exaggeration. There are thousands visiting this bay each day. The bay was made extremely popular by the movie "The Beach", starring Leonardo DiCaprio. Mass tourism has brought a lot of profit to locals, while also since taken a vast toll on the fragile coral reefs. The authorities decided to ban tourists from Maya Bay this year from June to October. This will hopefully allow enough time for the nature, especially the coral reef to recover. I knew by going there, I wasn't really helping, but still. We took a private long-tail boat early in the morning (leaving a few minutes after 6am, which is half an hour before sunrise) and arrived in Maya Bay before 7am, and there were already at least hundred people there. We didn't stay long and rather than being surrounded by others sailed along Koh Phi Phi Leh. Our captain found some amazing (not so crowded) bays for us to enjoy the aqua blue water, amazing landscape and snorkel with hundreds of colourful fish (this was a beyond amazing experience). We had our long-tail boat reserved for 4 hours, so we had a lot of time to really enjoy our sea adventure. When we were heading back to Ao Tonsai Pier we also stopped at the Monkey Beach where we fed the monkeys some sweet fruit. Our little private tour of Koh Phi Phi Leh was an amazing experience. Minus the number of people in Maya Bay. Maybe setting daily quotas wouldn't be a bad idea after all.
Fame to the larger island – Koh Phi Phi Don was brought by a less fortunate event…
December 26th 2004 was the day, when larger part of Koh Phi Phi Don was hit by the tsunami. Today the island infrastructure has been rebuilt and developed to an even greater extent the before. The centre of happening is the Ao Tonsai Pier with a small, vibrant town. Cottage next to cottage, hotels, restaurants and bars – the place is packed! People come back to this island not only for the lush nature and amazing waters, but also for crazy parties. These are the craziest during full moon. If you are crazy about hiking or at least enjoying some breathtaking views, you should definitely hike up to the Phi Phi Viewpoint. After a half hour hike uphill (in humid 30°C), hundreds of steps and narrow paths, you arrive at the iconic viewpoint, where you can see both bays hugging the island of Koh Phi Phi Don. You can see the whole Ao Tonsai Pier, amazing lush hills and aqua blue waters. Overall, the beauty of this island (despite huge tourist popularity) is that you can find a hidden spot (beach or hills) where you are completely alone – unfortunately most of the hidden beaches are only accessible by the sea. The hilly landscape separates Koh Phi Phi Don into parts where there's very crowded to parts where you barely see a soul. Koh Phi Phi Don is for sure an ideal starting point for exploring the entire Koh Phi Phi arhipelago, for diving and also is an excellent location for island hopping. Our next destination was Koh Lanta. Keep in mind, if you are travelling in peak season, there will be a lot of people. Because of its popularity, Koh Phi Phi can (and does) up their prices – for a kilo of mangos you will pay at least double the price, the same goes for Pad Thai (you will pay 30-50% more compared to Koh Lanta's prices). But I guess, that's the price we pay for travelling to popular destinations.
3 days on Koh Phi Phi:

Day 1
Take a ferry from Phuket to Koh Phi Phi Don. You will arrive at Ao Tonsai Pier. After getting settled in you hotel, take a stroll around the town, maybe buy a thing or two, eat something good. You should definitely order a mango smoothie (or two). Enjoy your time at the beach, maybe head over to the Shark Point (yes, as the name suggest, this is the point where you can actually see real sharks). The beach there is long, sandy and less crowded as the one closer to pier. After dinner book an early morning private tour with long-tail boat on Koh Phi Phi Leh.
Day 2
Start your day as early as possible, sail from the bay towards Koh Phi Phi Leh, visit the famous Maya Bay (if it's open for tourists!), enjoy the less crowded bays with amazing landscape and water, swimm with millions of colourful fish. On the way back to Koh Phi Phi Don, stop at the Monkey Beach, give some fruit to the monkeys. Have Thai lunch at the pier and spend the afternoon relaxing on the beach. If you got any energy left, have a drink (or two) in one of the bars in the evening. You may end up partying till morning.
Day 3
Hike uphill to the Phi Phi Viewpoint. Don't forget to wear proper footwear and take some water with you. The rest of the day can be  spent on the beach or catch a ferry to your next destionation. Koh Lanta for example.
photo: Jan Žumer