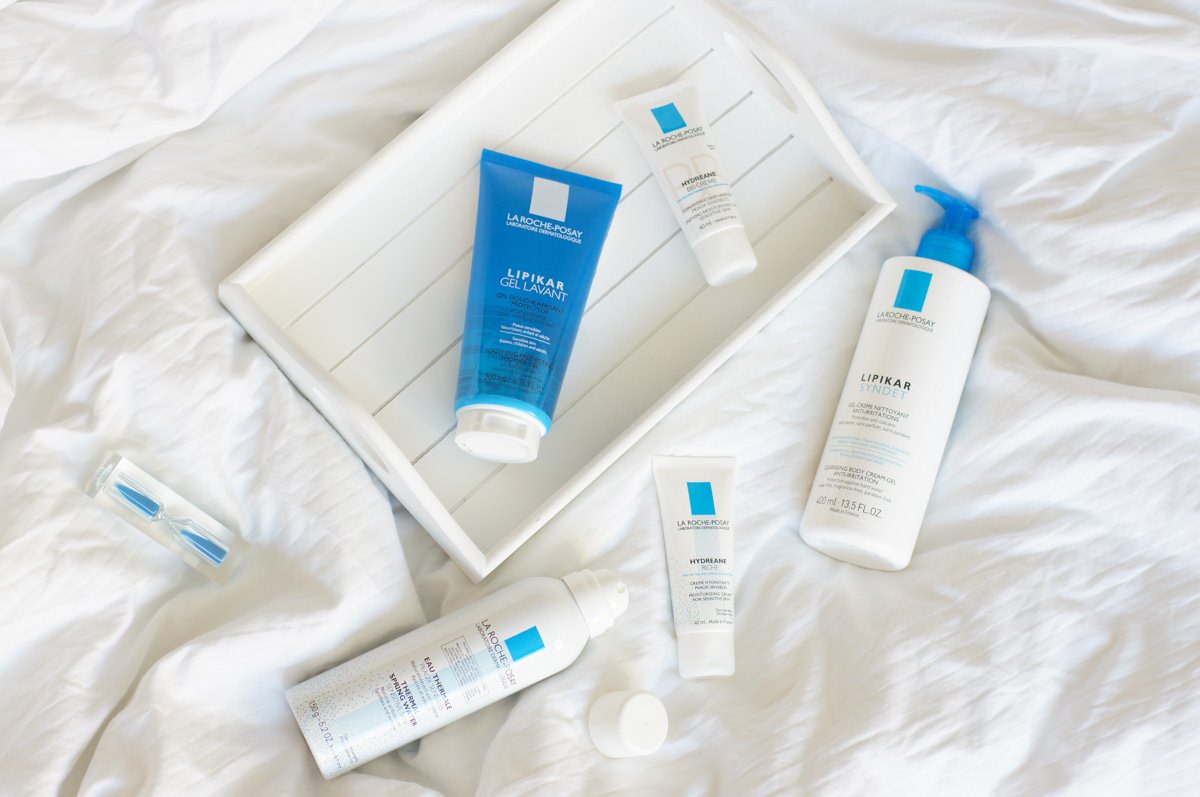 La Roche-Posay has always been one of the brands that has all skin concerns covered. All those with problematic skin should mark this brand as one of the safe choices. They've got everything – from acne treatments, products for extremely oily skin, redness, dryness, even rosacea, dermatitis and eczema. LRP is the minimalistic superstar of the French pharmacy brands in my opinion. My favourite is still Vichy, but LRP comes second for sure. I've found some true beauty gems for my dry and (more or less) dehydrated skin at the La Roche-Posay department in the past few months:
La Roche-Posay Lipikar Gel Lavant soothing protecting shower gel
I believe this is a new addition to the LRP Lipikar range. It's a soap-free and paraben-free shower gel, which gently cleanses and protects your skin. Respecting the skin pH, it's suitable for the whole family and has a delicate fresh scent.
La Roche-Posay Lipikar Syndet cleansing body cream-gel
A creamier version is the LRP Lipikar Syndet, which is a true all-rounder. You can use it to cleanse you whole body (even more delicate parts and your face). After a recommendation from Maja (Parokeets blog) I tried it once for removing my makeup, and you know what? It does a remarkable job! Overall, this is a cleansing gel suited for very dry, sensitive and irritated skin. It's soap-free, fragrance-free and the paraben-free formula is perfect for anyone, even babies.
La Roche-Posay Eau Thermale thermal spring water
LRP Thermal Spring Water is at the heart of most LRP products. It refreshes and soothes, it's rich in antioxidants (especially selenium) and works great as the last step in cleansing, first step in skin-care or toning/refreshing your skin (you can use it to fix your makeup as well). A "must have" for dry winter or hot summer months!
La Roche-Posay Hydreane Riche moisturizing cream for sensitive skin
I've been enjoying this face cream for the past two weeks now. It provides hydration for my dry and dehydrated skin – as my daily cream it has been completely enough, while for my night time skincare routine I like to add a drop of oil or/and serum underneath.
La Roche-Posay Hydreane BB Crème unifying-moisturising care
This LRP product is probably suitable for any skin type, however not for any skin tone. Although I've got the Light shade, it's a bit dark for my "pale winter face". I wore it last year through the summer, loved its smooth and soft finish, the fact that it has SPF20 (to protect my skin from harmful effects of UV rays) and light, natural coverage.