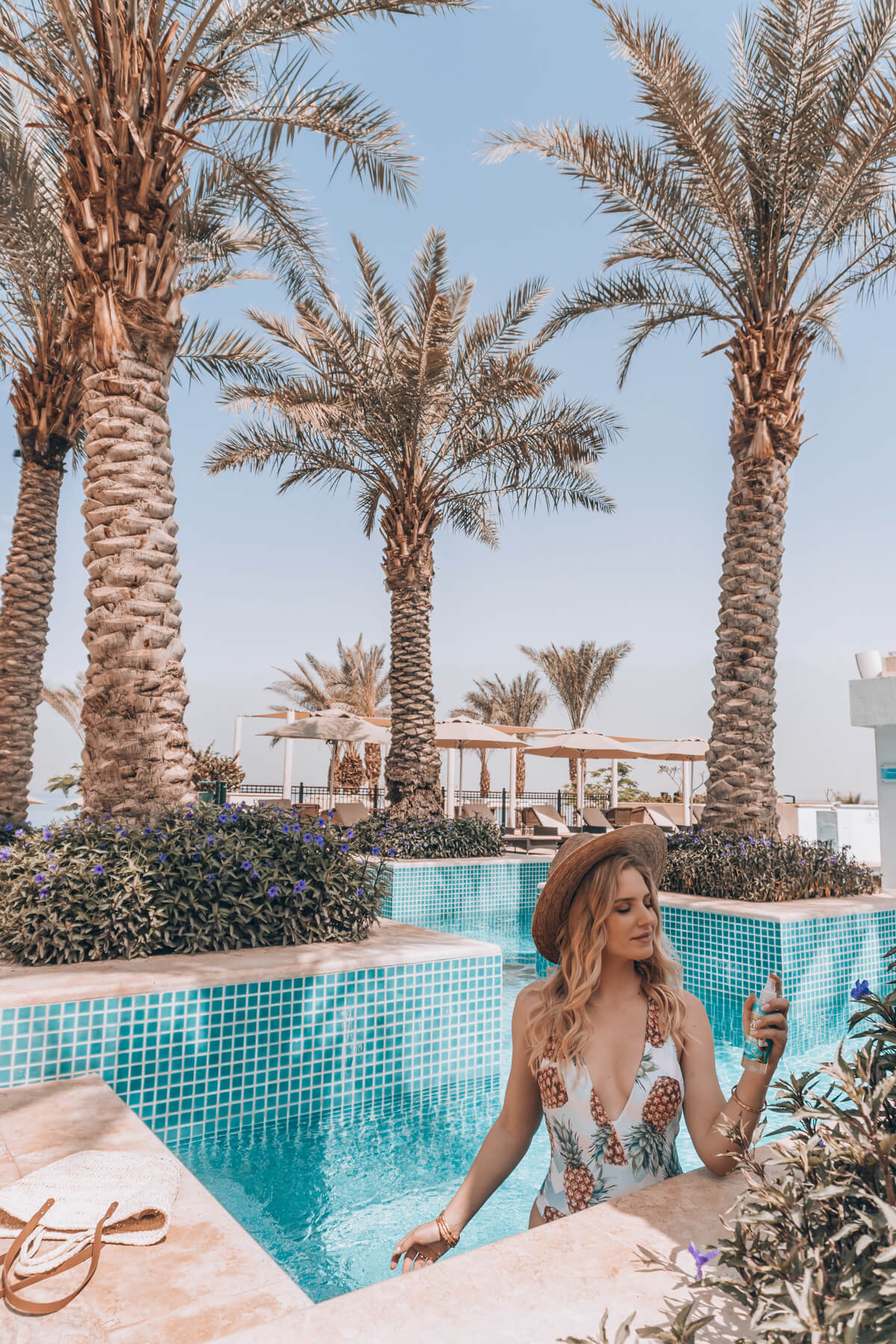 Each summer I am returning to the same brand when it comes to sun protection. And not only because I am extremely proud to be Slovenian using Slovenian brand products, but because they truly work! Afrodita Cosmetics has been my go-to brand, when it comes to skin care and sun protection for my face – Afrodita Sun Care Sensitive sunscreen with SPF30 has been my favourite product, I've been using for years. I can easily apply it the right amount for proper protection (which can sometimes be quite hard) and it works great for people with normal and dry skin. Many people who bought it due to my recommendation, confirmed it is a marvellous product, you can get for an affordable price at any drugstore in Slovenia or online (I believe it's around 6€).
How to correctly apply the right amount of sunscreen to be really protected? Well, the amount might surprise you. If you don't apply the sufficient quantity of sunscreen, you won't get the expected protection (as stated on the product packaging). The correct application is 2 mg of cream per square cm of your skin – which, personally, doesn't tell me much. In practice, this means an ½-¼ of a teaspoon (for an avarage face) or the length of two fingers (as demonstrated by @tixibeauty in her Instagram activation). What does this mean for your body? Well, you should use up a 200ml sunscreen in a weekend at the sea by yourself. Of course, if you apply it properly – in right quantities and re-apply it when truly necessary.
What has Afrodita in store for this year? Keep on scrolling!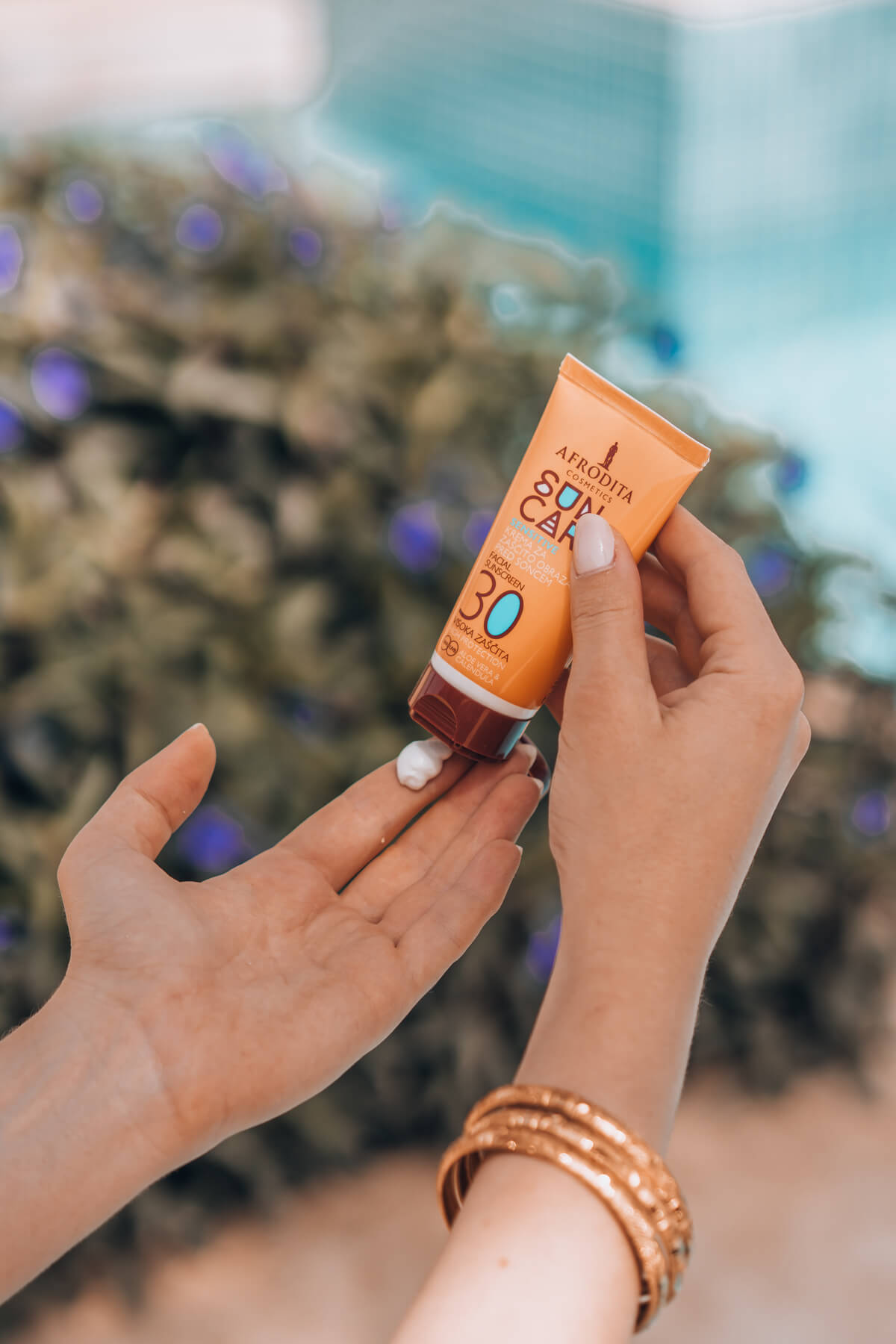 This year's winner when it comes to sun protection, is most definitely Afrodita Sun Care Sport with SPF 30. Why? Because it's waterproof and comes in handy when traveling with hand luggage only (90ml fits the standard for liquids you can take on the airplane). These are two winning facts, if you ask me, in addition to great protection, of course.
I recommend using a waterproof sunscreen to anyone who is active in the sun, spends their time in the water or sweats a lot. We had this sunscreen on the test for the first time while discovering Jordan, and it definitely survived all of our adventures.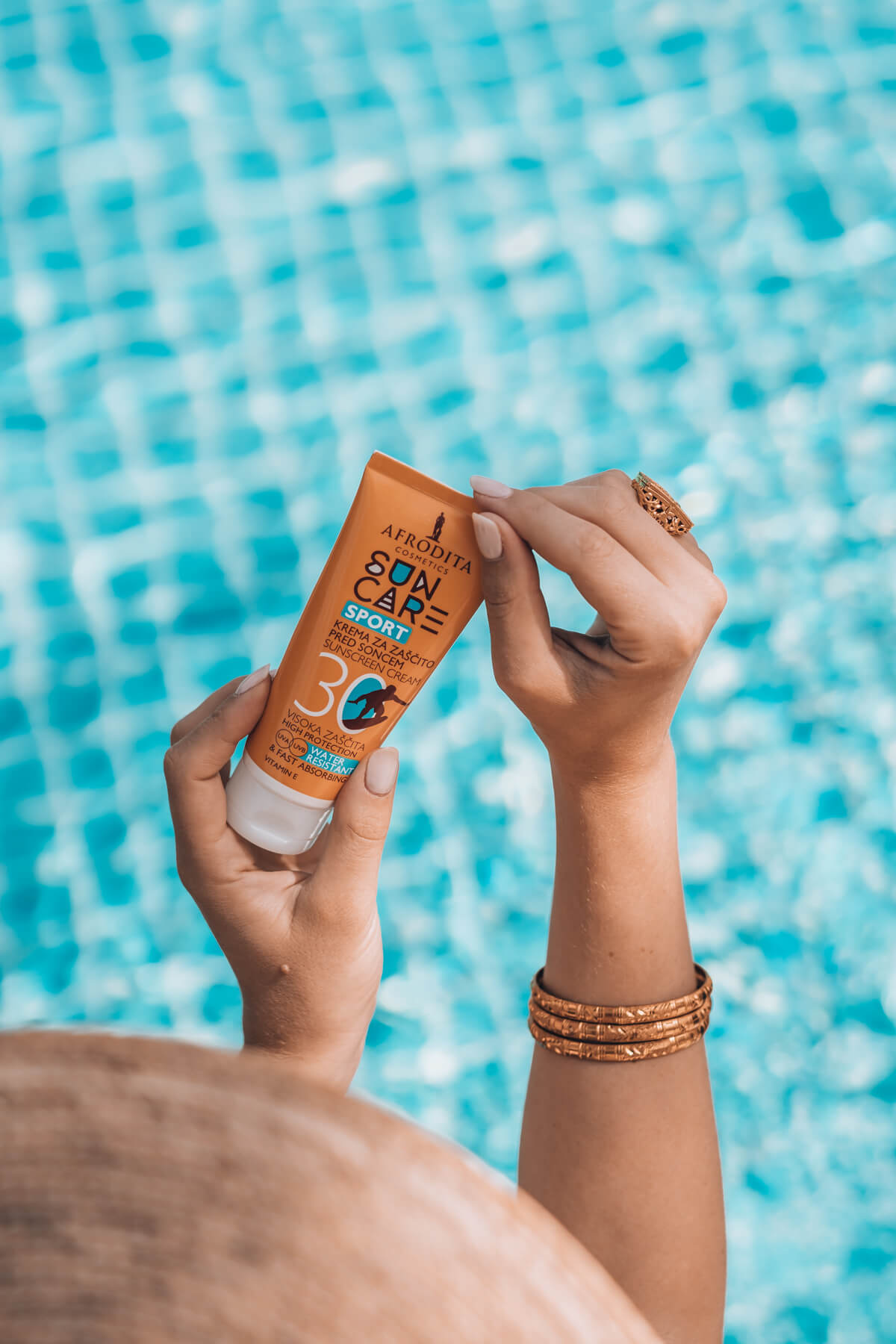 Probably the most exciting Afrodita's product this summer is their Afrodita Sun Care Coco Joy body mist, at least according to Instagram and (half-)empty shelfs at the stores (and I strongly agree!). It's 99,9% natural, hydrating and refreshing, containing coconut water and aloe vera. A perfect vanilla-coconut scented refreshment for hot summer days! It can instantly transport you to a tropical destination…
This year's hit product is Afrodita Coco Joy body mist, while the greatest hit of all times – their famous marmelada (jam) is coming back in a 99% natural version!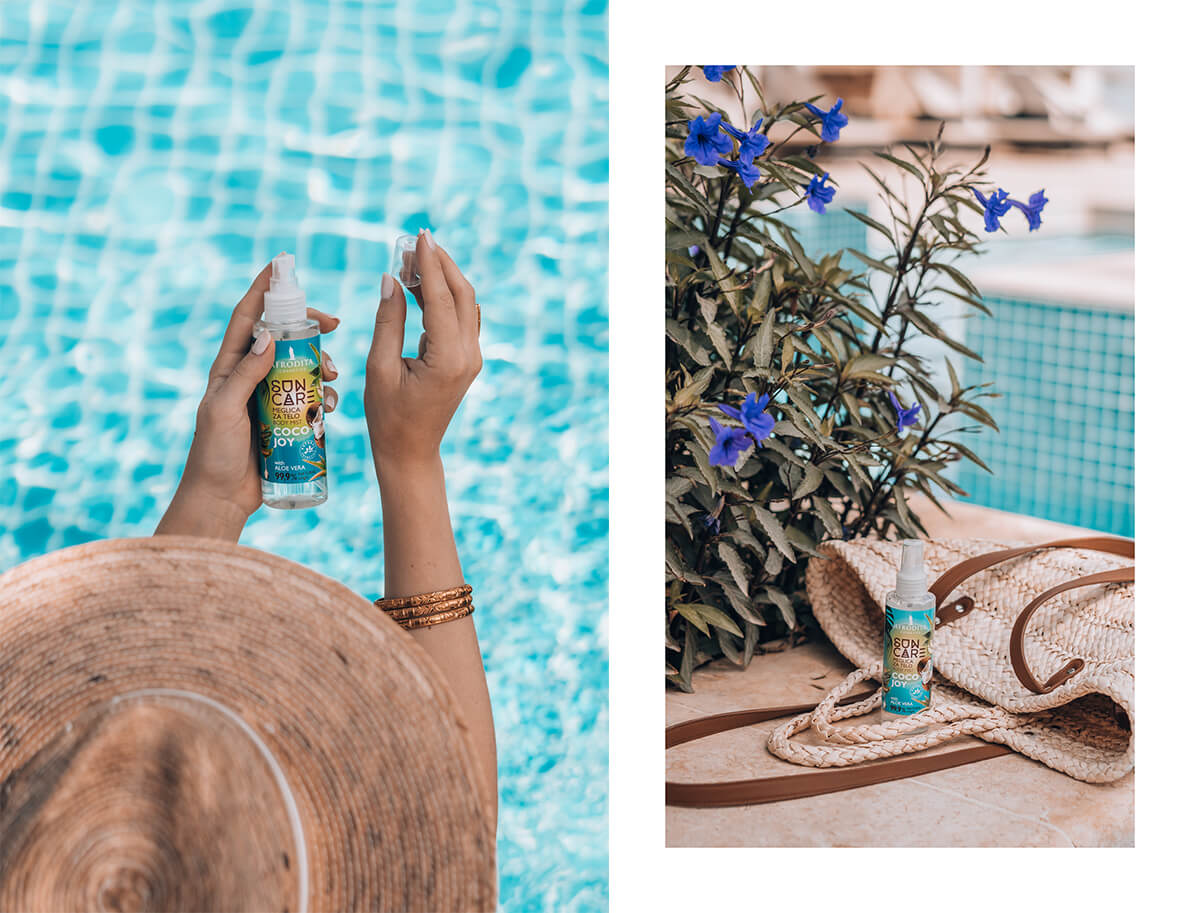 Afrodita Sun Care Natural marmelada / jam is the newest version of their famous original marmelada, which caused a true euphoria in Slovenia 5 years back. Like their classic, the natural version is created to help you get a tanned skin quicker. I even like this one more, since it's lighter in terms of colour (it doesn't leave dark marks) and its environmental friendly. My trick is to apply it in the event as a night skin treatment (like a body mask), in the morning you will wake up with surprisingly smooth and nourished skin.
I always apply a sunscreen with SPF30 underneath Afrodita's jam. This way I make sure my skin doesn't get burned. Be cautious when using, since the product itself does not provide protection against the sun.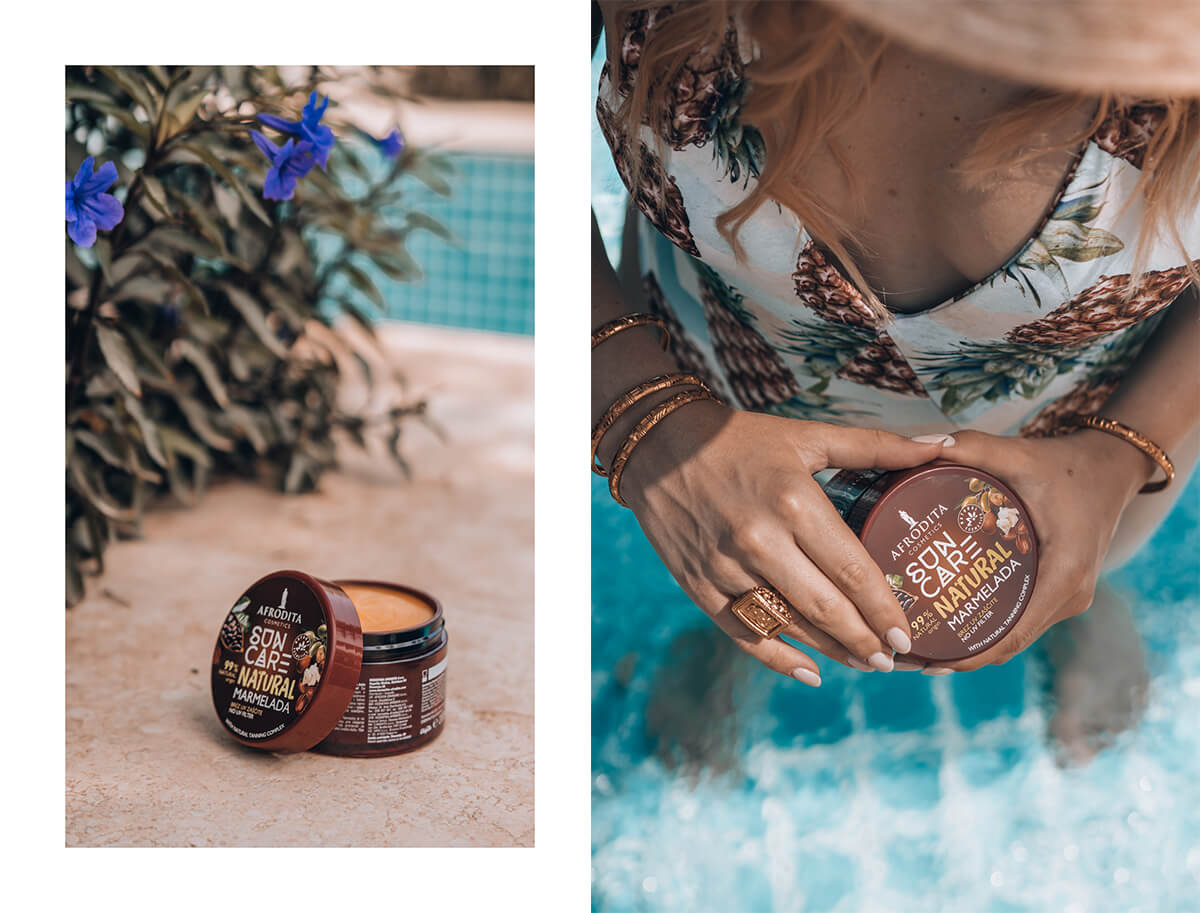 Summer 2019 was another amazing summer for Afrodita Cosmetics. And since it's far from over, I hope you will spend the rest of it as nicely as possible, enjoying your sunny days well protected. And perhaps prolong this summer into autumn or winter, as we have plans.