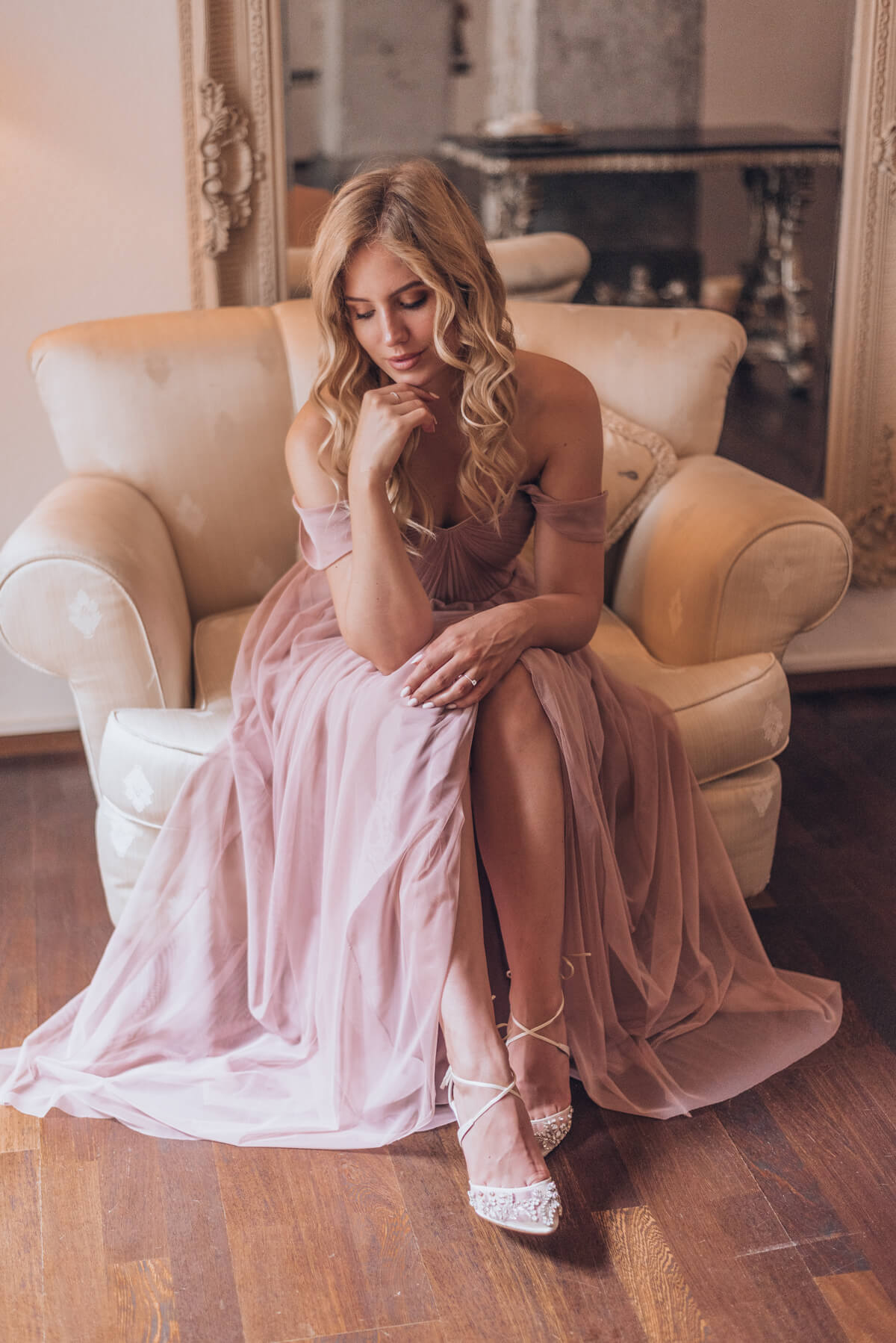 The wedding dress is certainly the first, most important and most admirable wedding fashion piece. Immediately after that (besides dress for the groom, of course) the wedding dress is followed by the wedding shoes. And this is where compromises are most often made – comfort is sacrificed at the expense of looks or vice versa. However, when I was researching the market for wedding shoes, I found that this was not necessarily the case. In fact, there are wedding shoes, that will give you an aesthetic orgasm (as my dear friend likes to say), and at the same time will allow you to wear them for hours and hours – on you wedding day and during the party that follows.
All you need to know about picking your dream wedding shoes and all about mine, you can read below.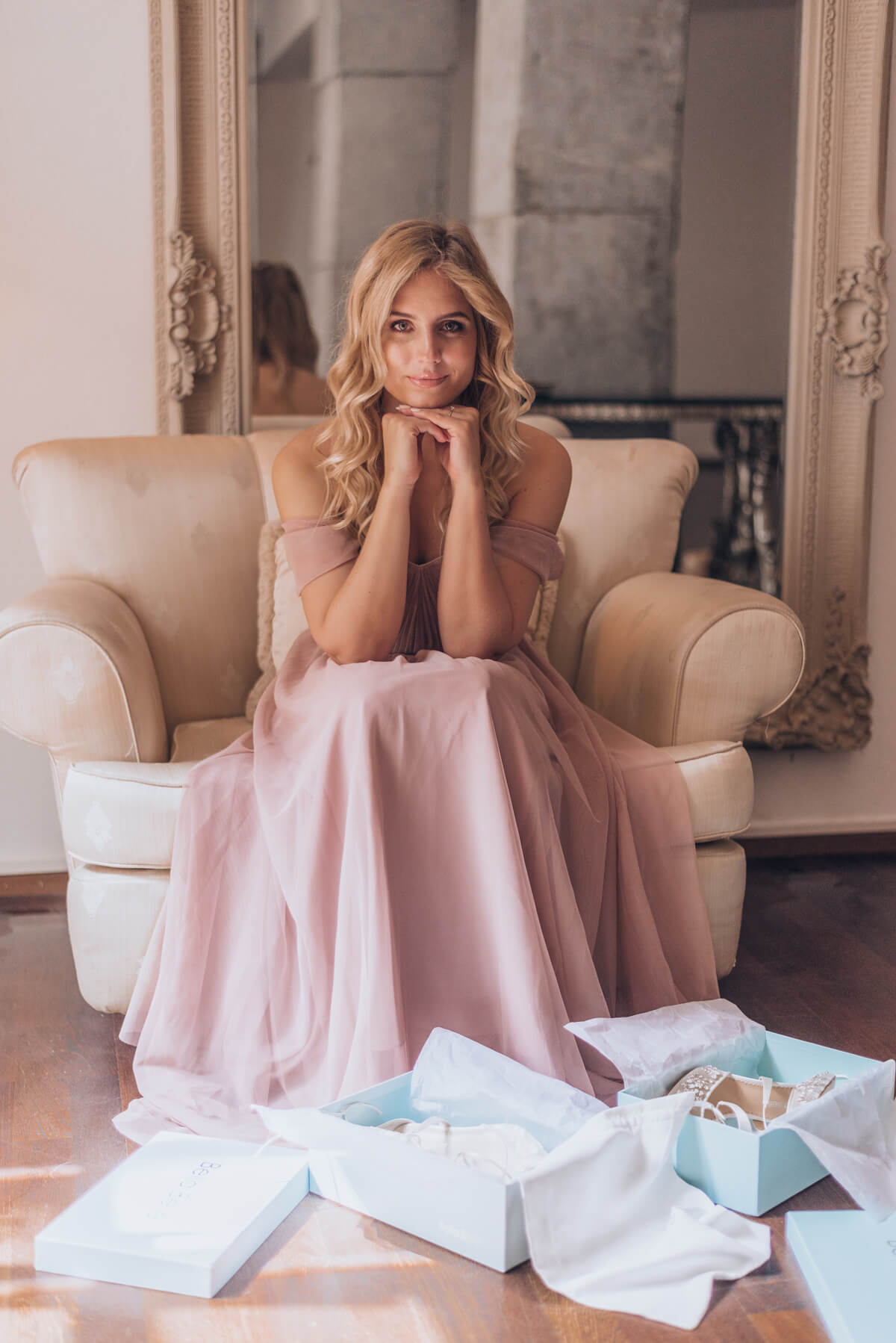 Looking for wedding shoes? One or two pairs?
Keep in mind that on your wedding day you will be on your feet constantly – at the ceremony, when you receive the congratulations, during the first photoshoot as husband and wife, on the dancefloor… You mission is to find bridal shoes that are comfortable, yet beautiful. You can also opt for two pairs – one for the ceremony and photoshoot and the second one (with lower heels or no heel at all) for the party.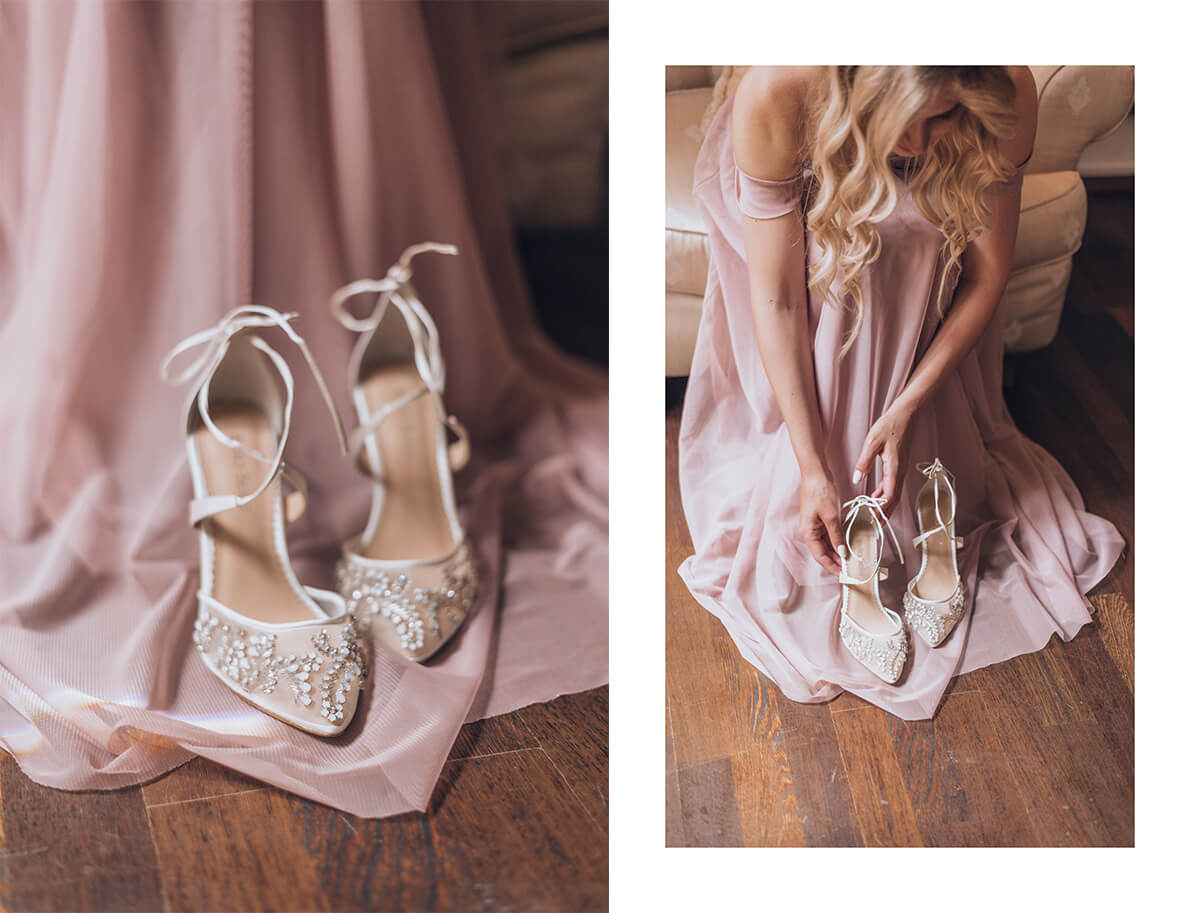 Match your wedding shoes with your wedding dress.
First of all – you should definitely find and choose your wedding dress first, before buying wedding shoes. You want your wedding shoes to complement your dress – consider the style, color and details such as pearls or crystals. The length of your dress is another important factor to consider when buying wedding shoes. If you wedding dress is short, wedding shoes will be very visible, so the style you select it is even more important. But on the other hand, you don't have to match the length of your dress. If you will be wearing a long wedding dress, make sure you take your wedding shoes to the dress fittings. They will tailor the wedding dress to the exact height of your wedding shoes heels. The length of your long wedding dress will be based on your wedding shoe height, you don't want your dress to be too long or too short. Regarding the style of your wedding shoes, the easiest and the safest choice are neutral pumps or sandals with thin straps, just make sure you match the shade according to your dress.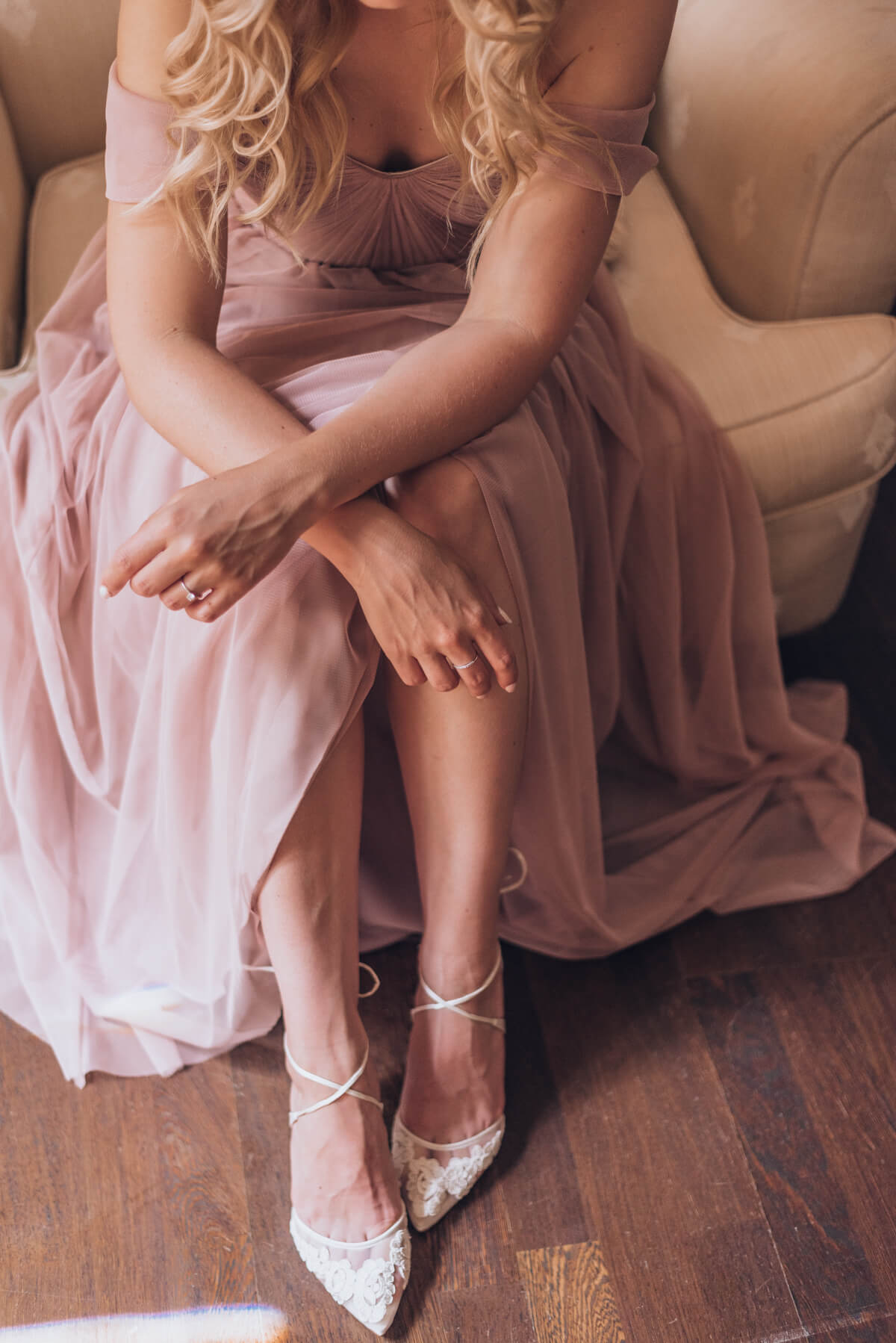 Wear your wedding shoes before your wedding day to break them in.
The advice goes for all the future brides and grooms – wear your wedding shoes before your wedding day! At least for a couple of hours at home, in the office or even wear them to your wedding dance lessons. Try to wear them on nice surfaces, where it's clean. Don't stress too much over making them dirty – an expert can fix a spot or even exchange a missing crystal (most of the recognized brands offer spare parts for shoe accessories, at least the brand I selected does).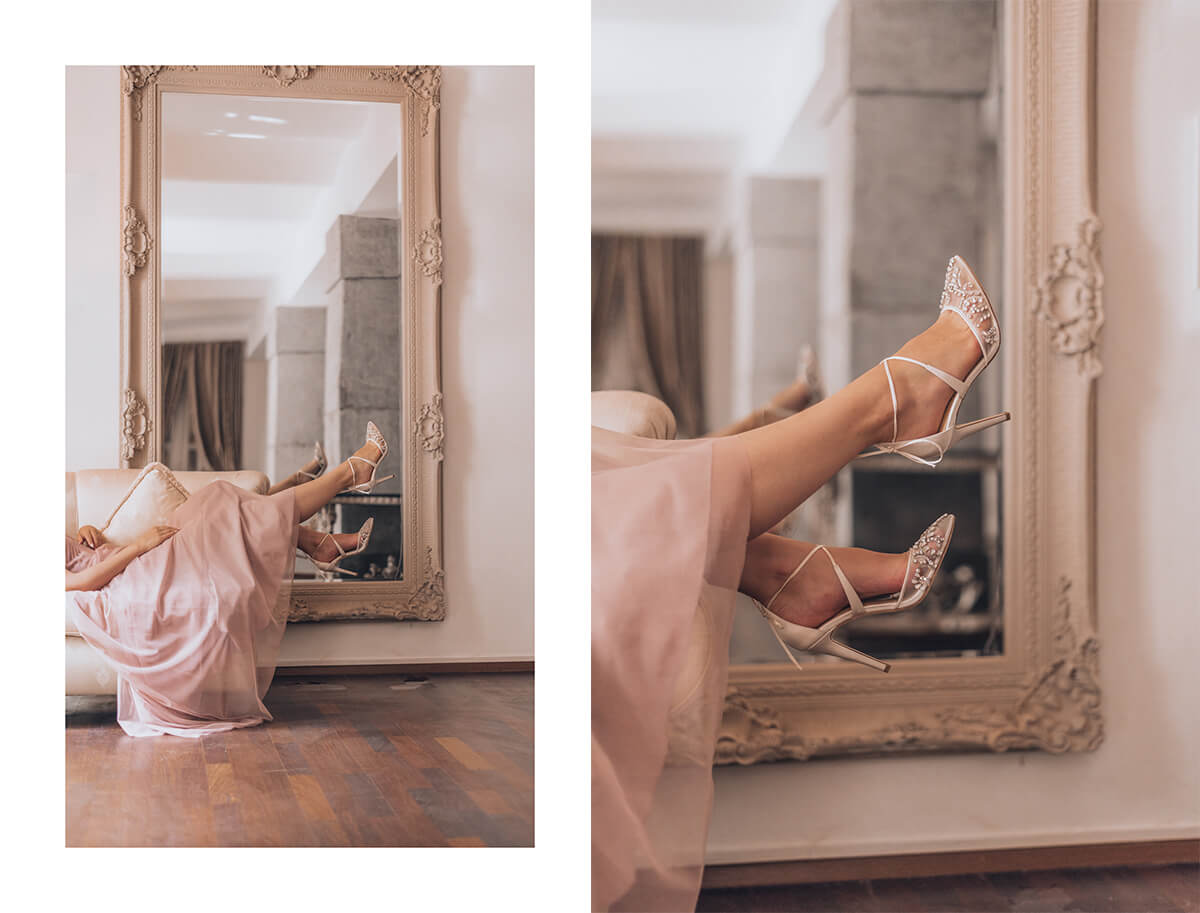 My dream wedding shoes – oh, they are true perfection!
My wedding dress will remain a secret until our wedding day, but today I am revealing my wedding shoes to you! And not only one pair, I selected two pairs – one for the ceremony and another for the party (still don't have my wedding dress no.2 though). For me it, was really important to find a pair that would visually upgrade and enhance my whole wedding look, although they may not be very noticeable on every step I take nor on each photo (since my wedding dress is long). I didn't want to sacrifice comfort at the expense of the good looks. And after browsing online, I found a brand that instantly caught my eye. Not only that Bella Belle offers stunning special occasion shoes, but also offers uncompromising comfort! I decided to pick two pairs – Florence, embellished ivory wedding heels with crystals for the ceremony and Amelia, kitten heel lace wedding shoes. Florence wedding shoes are beaded with milky teardrop stones and beads, have a 4" inch heel (10.16 cm), while Amelia has a simpler style with a delicate Alencon lace and a 2.5" inch kitten heel (6.3 cm). Both have heavy padding for all-day (& night) comfort, imported mesh, silk upper (with the cross ankle straps and tied bow at the back of the shoes) and leather sole. They are handmade, luxurious and extremely comfortable (as far as I can tell, the most comfortable heels I own!). I got Florence in size 38.5 (US8) and Amelia in size 38 (US7.5) after a brief discussion with Bella Bella team, and they both fit perfectly! And they look heavenly stunning! Right?
I cannot wait to wear them on my wedding day.
shoes: Bella Belle
dress: TH&TH Bardot 2.0
location: Antiq Palace hotel, Ljubljana
photo: Pia Hočevar Mucič