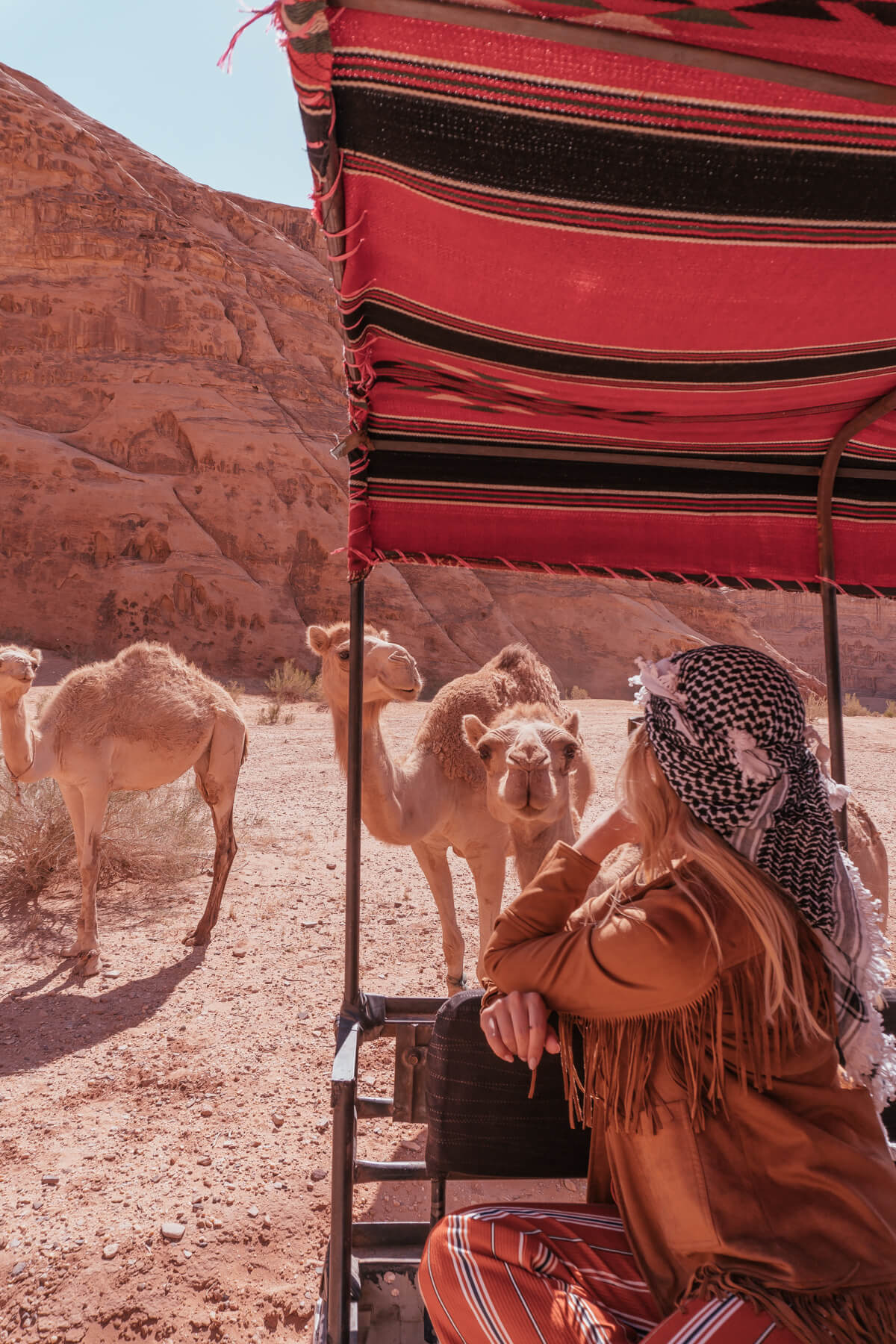 Wadi Rum, the scenic desert also known as Valley of the Moon, is located in the southern region of Jordan and one of the Jordanian gems, you can find on UNESCO World Heritage List. Used as a filming location for many films, such as The Martian, Red Planet, Transformers 2, The Last Days on Mars, and Prometheous, the desert really looks out-of-this-world spectacular. We knew, we wanted to book a day trip exploring the area and in the end we decided to book a 1-day & 1-night tour at Rum Stars camp, a camp located in the heart of the protected area in Wadi Rum – no Wi-fi, no cell-reception, spending the night in a traditional goat-hair tent cabin, drinking Bedouin tea, feeling so small in this beautiful gigantic desert with red sand and dramatic rock formations. We were truly mesmerized by the magic of the desert during the day and night, the sky was so clear, you could see all the stars so clearly!
Read more about our stay and jeep tour in Wadi Rum desert, together with some useful tips, practical information and interesting facts.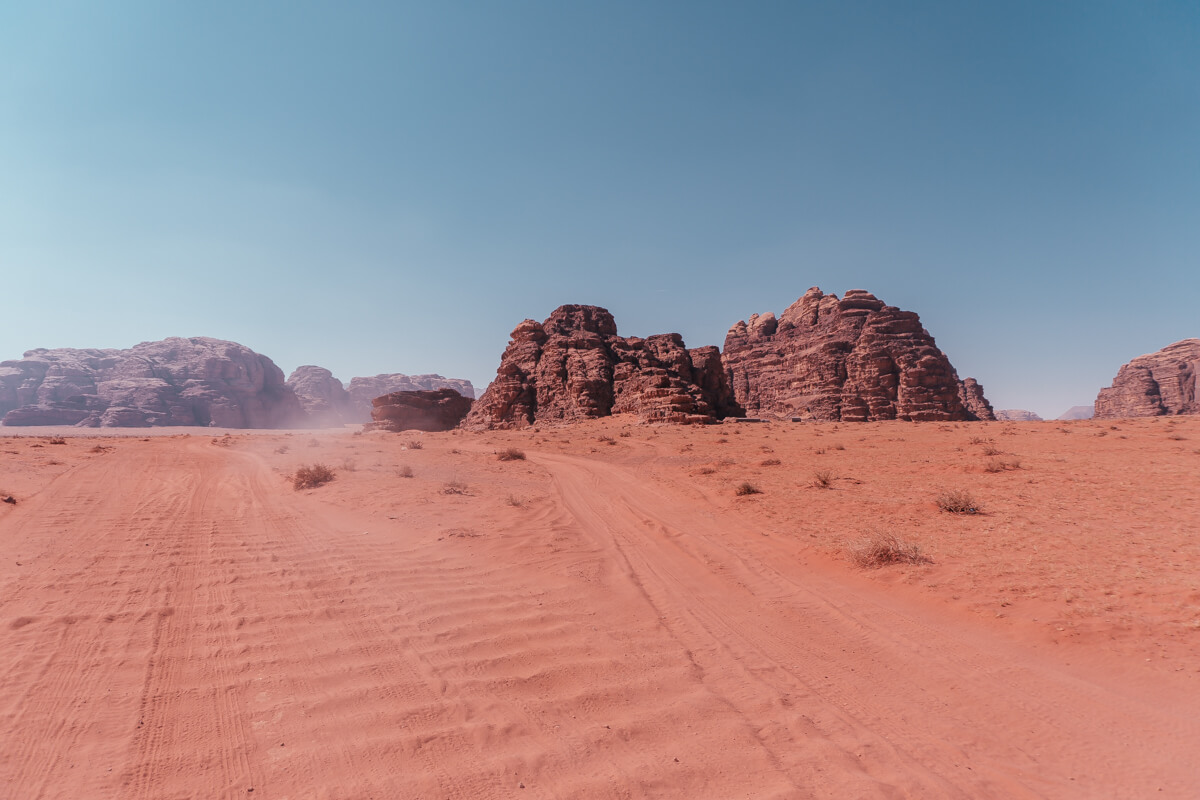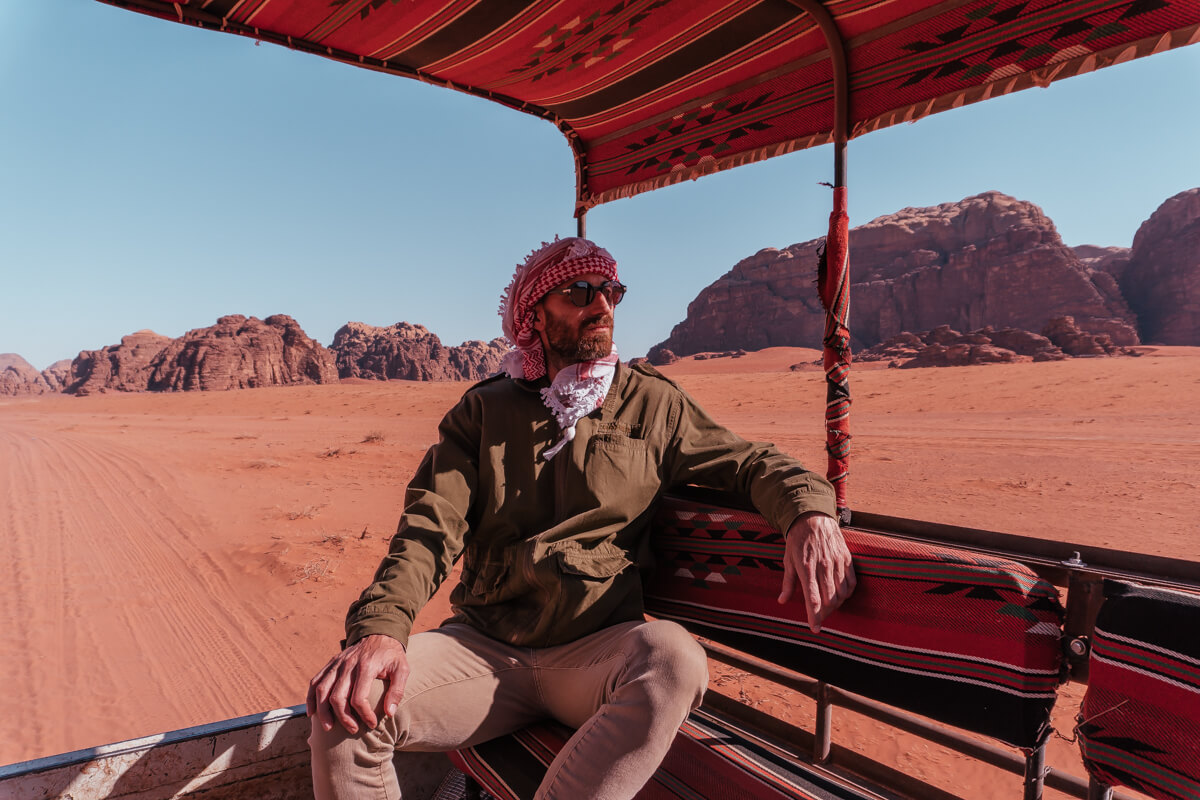 A few practical and interesting information, if you are visiting Wadi Rum:
Don't expect Wadi Rum to be a classic sandy desert – it is much more interesting and more hilly – it's a mountain desert. The shades of the sand and rock formations are warm, you will find everything from beige, yellow, to orange and even pinky-red tones!
When arriving to Wadi Rum, you will drive down the single road, pass the train station and most likely leave your car at the Wadi Rum Village. There you will be picked up and taken to your camp or directly to your first day trip location. You will not be able to drive your own (rental) car in the desert, the roads demand a proper jeep vehicle. There is no infrastructure apart from Bediun camps. Also note, there is no ATM at the Wadi Rum Village. I suggest you book your stay in advance.
The Wadi Rum desert is been seen by a 4×4, but you can also explore it on camel or by foot. We haven't decided to book a camel riding tour, since we are not comfortable with riding them and using them as means of transport. But I took lots of photos with these interesting creatures, as you can see.
You will have to pay an entrance fee of 5 JD for visiting Wadi Rum protected area. It is free, if you purchase a Jordan Pass.
Most of the visitors book a day trip, some stay in Wadi Rum for one or two nights, which I am definitely recommending. It is such an unique experience staying overnight in Bedouin camps in the desert and taking a guided tour. The camp we stayed at, was an excellent choice, we were positively surprised by the jeep tour, the delicious food, organized and tidy dining area, shared bathrooms and toilets and individual sleeping tents.
You will encounter many camels walking freely in the desert. They all have their tribe owners and they usually have their front legs tide together, so they are limited when it comes to running away. You might also see some horses grazing! Regarding other animals, we only saw a few scarabeo bugs, a few ants, flies and that's it! No snakes or scorpions, they come out when it's warmer, they say…
T.E. Lawrence, also known as Lawrence of Arabia is a true hero in these parts, since he helped the local people unite and fight against the Ottoman Empire during First World War. There are a lot of landmarks named after him. And you should definitely check the 1962 film Lawrence of Arabia for some background.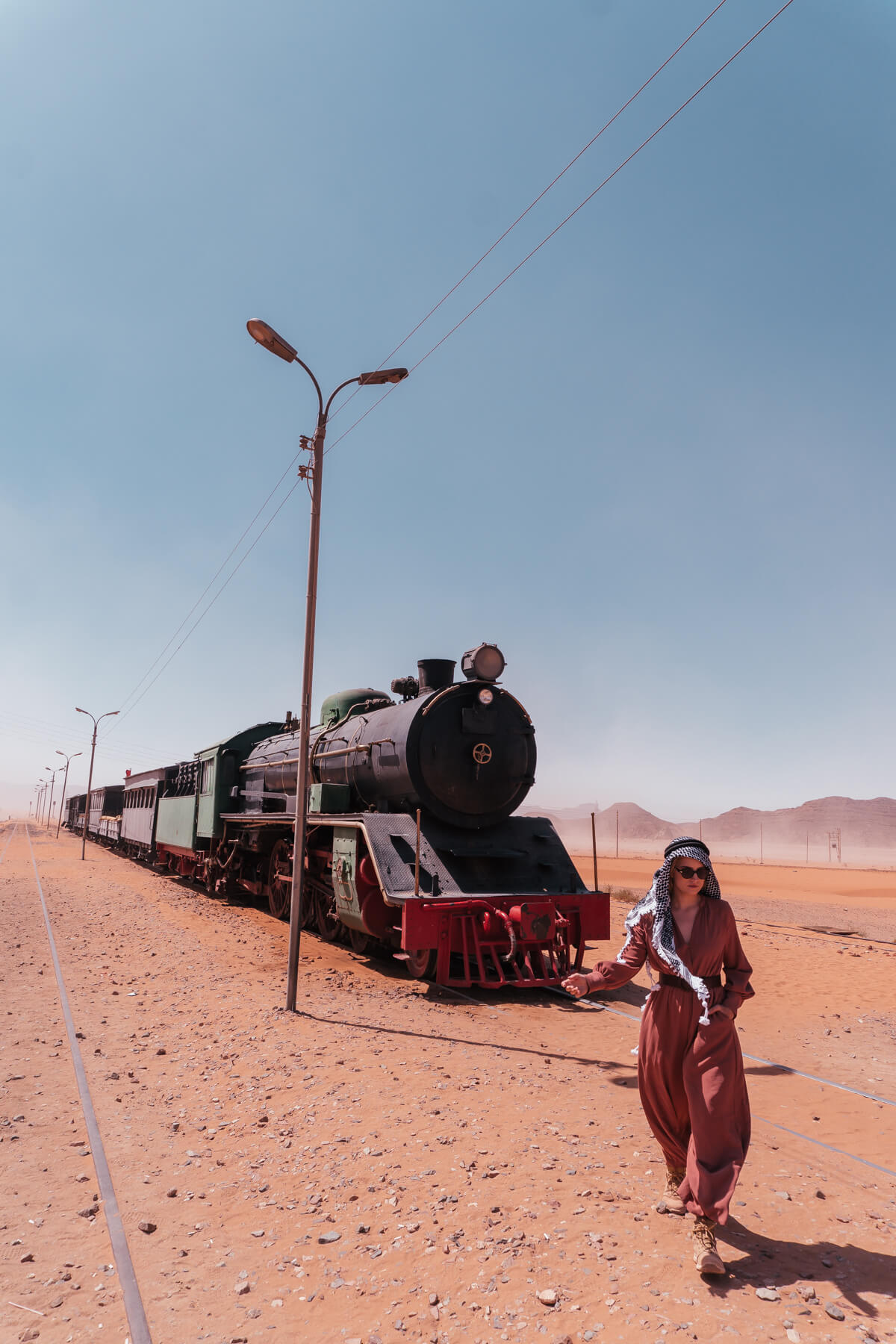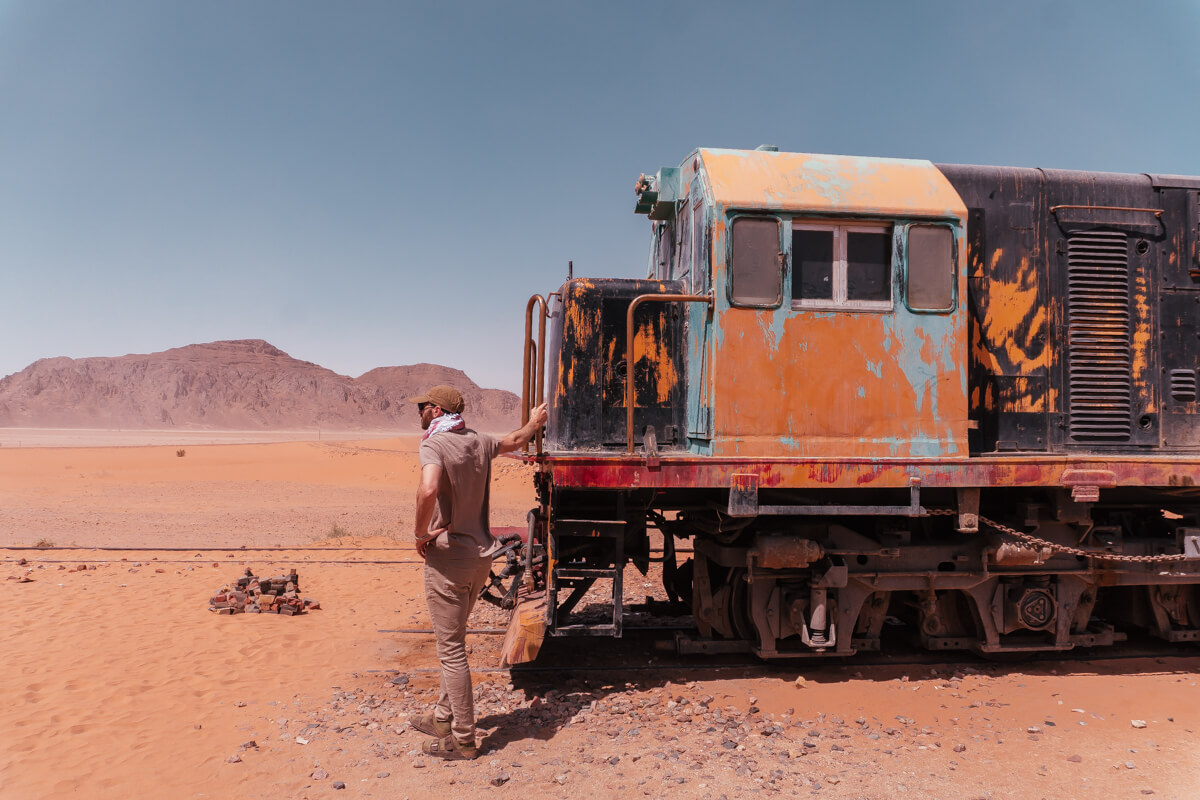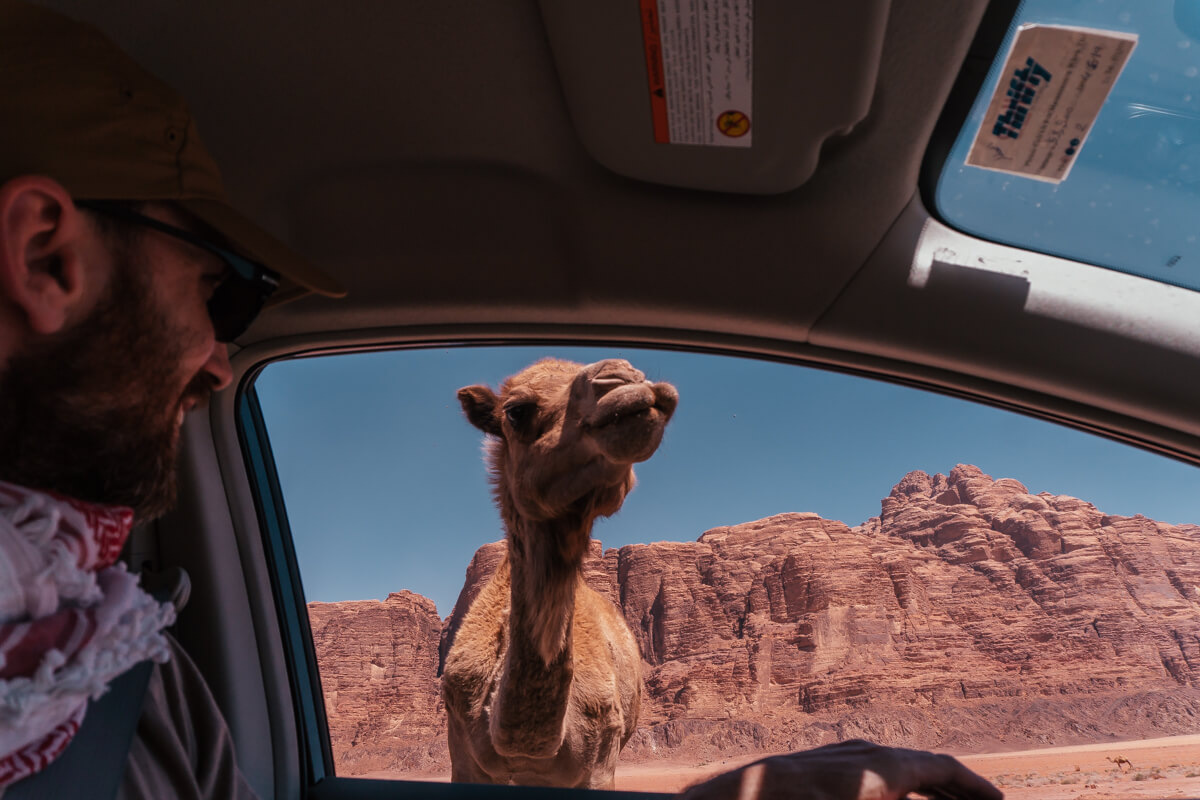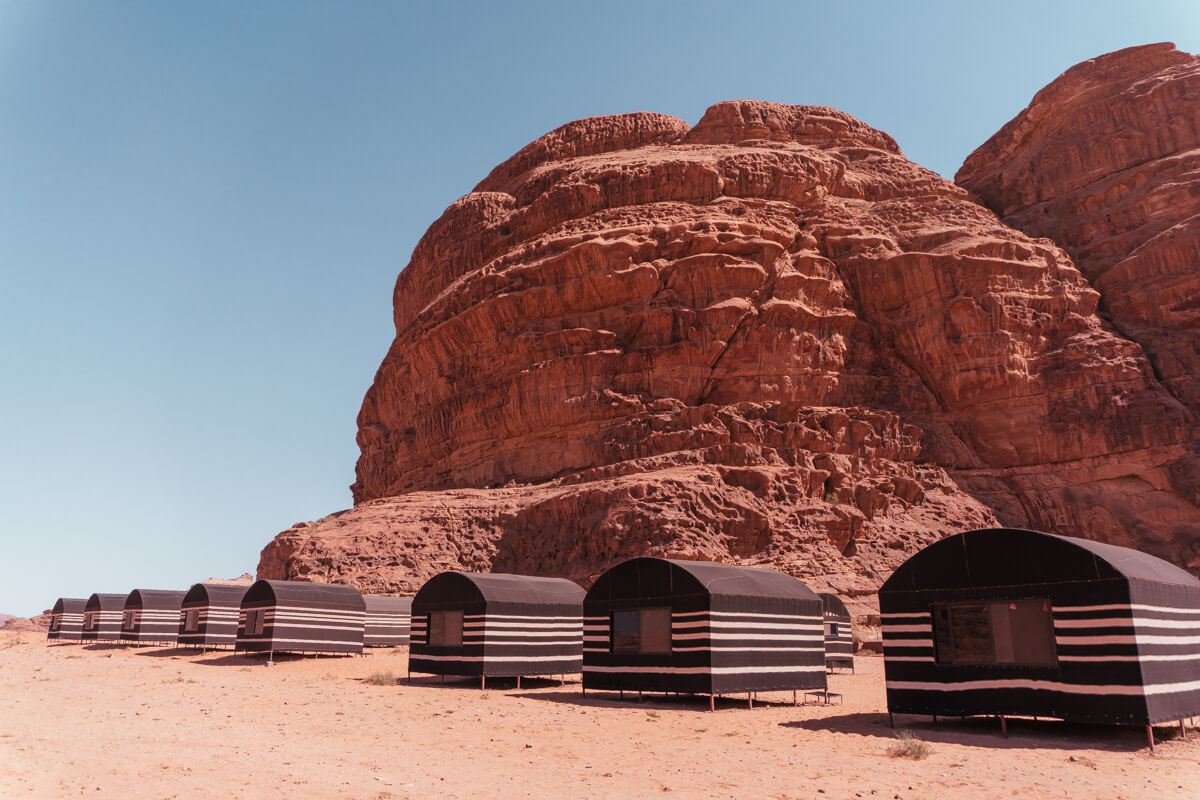 What should you bring along to the Wadi Rum desert?
Pack light, but also don't forget to bring enough clothing to keep you warm during the night. We were there in May 2019 (note: according to Bedouins, it was one of the coldest Mays they remember), and when the sun went down, it was really chilly. We got three warm blankets in our goat-hair tent, in the end we used all three. When the sun comes out in the morning, it gets warm really quickly. During the day, light long trousers, t-shirt and a light jacket was a perfect choice. Of course, you shouldn't forget a traditional scarf to cover your head (red is Jordanian and black Palestinian). I suggest you wear hiking boots with ankle support, our light Teva hiking boots were an excellent choice. For a day tour, bring a backpack with you (my Jujube backpack from Mali zakladi was so practical), some sunscreen, camera (to take some nice pictures), some Jordanian dinars (for tipping or buying a local Bedouin tea) and lots of good energy. And that's it. everything else will be taken care of.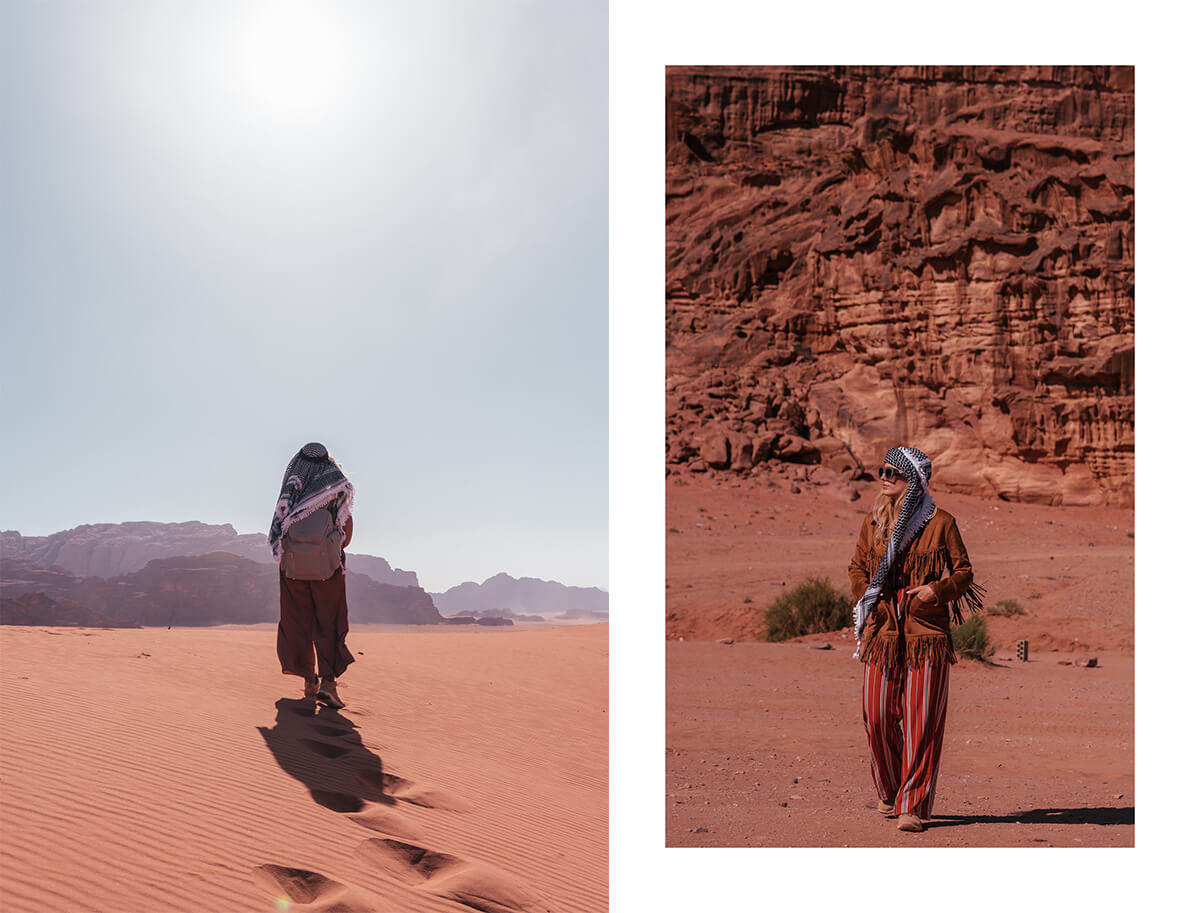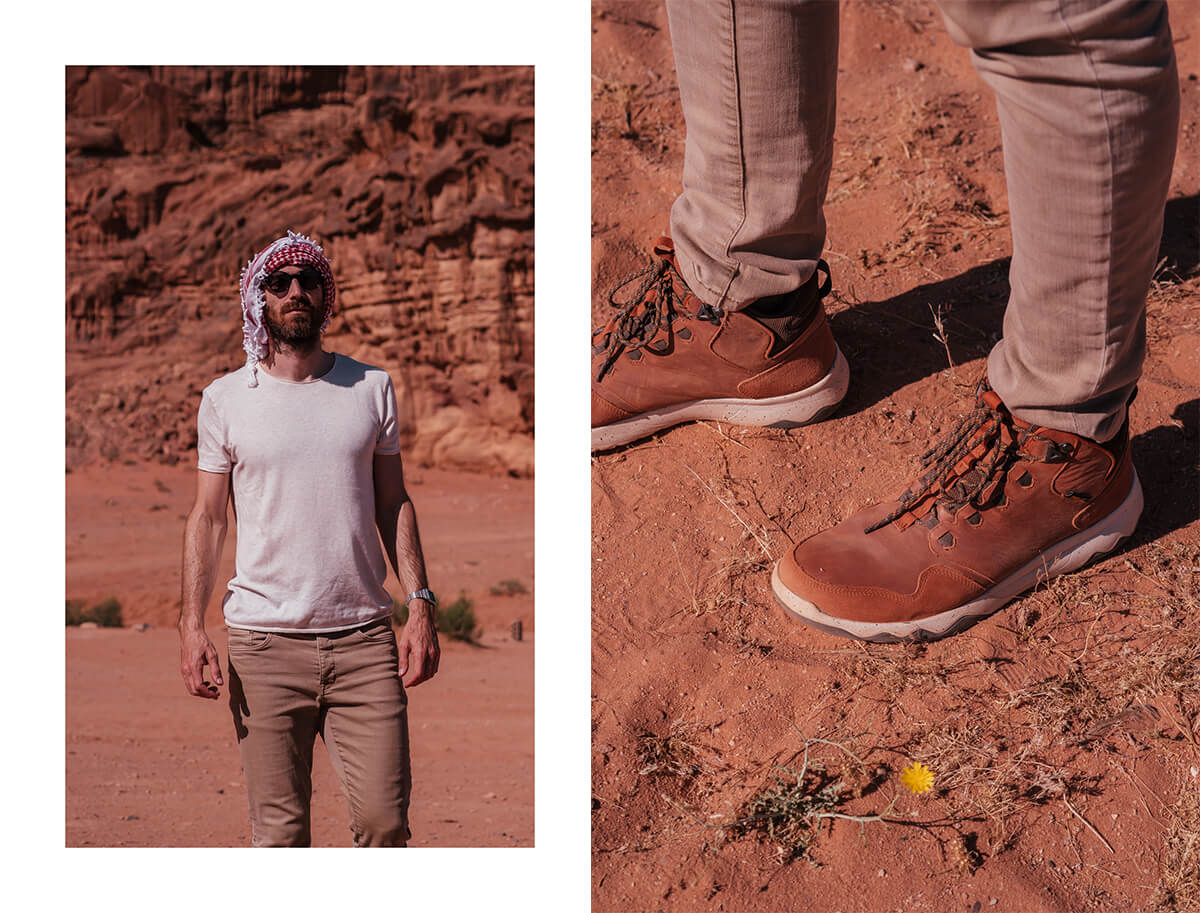 We took a One Day & One Night Jeep Tour – Classic Bedouin tour.
We booked our stay at Rum Stars Camp and decided to go on for a One Day & One Night Jeep Tour – Classic Bedouin Tour, which included a one night stay in a private tent cabin, all meals (including breakfast, lunch and "zarb" dinner – even though we traveled during Ramadan, the food being prepared by Bedouins, who were fasting, wasn't a problem), water, lots of Bedouin tea and a Jeep tour through the Wadi Rum Protected Area. Our driver took as to the Lawrence's Spring (named after T.E. Lawrence), where we climbed the rock formation to see the spring emerges from the rocks and smell the refreshing mint with an amazing view of the landscape. We visited the Jabel Khazali Canyon and Jebel Anafishiya (saw some ancient inscriptions of Nabateans and Thamud people), the Map Stone, hiked the red sand dune in Wadi Um Ishrin, prepared fire, cooked and ate our lunch in the shade of a cliff in Barrauh Canyon, saw the famous Mushroom Stone, took some pictures at a natural bridge in Khor al Ajram and walked the Al Mahama Canyon. On the road we also met some camels, treated them with some pita bread and didn't even think, they would stick their heads in the jeep for more food. It was a really funny encounter!
Overall, we were really positively surprised by the whole Wadi Rum experience, everything from accommodation, food and the landscape of course, exceeded our expectations. We definitely recommend, you add Wadi Rum to your Jordan itinerary, especially if are up for something a bit more adventurous.