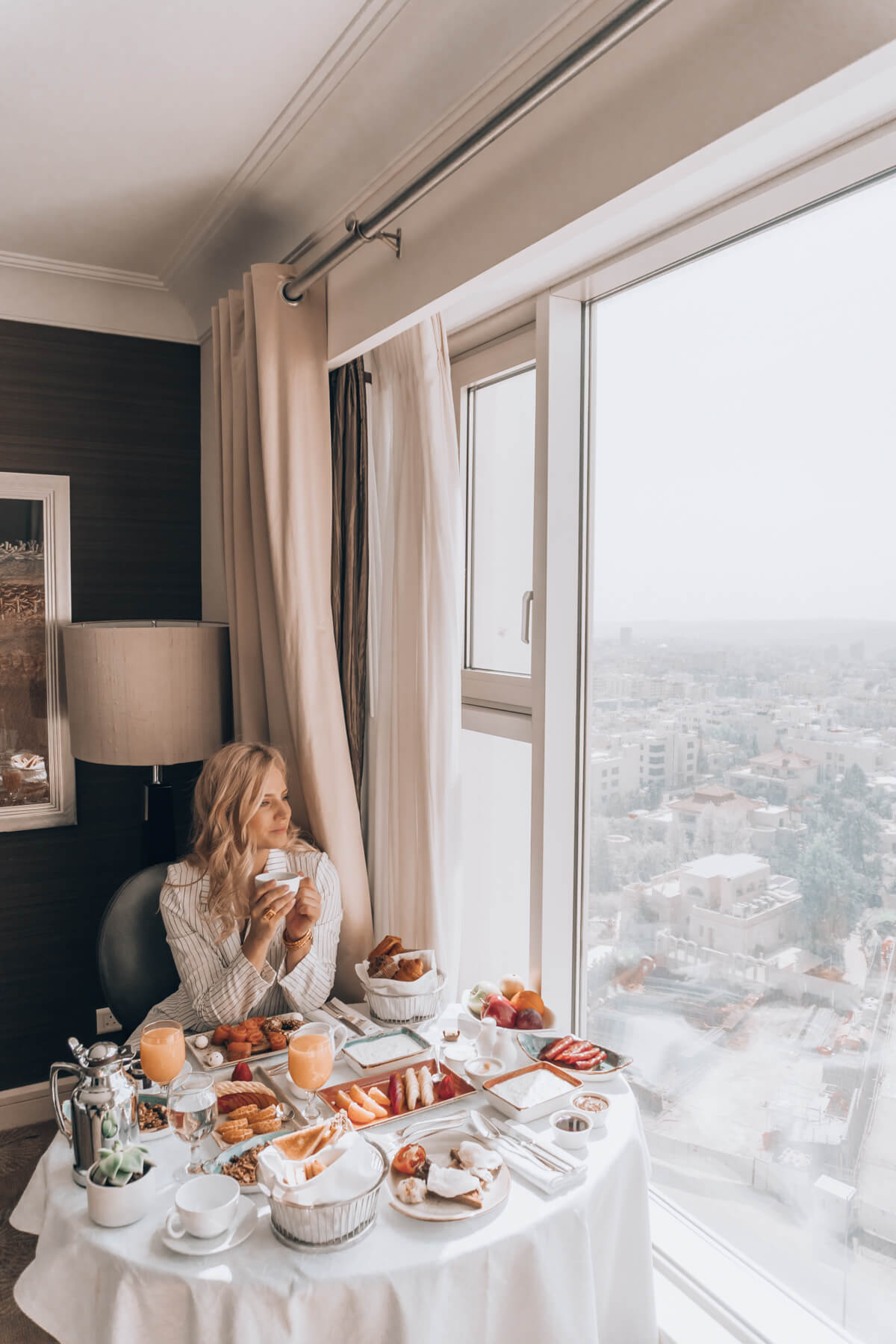 Four Seasons Hotel Amman
5*****
5th Circle, Kindi St, Amman, Jordan
price: from 300€ per night
https://www.fourseasons.com/amman/
Amman was our first stop while exploring Jordan. After arriving at Queen Alia International Airport in Amman, we rented a car and drove directly to the Four Seasons Amman, which was a good half an hour drive. We arrived late in the evening and were warmly welcomed by some sweet treats and fruit at our room.
Four Seasons Amman hotel is located in an upscale residential area of Amman, yet still a perfect location to explore the magnificent historic sites and the vibrant centre of the Jordan capital, Amman.
Set atop the tallest of Amman's seven hills in the prestigious Abdoun residential area, just a short drive away from the bars and restaurants of downtown Amman, the Four Season Amman is a perfect luxury hotel to recharge your batteries while exploring the area. This 15-storey limestone building combines modern design and Greek- and Roman-style elements, as well as incorporating Jordanian marble and stone. With 192 rooms, Four Seasons Amman is a large hotel, offering stunning city views – especially, if you are staying at one of the highest floors.
Offering a perfect combination of comfort and luxury with excellent service.
Four Seasons Amman offers luxurious and spacious rooms, decorated in a neutral tones, luxurious bathrooms, heavenly comfortable beds and above all, excellent service! Outstanding service is professional, attentive, yet friendly and welcoming – their award-winning hospitality is something they are well-known for. Actually right now the hotel is already getting renovated by phases, all of the rooms will be completely renewed next year. We were unfortunately too early to enjoy their outdoor pool are with terrace (which is opened all summer), but we managed to dip in the indoor heated pool (with a spa), which was really lovely. There's also a well-equipped fitness centre and even a squash court.
The Four Seasons Amman is pampering all of your senses.
There are several dining options at the Four Seasons Amman – three restaurants – Olea with a variety of breakfast options (as an option: you can also order breakfast in your room, as we did the second morning), La Capitale with a classic French brasserie menu, FIVE Grill & Lounge with casual dining menus. The latest is also a really popular place to go during the weekends, when we arrived there was a lot of people attending a party with lots of food and music, since it was a start of Ramadan two days after. Also, hotel's lounge – The Foyer Lounge it's something you shouldn't miss, if you fancy light lunch or an afternoon tea, as well as the SIRR bar with a huge variety of drink options. The Four Seasons hotel's entrance is something we will also definitely remember, with hundreds of fresh flower. How stunning is it?
The Four Seasons Amman is a 5***** hotel offering luxury accommodation with fine dining at three restaurants, award-winning hospitality in the centre of a vibrant city of Amman, Jordan.