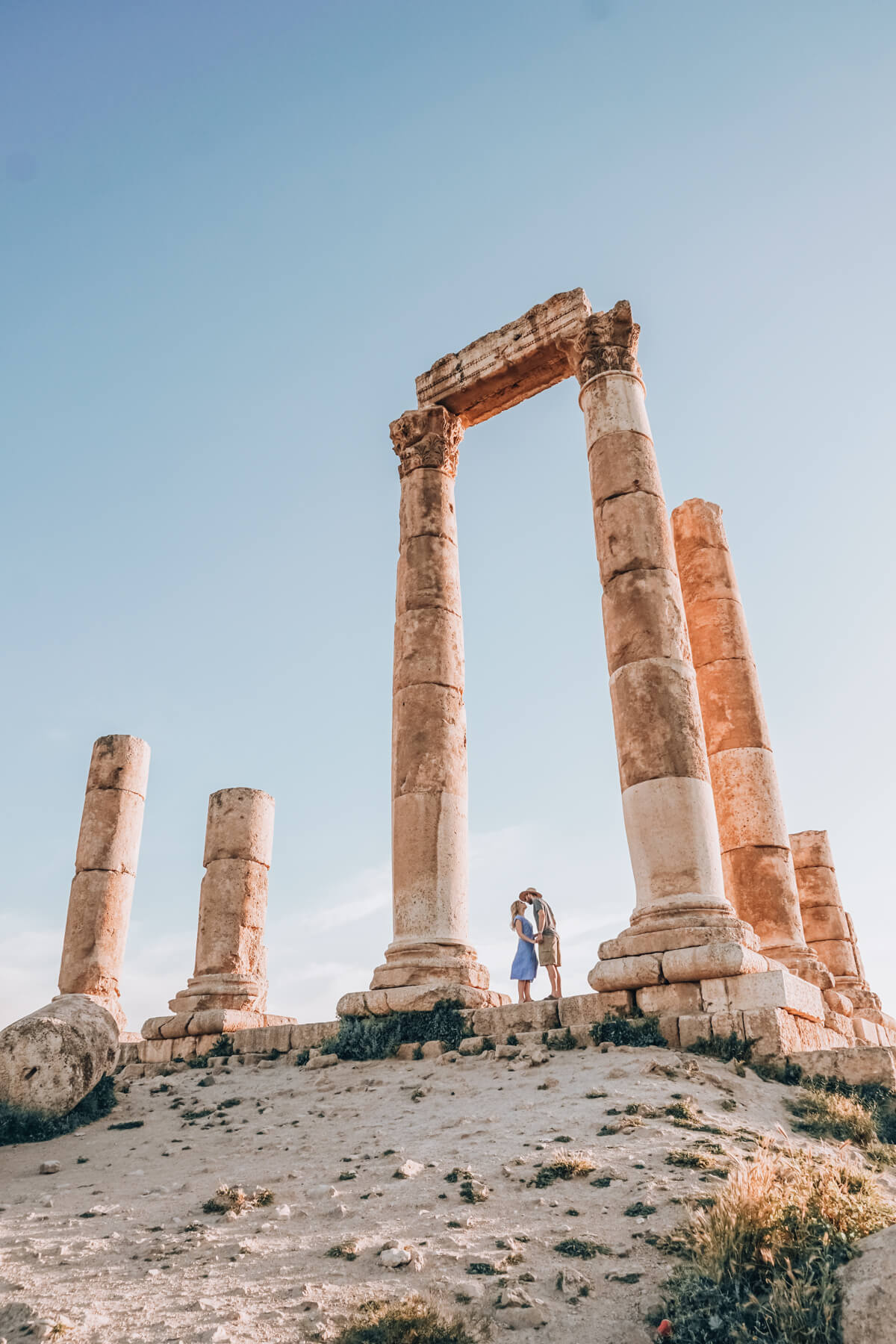 What do you need to know before visiting Amman Citadel?
Amman Citadel is located at the top of the highest hill of Jordan's capital at 850m, in the centre of both ancient and modern Amman, surrounded by a 1700m wall dating back to Bronze Age. Not only offering full panoramic view of the city, it is a stunning historically rich sight, you shouldn't miss, if you are visiting Jordan. We visited it in the afternoon and this way catching it in a perfect lightning right before sunset.
Opening hours of Amman Citadel
According to information I found on the internet, Amman Citadel is open from 8am to 5:30pm (in April and May), from 8am to 4pm during winter and from 8am to 6:30pm during summer. When we were there, in May 2019, the Amman Citadel was open until 7pm. You could get in any time before 6pm and stay in there for another hour. I also believe this is the best time to visit it, since the place is not so crowded in the late afternoon, and also the lightning is great to take some nice pictures.
Entrance fee for Amman Citadel
Entrance fee to the Amman Citadel is 2JD. It is free with the Jordan Pass (which you should definitely buy before entering the country – more about it in one of my upcoming blog posts).
Where to park when visiting Amman Citadel?
There's a free parking space at the top of the hill, right next to the entrance. Also, an option is to park in Downtown Amman (there are many parking spaces available for 2JD per hour) and hike to the top or take a taxi. Note that the roads leading to Amman Citadel are often very busy and it might take you a while to get there (in this case, I suggest you find some alternative roads with the help of Google maps to avoid the traffic).
What to see at Amman Citadel?
THE TEMPLE OF HERCULES is probably the most photogenic spot of Amman Citadel. These Roman Period remains (two pillars with ruins of additional four pillars) are a symbol of Hercules's strength. If you look closely, you will also find a hand of a large statue in between the Temple of Hercules and the museum.
THE BYZANTINE CHURCH dating back to the 5th-6th century, there's not much left from it today, but you can still see some ruins of pillars and mosaics.
Situated in the northern part of the Amman Citadel, THE UMAYYAD PALACE from 7th-8th century offers a great view of the city. It used to be a large complex of buildings, now you can see some remains (surviving the earthquake), particularly the rebuilt entrance dome.
Located at Amman Citadel, the JORDAN ARCHAEOLOGICAL MUSEUM is the first public museum in Jordan, constructed in 1951. You will find some interesting artefacts there dating back from thousands of years from all over Jordan.
What to see close by the Amman Citadel?
6000-seat ROMAN THEATER carved into the hill can also be seen from the top of Amman Citadel. To enter it, you should reach it from Downtown Amman.
DOWNTOWN AMMAN can be seen directly from the Amman Citadel, since it's located right beneath it. If you have any time left after walking the Amman Citadel, explore this traditional vibrant part of Amman, where you will find many small shops offering everything from jewellery, traditional sweets, crafts and souvenirs.
outfit: Tom Tailor x Toni Garrn