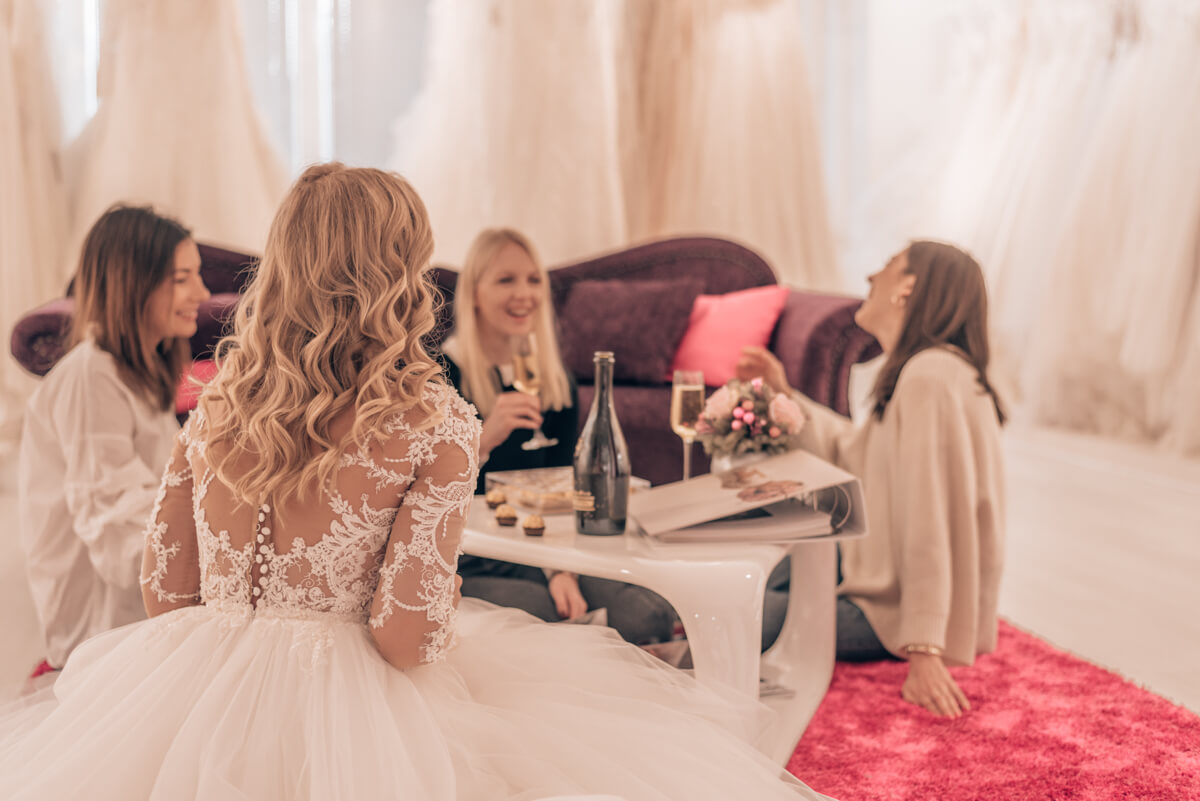 I found my dress… by accident.
It wasn't exactly a movie scene – without sparkling wine and sweets and without my closest friends (the photos are deceiving haha). It all started when I agreed to shoot an editorial and to do an interview for Zaobljuba wedding magazine. I was acquinted with the bridal salon Sanjska obleka even before this photoshoot, from times when I was modelling or working as a presenter. I knew that when looking for my own wedding dress, I would definitely check out Sanjska obleka, because of their varied, trendy and beautiful collection known for high quality. It all happened very rapidly and I didn't even have a chance to go on a hunt for my perfect wedding dress with my best friends.
While preparing for the editorial of the new issue Zaobljuba wedding magazine (which by the way is already out), Tjaša the editor of the magazine and went for a trip to Kamnik, where we together selected some wedding dresses that were featured in the magazine. I was changing dresses rather quickly (without even looking in the mirror), turning towards Tjaša for her approval. I tried about ten of them (probably even more, I do not remember well) and when I tried on the last one I received a reaction from Tjaša: "This one! This one should be featured on the cover". She continued: "If you will not want to wear it for your wedding?" I finally turned around and looked into the mirror and a confused smile draw on my face. I responded: "I don't know. I didn't have have this kind of a dress in my mind. What if, what if this is my perfect dress", I was thinking. Is it possible that I will eventually decide on a dress that I would probably never even choose to try on in the first place? I had at least dozen of dresses on my phone selected from Sanjska obleka webpage, which I considered to be a "real candidates" for my perfect wedding dress. The dress did not end up neither on the front page nor in the editorial but is patiently waiting for my wedding day.
All the other dresses were forgotten in a minute when I saw mine. On one hand, it's a classical one but it's just a little bit different on the other hand. It has some trendy touches, but it's also vintage and it goes perfectly with the entire theme of our wedding day.
Any other dress that I've tried afterwards didn't give me the same feeling. And no – my moment when I found the perfect dress was far from what we're to seeing in movies or reading on the web. I did not immediately know that it's "the one". I did not even expect to find it on that day. The dress surprised me, and definitely I surprised myself with the choice.
It is understandable that in wedding choices (even in a wedding dress), there are doubts. There is absolutely nothing wrong if you decide you need time think it over. Not every love is love at first sight. Each has its own story. Same applies to wedding dresses.
I returned to Sanjska obleka. For the first time for the dress I wore at a pre-wedding shooting and the second time when I returned it (and I tried my wedding dress again then). I paid my last visit there with my closest friends, whose opinion I value highly – with my long-time friend Gala and her daughter Ella, with my namesake Ajda Gregorc, fashion expert and blogger, my friend Tesa and a photographer Pia Hočevar Mucić. Again I tried some of the favorites from a variety of dresses in the salon and finally put on my perfect dress, which was approved by all of my friends. We toasted to another hook on the Wedding 2019 list, had some desserts and a sweet chit chat. It was another wonderful day, certainly also due to "Sanjska obleka" and their wonderful, helpful and professional staff.
Do I have any doubts? I am calm because I know that the most important fashion wedding decision has already been made – my dream dress is chosen. I sometimes still cannot sleep thinking about the fact that I finally decided to go with something completely different than I thought I would. I have already tried a lot of wedding dresses, I had an idea of what fits me, I had a vision. But in the end, I chose a dress that I probably wouldn't even try and I decided to go with it. And I'm glad I did. My advice to all the future brides who are looking for their dream dresses is to try also the ones that might not be your choice at first glance. You might be surprised!
My dream wedding dress will remain a secret to the wedding day, as it is befits the tradition. Although I'm not very superstitious myself, it seems like a fun thing to keep it a surprise. For Jan and the rest of the world. Well, with the exception of the girls that confirmed my choice of the wedding dress. Thanks to my favorite girls and thank you for the dream dress, Sanjska obleka bridal salon!
photos: Pia Hočevar Mucić