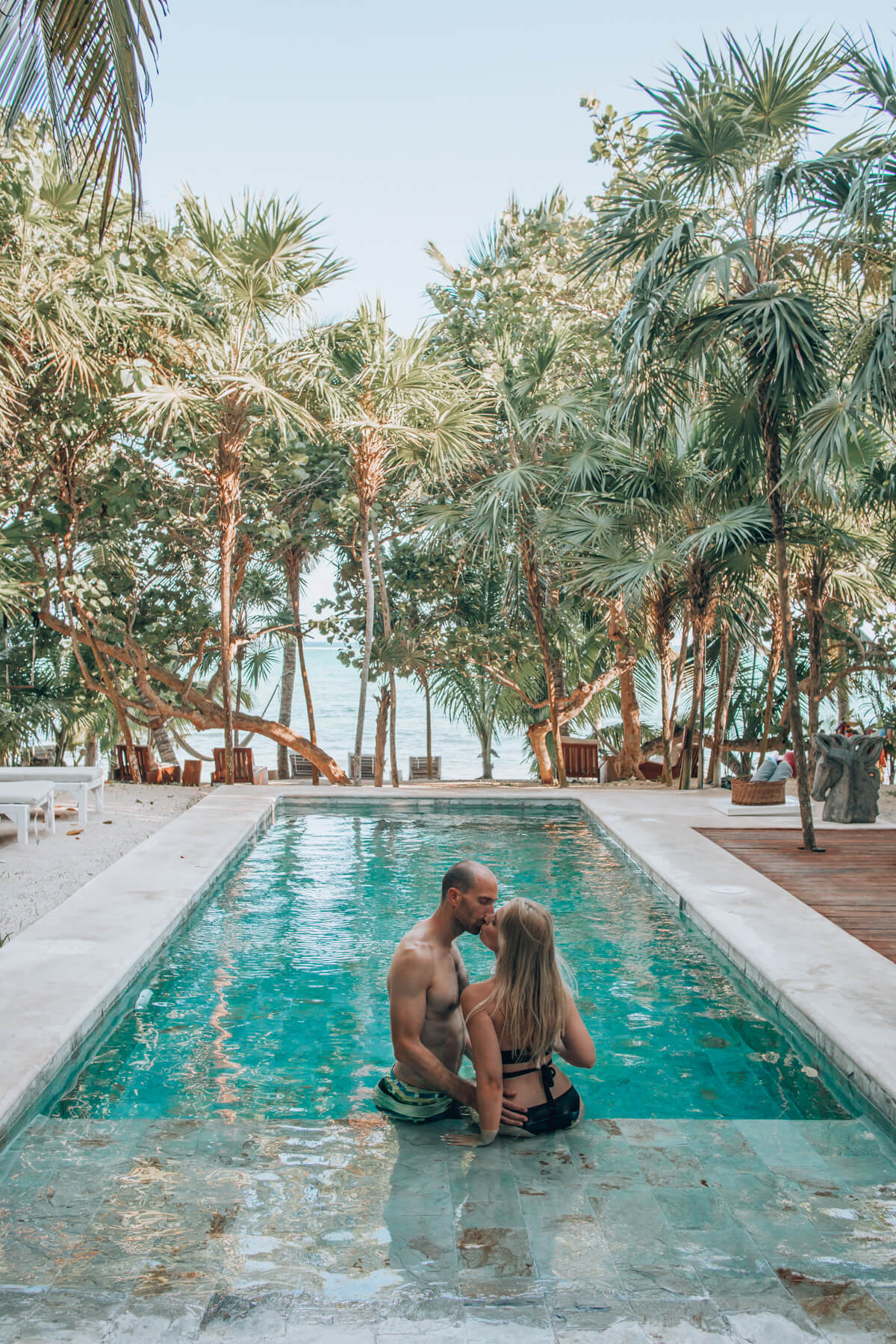 Villa La Semilla
Lote 8 Fraccion VI, Bahia Soliman, Q.R., 77780 Tulum, Q.R., Mexico
price: from 1000eur up, depending on the season (up to 16 guests)
http://villalasemilla.com/
Our Mexican adventure couldn't start any better – in the hidden gem of Riviera Maya, called Soliman Bay. Even though I've been to this part of Yucatan before, I knew nothing about Soliman Bay. The opportunity arose this November, when I returned to the north-eastern coast of Mexico with my fiancé Jan and explored it a bit more. So, we started a few kilometres north of Tulum, in Soliman Bay, which I can call it a more peaceful, tranquil, even more beautiful and definitely less touristy "version" of Tulum. If you follow my Instagram @ajdasitar, you've already seen some insights into our serious Mexican pampering at Villa La Semilla, owned by Alexis Schärer and Angie Rodriguez, the same couple who owns the stunning Hotel La Semilla in Playa del Carmen I stayed at 2 years ago. Hidden on the edge of the jungle and located right on a pristine sandy beach, Villa La Semilla is a true modern, yet rustic home-away-from-home.
Why should you book your stay in Soliman Bay over highly popular Tulum?
Tulum is considered an inspiring haven for many travellers, finding there their purpose, zen or just tropical vacations, with eco-resorts, Instagramable cafes, it is a place with a relaxed atmosphere, full of bohemian, even hippy-chic vibes. In the surrounding area you'll find a number of historical Maya ruins, fishing villages like Punta Allen, kilometres of sandy beaches, lush jungle and mangroves. You'll find paradise there. Well, at least you could found it years ago. I am afraid Tulum is losing its charm. It is wonderful, don't get me wrong, but the mass tourism and piles and piles of seaweed leave a relatively bitter aftertaste. The seaweed invasion was a huge problem from April til October, and whether it's a result of global warming, pollution or natural occurrence, it still can ruin the trip. The situation when we arrived in November was ok, there was some seaweed, but not a lot and mainly washed ashore and left on the beach (some of my followers were there during the summer and they sent me some photos, oh boy, the situation was serious months ago). Tulum I remembered from 2 years ago was a heavenly boho paradise, this year it was pretty, but left a bitter aftertaste, as I mentioned. Soliman Bay, on the other hand, is located just a few kilometres north of Tulum, between an idyllic tropical jungle on one side and a sandy beach on the other, because it's a bay, the coral reef (and waves crushing at it) prevent the majority of the seaweed hitting the coast. It's hotel/villa zone is shorter, which means less hotels, villas and less people, the beach and the road to the area (which is not even paved) is less crowded. The coral reef and the fact that the water is so shallow, allows you to see a wonderful underwater world (I saw a big turtle swimming here for the first time ever). Soliman Bay has, such as Tulum, beautiful sandy beaches with palm trees, idyllic tropical jungle environment and the close proximity of Mayan ruins and water caves known as "cenote".
Villa La Semilla accommodates up to 16 people and offers gourmet Mexican pampering by a private chef
Villa La Semilla is a larger villa with 5 bedrooms, which can accommodate up to 16 people. Booking a full villa hidden in the tropical jungle will allow you direct access to the paradise sandy beach, where you can swim, snorkel and even kayak. All rooms in the villa (the same goes for Hotel La Semilla) are furnished and decorated in a minimalistic style with rough-luxe touch, that mixes different materials and elements. Villa is full of unique pieces, each of them carries its own story. All 5 bedrooms are air-conditioned, extremely spacious and have their own balcony with a swing, and a bathroom with shower and bathtub. On the top floor there's the Master Suite with a larger terrace and a pool overlooking the palm trees and the turquoise sea. The rooftop terrace above is a perfect place to observe tsunrise and sunset, enjoy a glass of wine and chat with your family or friends.
There's a swimming pool at the tropical garden right next to the porch, where you can enjoy your breakfast, lunch and dinner prepared by a private chef. A few steps ahead there's a private sandy beach with loungers, the view early in the mornings during sunrise is magnificent. This part of the villa was definitely my favorite, it's where everything's happens – from food to water enjoyment. The whole villa is beyond stunning, when you enter the villa from the road, there's a small tropical garden with a small fountain, after you enter the living area, there's an open kitchen with a huge dining table on your right and sofas, books and "retro" table football on your left. In the middle of the living space, the greenest part of the interior of the house is a house to a hermite crab (living under the same roof as you, you've read it right). But the most impressive part, by our opinion, is still the outside of the villa – an alfresco lounge, veranda, outdoor wood-fire oven and grill, and of course, the pool that unfolds onto a sandy beach. Trees offer shadow, where you can relax after enjoying the sun on the beach. At Villa La Semilla all of your senses will be pampered. Your taste buds especially, if your breakfast, lunch and dinner will be prepared by their chef. We ate (without exaggeration) the best Mexican food there. The food was truly divine, all ingredients are local and carefully selected and prepared by the chef, nothing but superlatives from me. Oh my, the flavors, the smells and taste! And since you discover new places and cultures though food as well, this was a perfect place to start our Mexican adventure.
Villa La Semilla is an excellent choice for all groups of travelers looking for a private luxury accommodation in nature with direct access to the sea and close proximity to the Tulum area. I totally see this place as a perfect boho elopment location – maybe in our next lives, since our wedding venue is already booked. Or for some other occasion. We will definitely be back.