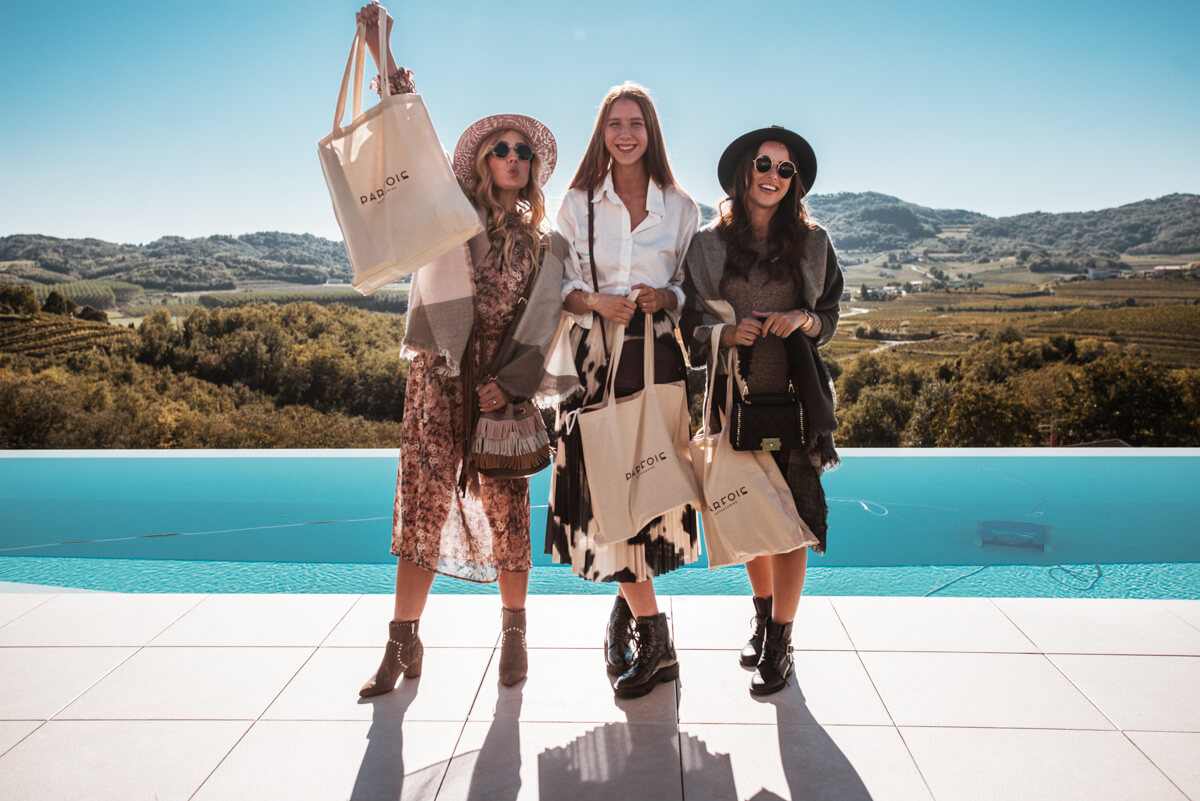 In the previous week Parfois has taken a selected company of bloggers and editors from Slovenia, Croatia and Serbia on a two-day indulgence in the most stunning part of western Slovenia – The Municipality of Brda, (Goriška Brda in Slovene). First, we stopped at the Parfois shop in Citypark Ljubljana, where we chose our fashionable pieces, perfect to elevate our fall looks. Choosing the pieces was quite difficult because there are so many stunning, trendy pieces in the Parfois stores right now, but we managed to carry out this task with excellence. In the next two days we therefore complemented our looks with Parfois fashion accessories and I can assure you, I will be reaching for them in the next few months as well!
The Municipality of Brda is only an hour drive away from the capital, Ljubljana. However, you must cross the Slovenian-Italian border and come back through it to Slovenia to get to it. We chose this path and quickly arrived at our enchanting destination. The fairy-tale landscape, positioned between the Alps and the Adriatic, captivates you with the hilly slopes, full of vineyards, picturesque village houses and beautiful views, bathing in the autumn sunrays. This place truly offers a lot of charming corners, which are a real candy for the eyes, spirit, mind and your taste buds.
Parfois means »by occasion« in Portuguese. And this occasion was an ideal one ….
Our first and main stopping point was the Klinec Plešivo estate, where they greeted us with a welcome feast, followed by a presentation of the new Parfois fall collection, introduced to us by the main representatives of the brand, who flew in straight from Portugal to greet us. We therefore spent the evening with a gourmet delight (team Klinec Plešivo, thank you!), visited the village of Šmartno, ate an amazing brunch at the Vila Vipolže and had wine tasting at Simčič for the very special end.
How will Parfois autumn look like? Sprinkled with natural shades, prevailing with brown and grey combinations, beige, grimy pink and mustard yellow. Animal prints are an especially trendy choice for a stroll in the park full of colourful leaves!
Two days of fashion hangouts and gourmet delights made our bonds stronger, including the one with the brand Parfois itself. Their vision is the secret behind their success. Thanks to them, I was once again reminded of the beauty of my homeland. I am convinced that our two-day trip to theMunicipality of Brda was only the start of our beautiful Parfois journey!
photo: Robert Ribič