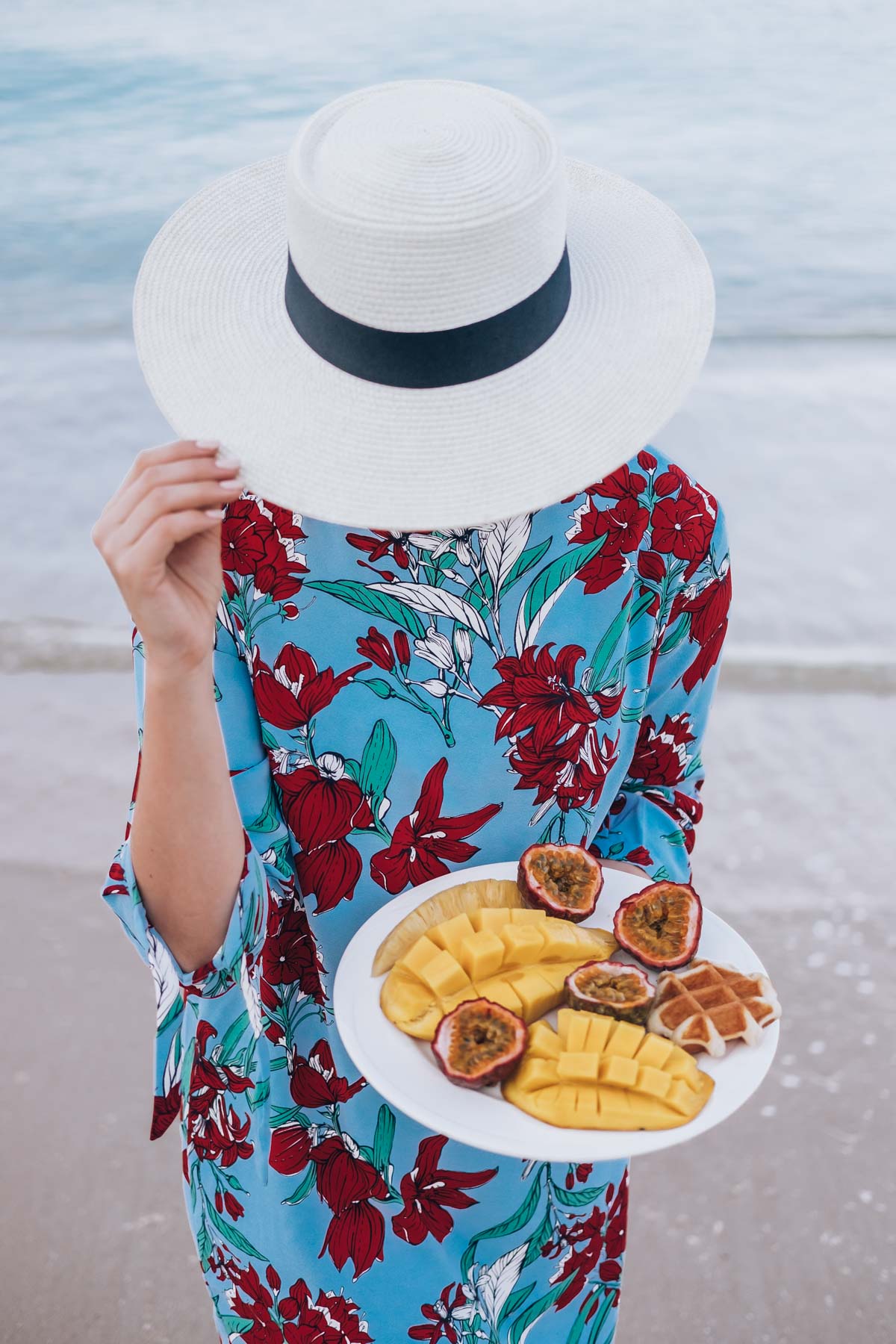 Barefoot in the sand, wearing my new S.Oliver dress, morning light and a big plate of tropical fruit in my hand. This is what I call tropical paradise.
Believe me when I say, Thailand is heaven for all fruit lovers. Wherever and whenever you go to Thailand, you will find plenty of fruit stands on almost every corner. In the city, in a village, on the beach or right next to the street in the middle of nowhere. The bright colours will attract your attention immediately and even-though most of them looks highly suspicious (almost dangerous with all the spikes or skin looking rather similar to poisonous animals), you should truly try them all! Even the smelliest one of all – durian. Still, you should keep in mind, the price and selection depends on the season and location. Anyway, your taste buds and senses will be pampered either way, different aromas and delicious flavours will make you unappreciative of the tropical fruit selection we have in our European stores. Fruit selection in Thailand is just out of this world!
From jackfruit, smelly durian, stunning (but average in taste) dragonfruit, rambutan or its smaller cousin lychee, longan, rose apple, pomelo, (small and big) bananas, (what-on-earth-is-this?!/it-looks dangerous!) snake fruit, papaya, guava, watermelon, sweet and super aromatic pineapple, hydrating coconuts, to three of my favourite ones – mangosteen, passion fruit and mango! Thailand has it all.
The latter two were on my menu each and every single day. I just couldn't resist. Mango is the most well-spread fruit in Thailand with many shapes, colours and sizes. Mangos were literally everywhere. They have different taste and they can be prepared in many different (all delicious) ways. I prefer them raw, on their own, mixed in a smoothie or accompanied by sweet rice – mango sticky rice with coconut milk is a classic thai dessert we ordered multiple times and our taste buds were never disappointed (although the best and the cheapest one we had in a local restaurant called Papaya on Koh Lanta, highly recommend). The mangos you know from your local supermarket (if you live in Europe, anyways) are nothing like the mangos there. Period. My second fruit love besides mango is passion fruit. Wrinkly purple-brown skin enclosing flesh jelly-covered seeds containing a strong sweet and sour aroma and multiple vitamins (note: passion fruit can also come in yellow, we ate those on Bali a few years back; different, but similar taste, equally delicious). Eat it with a spoon or drink it in a mojito (preferably on the beach watching sunset). Oh boy, Thailand you will be missed!
outfit: S.Oliver
location: Layana resort & spa
photo: Jan Žumer