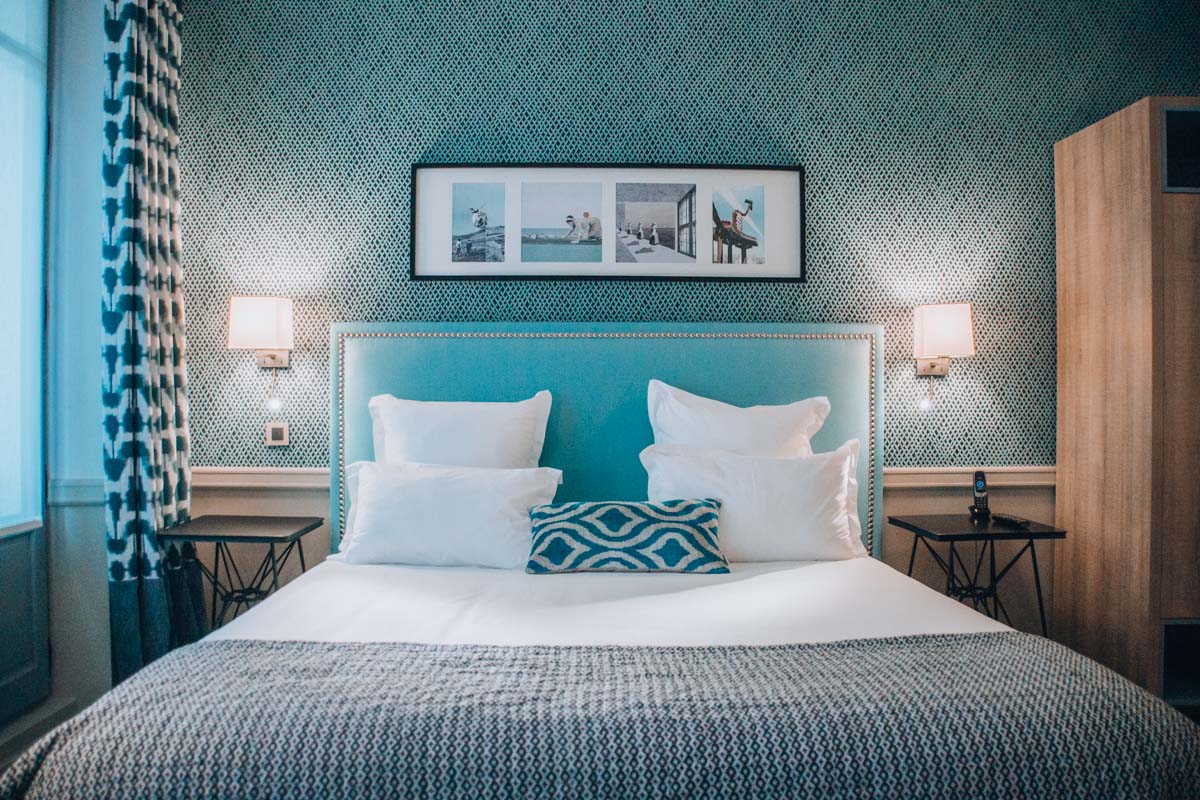 Hôtel Adèle & Jules
****
2 et 4bis Cité Rougemont, 75009 Paris, France
www.hoteladelejules.com
Hotel Adele & Jules is the second hotel we stayed at while in Paris, France. As the Hotel Therese in the middle of Palais Royal area, this one is also a lovely boutique hotel owned and passed on down the generations of the de Lattre family. Together with the third one, the Hotel Récamier in the heart of Saint-Germain-des-Prés, they represent a true Parisian getaway experience. Hotel Adele & Jules, being the youngest of the three, convinced me with a great location, friendly staff, clean, bright, spacious and tastefully decorated interior.
Hotel Adele & Jules is located in the quite passageway in the Grands Boulevards district.
Hotel Adele & Jules is located on a quite private road in the otherwise vibrant and lively Grands Boulevards area. It is centrally located by the Grands Boulevards metro (lines 8 and 9 with great connections to all the Paris attractions), a short walk away from the Opera Garnier and Galeries Lafayette and a good 20min walk to Montmartre, the Sacre Coeur and Moulin Rouge. Also, in the other direction, the Louvre is a 20min walk away. It is a great match for everyone, who wishes to thoroughly discover the city.
French balcony and croissants, I cannot get enough…
The same as our room at Hotel Therese, our Boulevard Club 23m² room at Hotel Adele & Jules had a chic French balcony, which was big enough to enjoy morning coffee, fresh fruits and croissants. Having this luxury in the centre of this magnificent city, was something I fully took advantage off. "Ajda, just sit down and enjoy" was my inner voice whispering to me. Otherwise, breakfast can be served in your room or in the lounge, the Breakfast room to be exact. The Hotel Adele & Jules rooms are coloured in a palette of subdued pastel tones, while the lounge area is a bit more vibrant, as you can see. The best way to describe it, would be: pristine Parisian chic with modern elements. In the lounge area, you can enjoy complimentary Tea Time each day from 4pm to 6pm in their Honesty Bar. This young hotel, opened in 2016 and is definitely one of the best hotel options in Paris, if you're travelling with your better half, alone or business.