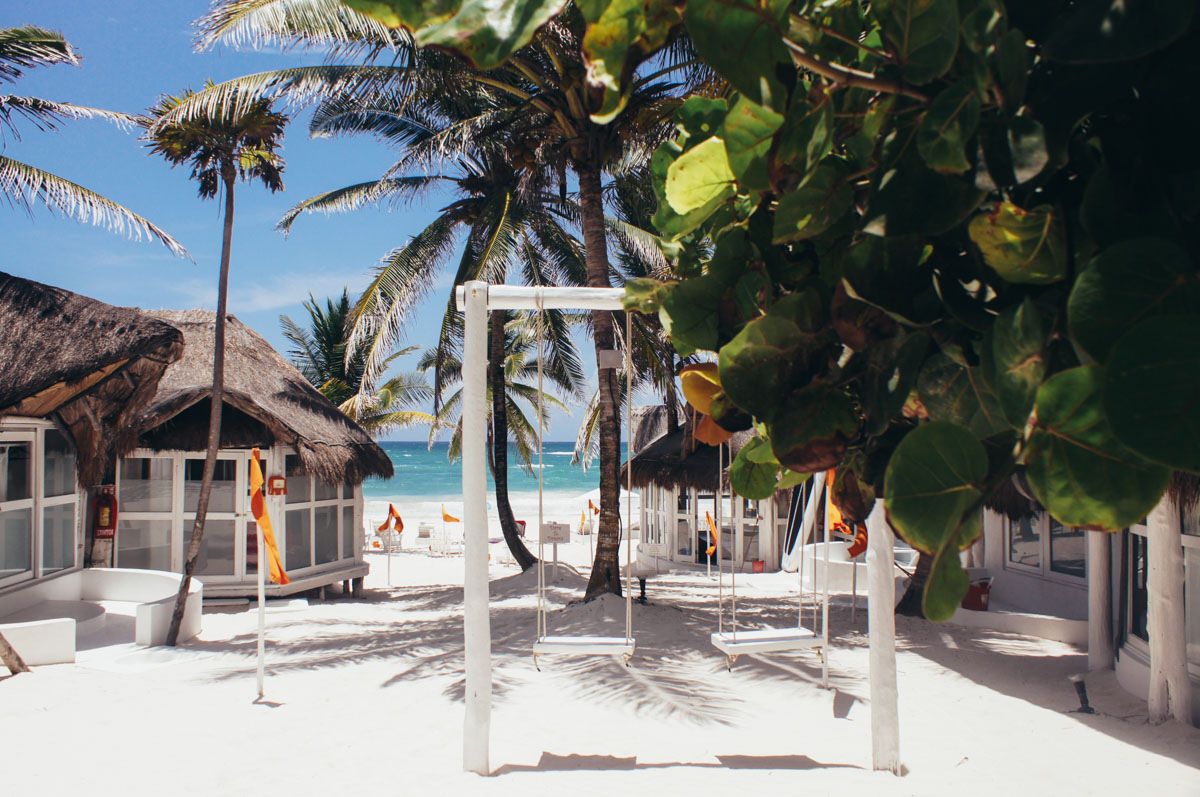 It's quite obvious I've been doing a lot of travelling around the world this summer. I've been to Mykonos (Greece), explored the Dalmatian cost of Croatia, wondered around the streets of Barcelona and last, but not least, soaked up the sun in Mexico. I've shared a lot of memories with you, my dear readers. And I've got much more to tell you. Speaking of Mexico, as you might notice, I stayed in 4 gorgeous hotels and Shambala Petit Hotel in Tulum is the last one from my Mexican trip I need to tell you about.
Tulum has won our heart, mind and soul, and that's the reason we decided to change our travel plans – instead of spending the last two nights in Cancun, we returned to this eco-friendly part of Riviera Maya with white sandy beaches, palm trees and turquoise water. We stayed at the dreamy Shambala Petit Hotel with direct access to the sea.
Eat, sleep, swim, sunbath, yoga… repeat!
Shambala Petit Hotel is located on the South beach of Tulum, Mexico. It has a unique energy, magical scenery and is probably one of the best places to energize your body and mind. Shambala Petit Hotel is not only a place to stay, but also hosts Yoga Retreats with the best yoga teachers from all over the world. Their Yoga Studio is located directly on a beach, within a few steps from the Caribbean ocean. We didn't practice any yoga for the time being, but for sure thinking about returning to this magical place to experience some in the future. Otherwise, Shambala Petit Hotel offers 10 cabanas located on a private beach, where you can relax, drink some fresh coconuts, observe the starry skies at night, listen to the sound of the waves and maybe even see some turtles. In our two nights there we saw two little turtles, just hatched, and a much bigger "mama grande" (it was truly humongous!). Hidden among the palm trees we felt immersed with nature and utterly pampered.
Casa Eolo, a place of The God of Wind
All of the 10 cabanas of Shambala Petit Hotel open out onto the beach. Ours, named Casa Eolo was the closest one to the ocean. Casa Eolo, a house of the God of Wind, is a perfect name for this out-of-this-world suite. You walk into the cabana straight from the beach, there's a king size bed, a small living area and a private bathrooms inside. Imagine sliding the doors open and getting a front row view of the sea! Pretty close to what I expect Paradise to be. It's luxury, minimal and modern, but still makes you feel welcome and peaceful.