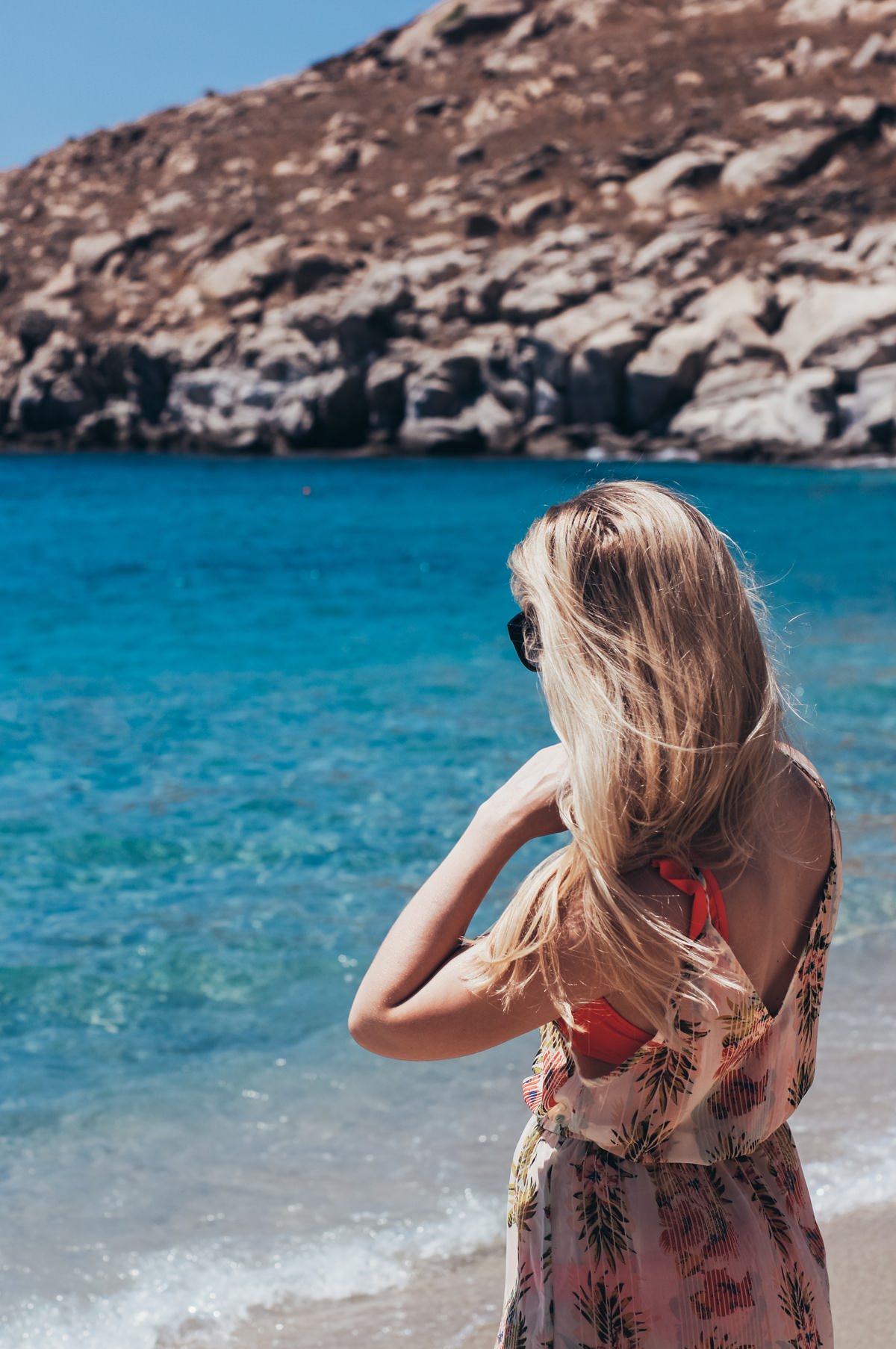 Mykonos is known for its clear turquoise sea and sandy beaches. Most of them are organized, many famed for crazy parties. All across the island, there are many beaches worth visiting. Staying at Sofia's Bungalows Mykonos, villa manager Esmeralda shared with us some insider tips and gave us her own beach recommendations. She recommended going to one of the southern beaches when it is too windy (they are better protected from the strong wind) and shared some of her personal favourites. For all of you who are planning to visit Mykonos, the following beach guide might help you plan your days soaking up the sun and swimming in the sea. If you are looking for a wild party experience go for Paradise, Paraga or Super Paradise beach. You can enjoy the sun and sea at one of many organized beaches (like Agios Ioannis, Psarou or Kalo Livadi) or visit one of my 4 recommendations:
Elia beach
Elia beach is the largest of all beaches in the south. It's a golden sandy organized beach (25€ for two beds and umbrella), you've got some nice restaurants and bars there. It has a cosmopolitan vibe, it's not loud and it's a good choice for when the wind is strong.
Agios Sostis beach
Agios Sostis is one of the most remote beaches on the island. In my eyes probably one of the most beautiful as well. It is not organized (you don't need to rent any sunbeds, you can bring your own umbrella or sunbath – Esmeralda said it's easy to get a super dark tan there), it's tranquil and not that touristy. A short walk from the beach is the locally famous Kiki's tavern, which used to be a true hidden gem of Mykonos. It has now become a hip place where reservations are not available, customers sit and wait for hours to get a table (we waited for over 45 minutes!). However, the waiting is always fun as they serve free wine and the crowd gets chatty. It's a place to meet new interesting people and enjoy the goods of the grill (we enjoyed our sea bass). Check it out if you get the chance!
Ornos beach
Ornos beach was probably the nearest organized beach from where we stayed. It's located on the southwest part of Mykonos, only 2km away from Chora (Mykonos town). It's large and well organized, you can find everything from umbrellas and sunbeds for rent and many restaurant, bars and cafes. It's easily accessible and family friendly. On the opposite site of Ornos town there's a famous kitesurfing spot, a beach called Korfos.
Kapari beach
A true hidden gem, small sandy beach near Agios Ioannis, which has a rocky west shore. It's somehow not that popular (you need a car to get there, I would say), there really weren't a lot of people there when we visited it. And that's probably it's beauty. It's secluded and tranquil, perfect for days when you want some peace and relaxation in the clear and refreshing green-blue sea.
wearing: Women'Secret swimwear and dress
photo: Aida Šabić & me