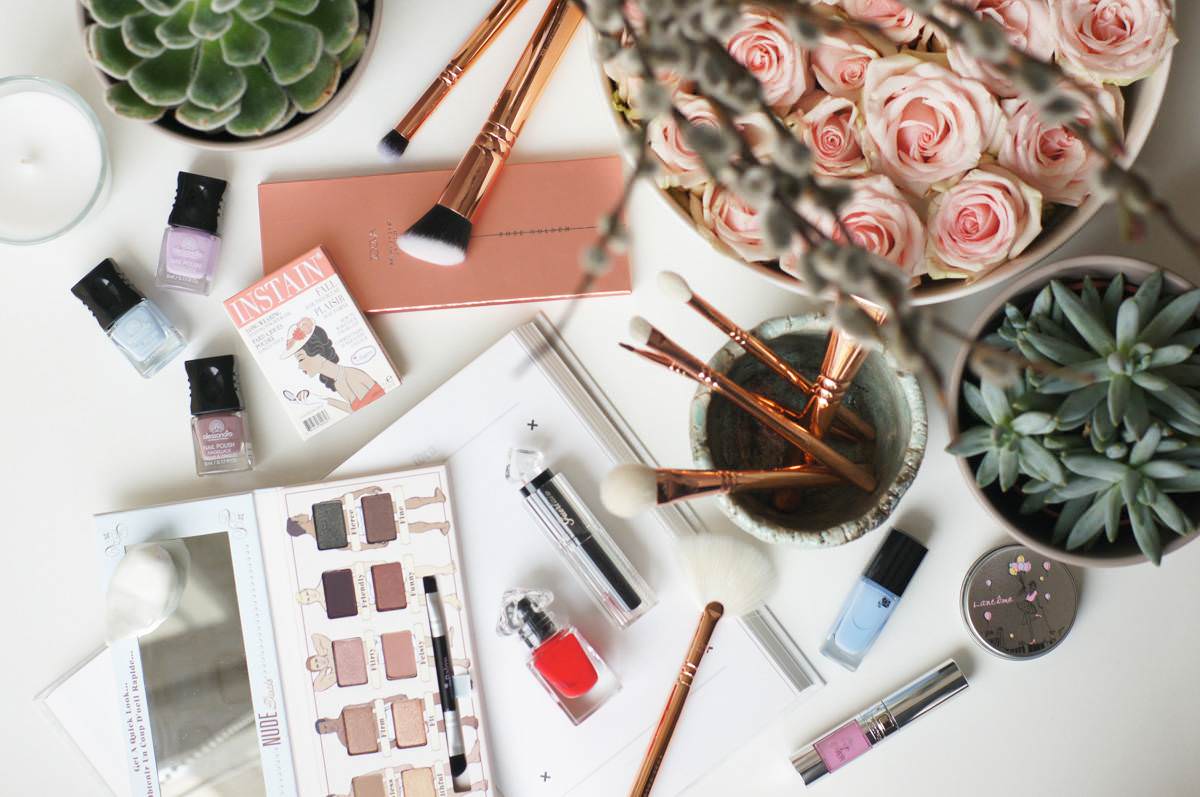 Spring has officially taken over my blog! It was about time for warmer weather to kick in, however I am not particularly excited about the upcoming weather forecast (apparently some rain is coming at the end of the week here in Slovenia). Regardless of this, today I've decided to share with you some seasonally-appropriate beauty favourites.
theBalm Nude Dude Volume 2 eyeshadow palette has totally won me over. With its 12 stunning eyeshadows it's a perfect mix of everyday shades – from lighter to rich brown and burgundy. Their pigmentation is lovely, they blend really well and offer a variety of different day-to-night looks. The palette comes with a small dual-ended brush, which is useful, but I don't think I will ever prefer using it over my regular makeup brushes (Zoeva for example). theBalm is known for their cheeky packaging, the Nude Dude Volume 2 is no exception. The same goes for theBalm Instain Long Wearing staining powder blush in the Swiss Dot shade, which is a lovely peach shade perfect for spring and summer months. As the name suggests, the staying power is amazing. theBalm overall has made a huge impact on me, I've totally fallen in love with their products.
GIVEAWAY: If you would like to try out theBalm Nude Dude Volume 2 eyeshadow palette or Instain Long Wearing blush, follow me on Instagram @ajdasitar or Bloglovin and send me a message to ajdasblog@gmail.com revealing what do you like most about spring. I will announce the winners on the 28th April 2016.
A while back Guerlain introduced their new Guerlain La Petite Robe Noire deliciously shiny lip and nail colours. To go along with their iconic La Petite Robe Noir fragrance, Guerlain has created the La Petite Robe Noire makeup range, which consists of nail varnishes and lipsticks. The packaging and scent matches the perfume, which is definitely something new and exciting. I've got the lipstick in the shade 003 Red Hills, which is a classic red anyone can wear, has buildable coverage, light texture and a shiny finish. To go along with it, a nail varnish in the name-matching shade 003 Red Hills is a truly superb product. Believe it or not, you can apply it with only one stroke, plus it smells and looks amazing. It has been a lot of fun wearing this Guerlain colour popping duo.
Probably my favourite beauty acquisition this spring is the Zoeva Rose Golden Luxury Set Vol. 3, which you can buy HERE. Take a moment and appreciate this breathtaking rose golden perfection! Together with the brush clutch you get 8 face and eye brushes, which are perfect for creating any makeup look, from day to night. In the set you get the 103 Defined Buffer, 109v Face Paint Vegan, 114 Luxe Face Focus, 129 Luxe Fan, 142 Concealer Buffer, 228 Luxe Crease, 234 Luxe Smoky Shader and 317 Wing Liner. Besides, with the amazing Rose Golden Luxury Set Vol.3 Zoeva has brought out the Zoeva Rose Golden blush palette. It contains 3 utterly stunning powders – a deep rose-toned satin blush, glowy and radiant luminizer and a deeper contouring shade. Both three I've been using like crazy for the past few weeks, the pigmentation is superb and the trio is extremely handy for taking it along. A huge thumbs up, Zoeva!
With nails, you can't go pass the pastels this spring. My favourite pastels are from the Alessandro Cosmic Chic collection – the Milky Way is a perfect soft and pastel lilac, the Rocket Man is a slightly deeper violet taupe and the Heavenly Skies a pale blue with a purple undertone. They all apply surprisingly well (without any brush strokes) considering they are true pastels. You need two coats for full opacity, which is relatively fine, since you normally need three with pastels.
Last but not least, Lancome has come out with some lovely new spring-appropriate makeup items. Starting with the most exciting one, Lancome Lip Lover Dewy Color Lip Perfector in Rose Haussmann might be one of my favourite lip-finds of the past few months. The packaging is unique and practical (you press the square button and the upper part with the applicator pops out); the applicator is pointy and precise. I love its non sticky moisturizing texture and the bright, pastely lilac shade. The second product I've been loving is the Lancome My Parisian Blush Colored Cheek Cream in 01 Corail De Ville. It comes in super cute tin packaging and has a rather unusual texture – it's a powder blush, but has a creamy, smooth texture. The coral shade is perfect for this time of the year for sure! Lastly, Lancome Vernis In Love in the 153 Bleu Ciel Parisien shade is another pastel addition in the form of nail polish. Baby blue is definitely the shade to go this spring.