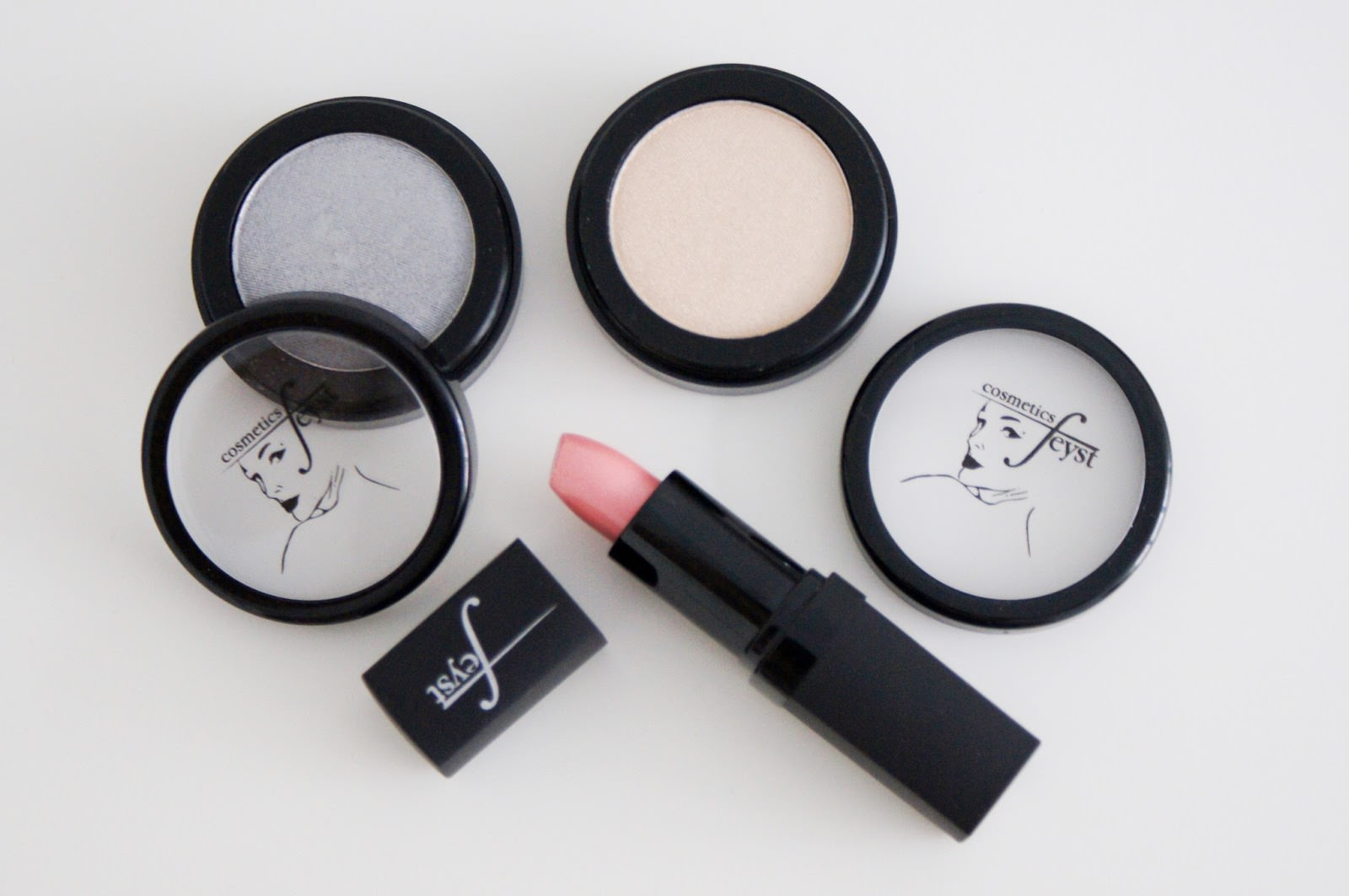 I received three products from a new slovenian cosmetic brand called Feyst. This post is probably more interesting for slovenian readers, however I wanted to give you a clue to what I'm writing about. I received an Illuminating Shimmer Powder (Golden Glow), Lipstick (Ice Cream) and Extra Eye Shadow (Platinum).
Pred časom sem prejela v test nekaj produktov kozmetike Feyst, ki je na našem trgu nova. Gre za slovensko podjetje, izdelke pa izdelujejo v Kanadi in ZDA. Najprej bi rada omenila, da izdelke rada dodobra stestiram, tako da lahko podam primerno oceno. Morda se kakšna stvar čez čas izkaže za boljšo oziroma slabšo kot ob prvi uporabi. V test sem prejela šminko (odtenek Svetli Sladoled), senčilo (odtenek Platina) in osvetljevalec (odtenek Zlati Sijaj).
Illuminating Shimmer Powder Golden Glow
Najbolj sem navdušena nad osvetljevalcem, ki svoje delo opravi odlično. Zares poudari predel kamor se ga nanese; sama ga nanesem nad rdečilo (na ličnico), nad zgodnjo ustnico, včasih pa tudi na čelo in konico brade. Primeren je tudi za osvetlitev predela pod obrvjo in celo za posvetlitev notranjega kotička očesa. Vse je seveda odvisno od tega kakšen učinek želimo doseči, lahko da nanesemo bolj ali manj intenzivno. Z njim zlahka dosežemo poleten glowy videz (sama se ga objavila na instagram @ajdasitar že nekaj časa nazaj). Gre za produkt, ki ga bom v poletnih mesecih z veseljem uporabljala. Se pa v sami embalaži malce praši (ni moteče), vendar je to pogost pojav pri osvetljevalcih.
Price / Cena: 18,90€ for 4g
Ingreditents / Sestavine: Mica, Isoeicosane, Polyethylene, Boron Nitride, Polyisobutene, Ptfe, Silica, Synthetic Wax, Dimethicone (slab za suho kožo, Titanium Dioxide CI 77891, Iron Oxides CI 77491. (without parabens and talc)
Lipstick Ice Cream
Šminka v odtenku Svetli Sladoled mi ekstremno lepo pristoji, kar so pripomnili mnogi. Lepo dopolni svež videz (v kombinaciji z osvetljevalcem). Ustnic ne izsuši in ima srednjo intenzivno barvo (za močno barvo je potreben večkratni nanos). Rekla bi, da je odtenek pisan na kožo svetlolaskam. Vonj šminke je zelo prijeten, morda rahlo pudrast, kar mi je pravzaprav zelo všeč. Edina slaba lastnost šminke je, da ima v svoji teksturi majhne bleščice, ki mene rahlo motijo. Ne maram »peščenega« občutka na ustnicah, predvsem ne pri vsakodnevni večkratni uporabi.
Price / Cena: 19,50€ for 4g
Ingredients / Sestavine: Ricinus Communis, Seed Oil, Oleyl Oleate, Cera Alba, Candelia Cera, Ozokerite, Paraffinum Liquidum, Cera Carnauba, Methyl Glucose Sequistearate, Lanolin, Vanillin, Tacopherol , Isodecyl Neopentanoate, Prunus Armenica , Kernel Oil, Ascorbyl Palmitate. May contain: Mica, Silica, Diisostearyl Dimer Dilinoleate, Aloe Barbadensis Leaf Extract, Bismuth Oxychloride, Titanium Dioxide, Carmine , Manganese Violet, Iron Oxides, Red 6, Red 21, Red 6 Lake, Red 7 Lake, Red 21 Lake, Red 27 Lake, Red 28 Lake, Red 33 Lake, Yellow 5 Lake, Yellow 6 Lake, Blue 1 Lake. (without parabens and talc)
Extra Eye Shadow Platinum
Extra senčilo sem do sedaj preizkusila le dvakrat, saj sem želela mojo oceno čimprej objaviti. V test sem dobila enojno senčilo za veke v odtenku Platina. Na prvi pogled izgleda sivkasto (z bleščicami), pri na nanosu pa dobi srebrn lesk. Bleščice so zelo intenzivne, sama barva srednje. V manjših količinah je primeren tudi za osvetlitev (npr. notranjih kotičkov očesa). Tako kot osvetljevalec Zlati Sijaj je pakiran v okroglo plastično embalažo z navojem, ki je kvalitetna, ni pa primerna, če se vam zjutraj morda preveč mudi in nimate časa za zapiranje/odpiranje. Mi je pa všeč, da se skozi prozoren pokrovček vidi odtenek in tako hitreje najdeš tisto kar iščeš.
Price / Cena: 17,50€ for 1.8 g
Ingredients / Sestavine: Mica, Isoeicosane, Polyisobutene, Magnesium Stearate, Polyisobutene, Titanium Dioxide CI 77891, Bismuth Oxychloride CI 77163, Iron Oxides CI 77491. (without parabens and talc)