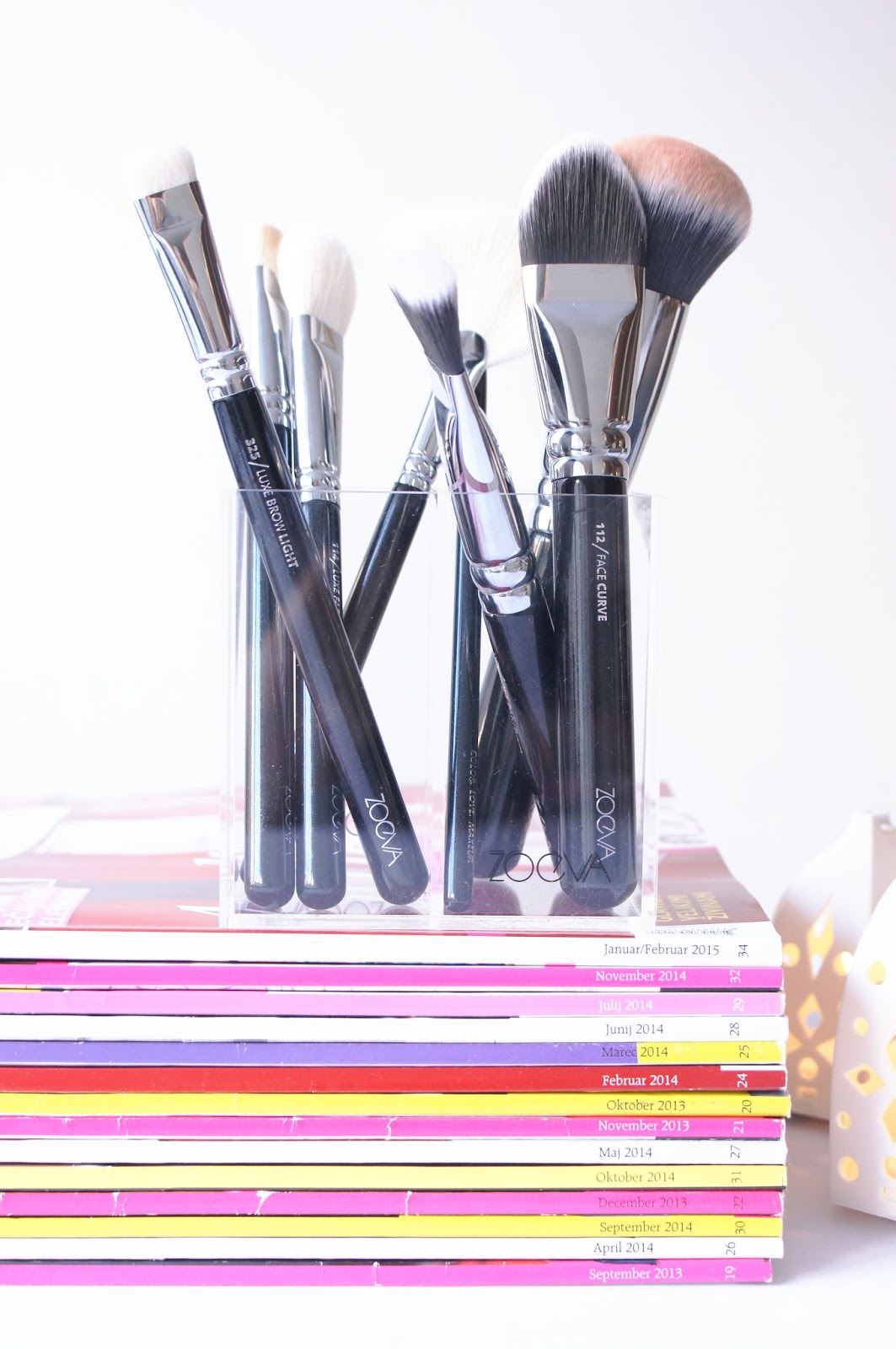 First of all, a little disclaimer. For me the end of 2014 was really adventurous (I decided to join my boyfriend at his training camp in Gran Canaria which was a last minute decision), a bit hectic (with all the Christmas and New Year's Eve jazz) and that's why I didn't find any time to post. I believe that everyone needs a break once in a while in their life, and so do I. I had the most amazing time on the island that lives up to its cliché as a continent in miniature (Dunes of Maspalomas, all the breathtaking views while travelling across the island, the intact mainland, oh boy I wish I was there again). I hope you all had an amazing year, enjoyed my blog and hopefully are looking forward to exploring new fashion and beauty stuff in 2015 with me. Dear readers, I wish you all the best in 2015!
New Year brought New Brushes. Zoeva extended their makeup brush range with 8 new brushes and the official launch was on January 5th. You might know me as a huge fan of Zoeva, their precisely made brushes can easily be compared to the ones from brand like Mac in my opinion – amazing value for money. Not to mention, they are ridiculously soft! Here are 8 quick reviews to help you decide whether you need these 8 new brushes on your makeup table:
Zoeva 107 Powder Polish (16,80€) is a large super soft brush with dome shaped dense taklon hair. It's perfect for applying all loose and pressed face products, I found it best to work with pressed finish powders or bronzers and it's the biggest brush from Zoeva that I own.
Zoeva 109 Face Paint Vegan (12,80€) is perfect for all liquid and cream contour products due to it's unique flat and square design. A brush that will change your contour routine and make it much easier – as it did with mine. It also reminded me I need to find some new cream contour products. Any suggestions?
Zoeva 112 Face Curve (12,80€) is a foundation brush with pointed yet curved shape and soft vegan taklon hair. It is so easy to cover every area of my face with this one, however I am still not sure whether it beats the 102 Silk Finish. It doesn't. At least not for me.
Zoeva 114 Luxe Face Focus (12,80€) is a flat, flame shaped brush perfection. I use it to apply my highlighter, it's super handy and amazingly soft (natural-synthetic hair mix). Not only that it is perfect for highlighter, it also works great for selective touch ups and setting makeup with powder under the eye area.
Zoeva 129 Luxe Fan (10,80€), a brush I've fallen in love with! This multifunctional tool is perfect for highlighter, blush or bronzer as well as it's ideal to brush away eyeshadow fall out. The one you should have in your collection, for sure!
Zoeva 220 Luxe Grand Shader (8,80€) is ideal for applying all powder eyeshadow products in one stroke. They call it »the most luxurious shader brush« and at first glance it seemed way to big. After my first application of a base eyeshadow, I knew this one will get a lot of love from me. Easy, quick and fluffy – the Zoeva 220!
Zoeva 310 Spot Liner (6,80€) might be the smallest brush you have ever seen. It's super tiny yet effective and designed to visually thicken your lash line with eyeliner or eyeshadow. I am not absolutely sure whether you really need this one, however it does make the job easy.
Zoeva 325 Luxe Brow Light (7,80€) is made of finest natural-syntheic hair and it's a brush dedicated especially for under-brow area. Contouring and accentuating my brows has never been so easy, it allows me to spread the powder eyeshadow/highlight evenly and precisely (although it's quite large). When you think you've seen it all, Zoeva strikes again – with some new innovative product.
You can buy all Zoeva brushes HERE.
Tokrat je objava le v angleščini, predvsem zaradi pomanjkanja časa (za vsa vprašanja pa sem jasno na voljo preko maila ali socialnih omrežji). Zoeva čopiče najdete na tem linku ali pa v slovenski spletni trgovini Moja Drogerija (menda pridejo točno ti modeli kmalu).