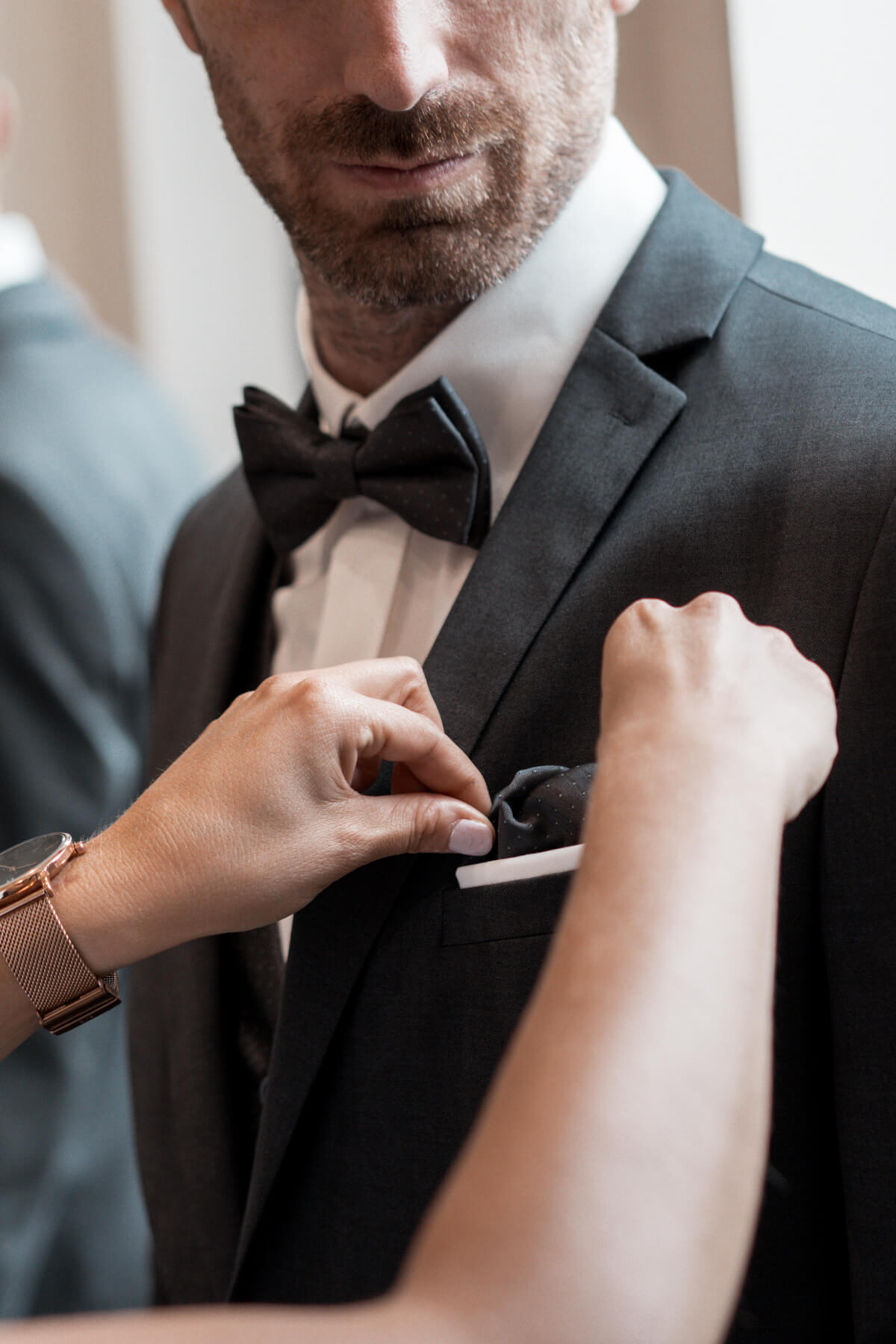 The very last month before the wedding Jan and I had practically everything sorted out and arranged, also thanks to our Infinity Events wedding organizers. One of the last wedding tasks completely in our hands was choosing Jan's wedding suit. This time we went on the hunt together, because I have chosen mine myself, and picked the one up from Sens store. The choice was both easy on one hand but hard on the other, as Jan was being very picky (hope he doesn't read this, he would surely deny all of it). However, it's not so much about being picky as it was to choose between so many options.
So when should a groom go on the hunt for his wedding suit?
We surely delayed our search for the perfect suit. Partly because we knew Jan was looking for a classic, and partly because his suits fit him perfectly (even the ones he gets from a few tens of euros from more affordable fashion providers). However, it is recommended the groom goes on a wedding suit hunt a few months before the wedding. »If the wedding takes place in the summer, the groom should get his suit in January, as we get new collections then and the choice is at its peak«, they added in the Sens store. So, a month before the wedding may be a little late, but Jan is a lucky man anyway. Jan decided on Sens because it is a Slovenian brand of men's wedding and business clothing. It has been run by the designer Zlata Zavašnik since 1994.
The color dilemma – black, gray, blue, beige?
Although it seemed to us a bit less choice for men's wedding suits, we quickly realized that the groom's choice might be even more difficult. The bride finds her dress, maybe adds a veil and some jewelry and she's done! The groom starts with choosing the color of his jacket and trousers, proceeds with a vest, then a bow or a tie, maybe a handkerchief, cufflinks, buckle… Jan stepped into Sens store with this idea of a black suit, later he was going for a dark grey and eventually went for his first choice. Today we are not revealing it, but I took some photos while trying on other outfits.
Jan chose a suit not only suitable for a wedding, but it can also be worn formal or for business. A vest, a butterfly and a handkerchief add a solemn note to the suit. However, if he adds a business tie to his suit, it instantly changes it's purposefulness – which is a great advantage as he will be able to wear the suit later.
At first glance this is a classic dress, but taking a closer look reveals interesting details that are given a special attention in Sens store; different shapes of collars, in Jan's case the spoke collar suit, additional decorative pockets in different places, the color of buttonholes and buttons … Jan chose the Mitros 10 eco suit, which is an eco-friendly product. »The CEO and designer Zlata Zavašnik has a great environmental awareness and responsible attitude towards the planet, both privately and in business. That is why we have a lot of such outfits to see every year. Not only they are environmentally friendly, but also money wise; the prices of eco-clothing are the same as those of ordinary fabrics. We decided to take this move in an effort to encourage as many people as possible to but sustainable and eco-friendly clothing«, told us is Sense store during our try-on.
Vest dilemma: yes or no?
A vest is the only accessory that separates the groom from the rest of the wedding party. With the waistcoat, the groom still looks neat and solemn, even when he puts down his jacket. Another vest advantage is to prevent the shirt peeking from the pants. »If the groom does not want to wear a vest, we recommend to wear a beige undershirt under his shirt, which prevents translucency and sweat stains to be seen on the shirt.«
Bow tie – tie – or none?
It all depends on the individual. In the last year, Jan and I have been at several weddings and we have seen it all – a tie, a bow and also none of them. Jan decided to add a bow tie to be a bit more solemn.
A NON-DROP tip: A groom needs at least two shirts on his wedding!
Summer is considered to be the main wedding season. Quite possible it'll be pretty hot on the wedding day. Also, the groom is not immune to the stress either, so it is possible he will sweat. A lot. That's why at least two shirts. In Sens store say that grooms often choose three shirts – two more solemnly and one less (for the party in the evening). The shirt is such a versatile piece he will definitely use it anytime after the wedding.
Do not fear if the groom's figure doesn't fit into the established measurements. Without any difficulty, the masters will help him find a dress to fit him perfectly. Jan decided for a lengthened jacket and with some minor adjustments, his dress is really a spot on! You will see it soon!