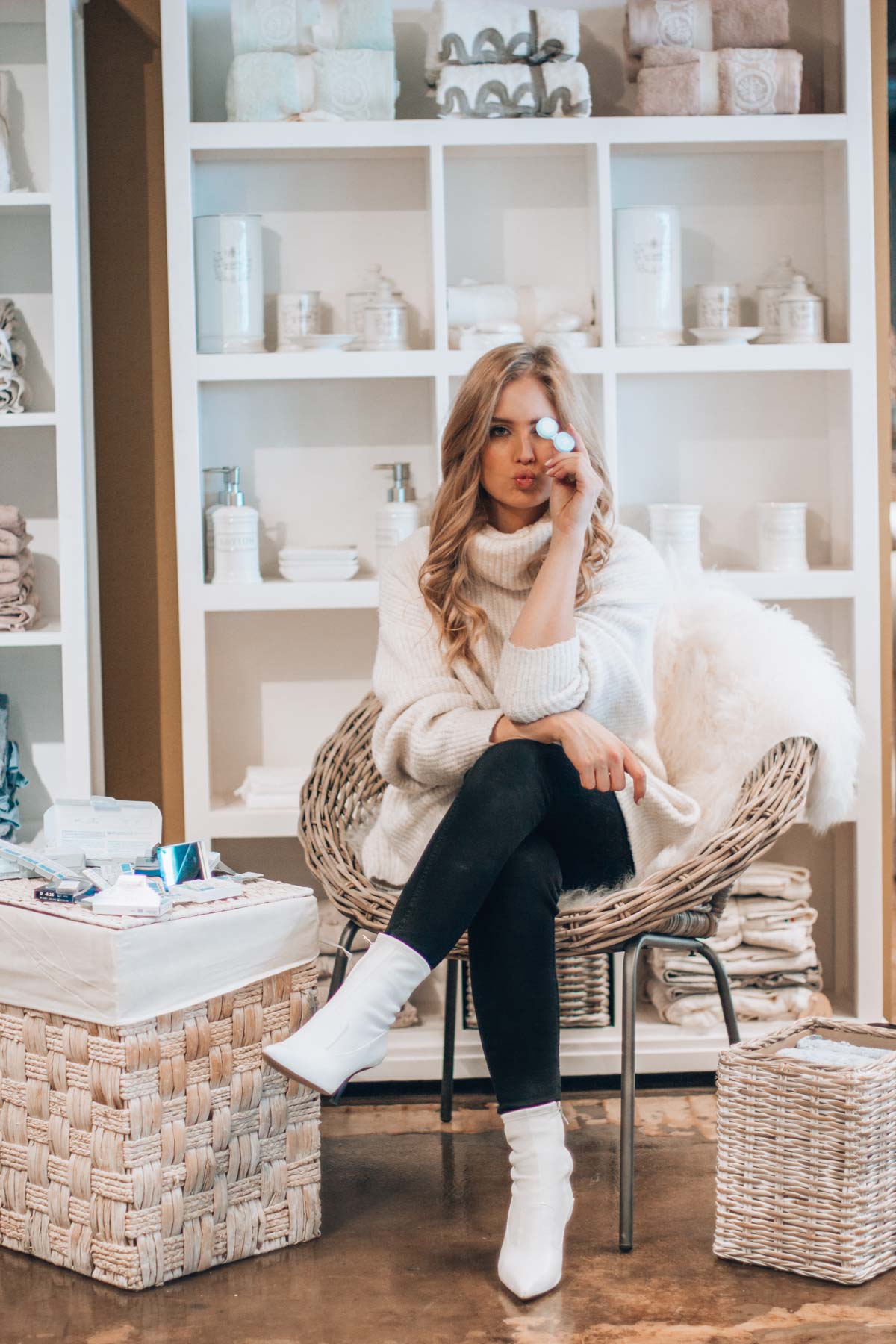 Even a blind squirrel finds a nut … once it gets glasses!
As many of you already know, I have a strong prescription and wear contact lenses on a daily basis. In the evenings and occasionally I replace my lenses for glasses (I should definitely try to do that more often). I got my first pair of glasses in 7th grade and soon after contact lenses as well.
Although it might not be recommended to start wearing contact lenses at such young age, I almost didn't have a choice – I was into athletics and also competed in mountain running. Wearing glasses always bothered me during my training and at competitions, however without them I was clumsy and even dangerous at times. You won't believe, but the first prescription I got was -2.50! For those unfamiliar with dioptric numbers – it's a lot. My ophthalmologist was surprised I could follow my school classes, his surprise was even greater, when my mum let him know I always sat in the last row and was an excellent student. However, my condition, called myopia (in other words: near-sightedness), did explain why I had headaches at the end of the weeks (due to constant eye strain) and why I couldn't hear anyone when I was watching TV (my ears were working over-time to compensate for the lack of sight). So, the story beings with me getting monthly lenses (recommended by my eye doctor) which could be worn day and night, as they were easy on my young eyes. Still, I wore them only during the day and in the night time I stored them in a little box filled with contact lens solution (water for cleaning and storing lenses).
"Mum, it's a miracle, Ajda can see!" cried my little sister.
There's a funny story from when I used to brush my teeth together with my younger sister before school. In the middle of this morning task I realised I could read all the signs without glasses. What a shock! I can see! I covered one eye, checked my vision – perfect. Quickly checked the other eye – the same. Miracle?! All this did not go unnoticed by my sister, who burst into laughter and yelled to my mum: "Mum, it's a miracle, Ajda can see!" At the same moment it became clear to me, that I could see because I forgot to remove my lenses in the evening. Unfortunately, my sight did not get any better later on. It gradually worsened to the point of it being really dangerous without glasses behind the wheel (currently I'm at -6.00). Even reading a book laying on the desktop is impossible without help. I learned to live with my glasses and contact lenses. Perhaps, one day, I'll opt for a method, to help me get rid of my condition on a long run. Laser eye surgery sounds promising and I'm tempted, but today I'll share my tips on how to choose contact lenses and how to take care of them and where's the best place to buy them.
Where to buy contact lenses?
Forget about the ophthalmologist's office, they are way too expensive. I buy them directly from my ophthalmologist, only when I need them last-minute or when they have promotions. The best option is to order contact lenses online. For years, I've been ordering my lenses online (online store Moje leče) for two reasons – the first is the price and the second is convenience – they offer the option to have them home delivered or pick them up at several contact points. So far, I have not been disappointed yet, and I certainly recommend them. It pays off to subscribe to their e-newsletters, because they often have some promotions (free shipping, -10%, etc.).
How to choose contact lenses and what are my top pics?
The answer is not that simple as it takes a bit of trying out different types of lenses. It is crucial to ask yourself, for how long and how frequent do you want to wear the lenses. You can choose between those that can be worn only during the day and those which can stay in your eyes longer. There is also an option of replacing them every day, every 14 days or once a month. Of course, I'm talking about soft contact lenses, which are by far the most common (if you don't have any particular condition) and also most recommended. In the past few years, I tested a number of different brands and types of soft contact lenses, and finally settled for these two – Johnson & Johnson Acuvue Oasys Hydraclear Plus (14 day lenses) and Johnson & Johnson 1-Day Acuvue Moist (daily lenses). Usually I use the first ones for up to 3 weeks and I swear by daily contact lenses for my travels, so that I don't have to take the cleaning solution with me, not worry about damaging them (or losing them while swimming) and they are also more convenient for hygiene reasons (you dispose them at night and every morning use a fresh pair). Speaking about contact lens solutions, my recommendations are the following: Gelone, SoloCare and Visiomax Kombilosung Super (DM). The cleansing solution is almost as important as the lenses themselves as it keeps your lenses clean and helps moisturize your eyes. My first advice would be, not to be afraid of contact lenses. Using them is easy as long as you keep them clean.
photo: Eneja Brelih
edit: me