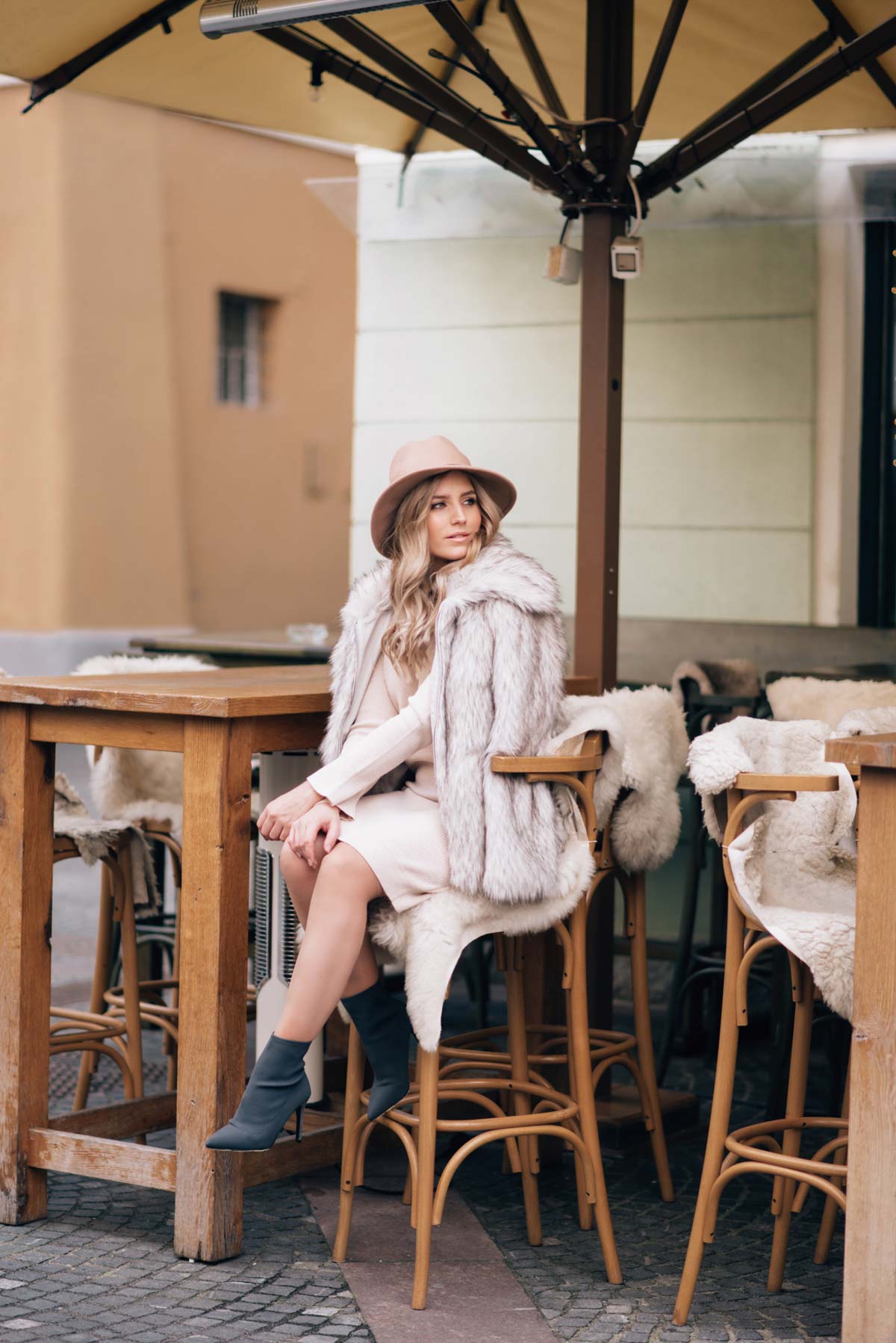 You can probably spot the colour theme of today's outfit post. It's brown of course! In every possible beigy-brown shade out there (well, I am exaggerating a bit a lot, but you get the point), I was captured by my photographer Katarina Veselič, wearing a warm and cosy knit dress and fluffy faux-fur jacket by Dorothy Perkins, a hat, natural makeup in earthy shades, with my new elegant smartphone in my hands…
In one of my last blog posts (or on my Instagram account), I announced that I switched from my Huawei P10 to their newest smartphone Huawei Mate 10 Pro. I've been using it for the past 3 weeks and I must say I am obssesed. Even though I am not considering myself a technical geek and I don't by any means master all Huawei Mate 10 Pro's features, I am convinced. Why? Here are the main reasons:
Huawei Mate 10 Pro is elegant
I chose an amazing Mocha Brown shade, which goes well with my today's outfit
Huawei Mate 10 Pro has a big 6″ screen
the screen is way bigger than Huawei P10's, but the phone itself isn't that bigger after all (good space utilization!)
Huawei Mate 10 Pro has a powerful battery and charging is super fast
you're hearing this from a heavy user, who practically lives on her smartphone (answering emails, calls, managing social media…); the battery lasts a whole day no problem, I might even charge it only once per 2 days (with some optimization).
Huawei Mate 10 Pro is not a smartphone, it's an intelligent machine.
it has an AI accelerated translator, camera recognition feature (which recoginses the motive and adjusts the settings accrordingly to get the best shot possible) and it learns from you in order to get you the best user experience possible.
Huawei Mate 10 Pro is powerful, fast and responsive
which also applies to the fingerprint sensor. I am super impressed.
Huawei Mate 10 Pro is dust and water resistant
huray for that!
Huawei Mate 10 Pro has dual SIM support
which will for sure come in handy on my trips
Huawei Mate 10 Pro can be plugged into a TV or screen
I've tried this only once, but I find it interesting especially for presentations.
Huawei Mate 10 Pro makes outstanding photos
which is, for sure, one of the most important features for me!
To sum it up, it looks like Huawei made an outstanding smartphone once again. I am not telling you that just because of my close relationship with the brand. I proudly admit, I have been working with Huawei for the past few years. Ever since the Huawei P8 came out I've been a loyal and faithful user of Huawei. I am extremely honored to be a part of the Huawei Slovenia team and I am promising you, my content will remain authentic, pristine and honest, no matter what. I will keep you posted about the newest Huawei Mate 10 Pro in my upcoming posts (meanwhile, you can order it here).
outfit: Dorothy Perkins
photo: Katarina Veselič