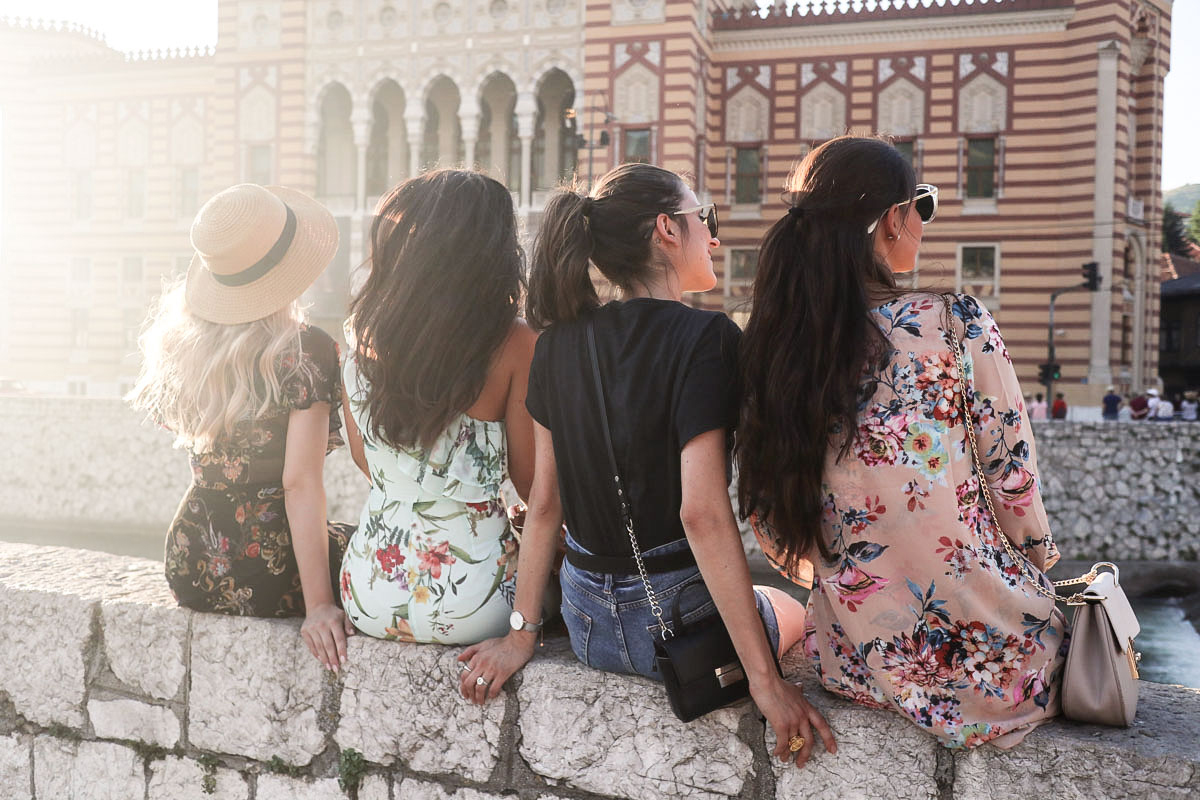 "Always in good company."
Although Sarajevo doesn't seem as the ultimate girls' destination at first sight, it is perfect to visit in groups any time of the year. Together with 3 of my blogger friends we visited this small, but charming capitol city of Bosnia and Hercegovina and fully discovered it in our three days stay. We explored the Sarajevo old town, walked to the Žuta tabija (Yellow Fortress), did some shopping, had the most delicious baklavas, burek, sirnica and other Bosnian delicates. My blogger friend Erna Saljevič (known as @divaisback on Instagram) truly opened the heart and soul of this city to us. They say, it is the people who make trips unforgettable, people who you're with and people you meet on the road. What better way to enjoy the local culture, make new friends and taste the authentic food? Anyway, even if you're travelling alone, don't know anyone there, I am sure you will find the hospitality and warmth of Bosnian people overwhelming. I also prepared for you a travel guide that might come in handy…
Location: Sarajavo, Bosnia and Hercegovina

Time zone: UTC + 2 (summer) / UTC +1 (winter)

Currency: convertible marka (2 markas = 1 eur) – we decided to withdraw money from the ATM

When to visit Sarajevo?
Sarajevo can be visited all year round and that's probably the beauty of it. Peak season is in May, June and September. I would highly suggest you visit it during spring, summer or autumn, however winters in Sarajevo can be magical as well (the close proximity to the Jahorina and Bjelasnica can offer great ski trips or hikes). We visited it in the middle of the heat peak, in July, the temperatures were a bit high, but the weather altogether was fantastic.
How to get to Sarajevo?
The majority of Slovenians would probably answer: "by car, of course!". Although the capital of Bosnia and Herzegovina is a few hours of drive away, you can end up with quite a long drive due t0 many border controls. The same (or even worse) applies to the bus. Us girls, we flew from Slovenia directly to Sarajevo with Adria Airways. The flight was less than an hour long, at 10:40 we took off from Brnik, at 11:30 we already landed in Sarajevo! Adria Airways invited us to test out their newest Group Travel product, which allows you to buy 3 to 9 return direct tickets at a price of € 349 to € 849, and the best thing about it is that you can tell the names of passengers later. You can read more about the campaign HERE.
How to move around Sarajevo?
We took a taxi from the airport to our hotel, the price was reasonable. The first time, we definitely overpaid, we took the wrong taxi and in the end paid around 15 €. The ride back was about 6 €, if I remember correctly. Conclusion: you should take "red" taxi (Crveni taxi), which runs on a taximeter. Out hotel was just a short walk away from the old town of Sarajevo, so we decided to move around on foot. Although the city is not big (a good comparison is probably Ljubljana), we walked quite a few kilometres. The most unforgettable was for sure the hike to the Yellow Fortress, where our blogger friend Erna took us (note that she was wearing high heels!). All who followed our trip on @adriaairways Instagram, you know the story. Anyway, Sarajevo still has a tramway, which adds a special charm to the city. We only took it once, when we were a bit late.
Where to stay in Sarajevo?
I would suggest you choose your hotel in the close proximity to the Sarajevo old town. We stayed 3 nights at the Colors Inn Hotel (Koševo 8, Sarajevo), which was less than a mile walk away from Baščaršija.
What and where to eat and drink in Sarajevo?
Here is where the story begins and ends in Sarajevo. The food is great in Sarajevo. The food is great in Bosnia. That's the fact. Burek (meat pie), ćevapi, various pies ("pita") like sirnica (cheese), zeljanica (cheese and spinach) and krompiruša (potato), lots of kajmak, sweet and delicous baklavas, great coffee… We had a feast. Many feasts to be exact. Here are my recommendations:
Čevabdžinica Željo 2, Kundurdžiluk 10, Sarajevo: it was our first stop where we ordered ćevapi with kajmak. Note that you cannot order any salads or side dishes, but the meat is great.
Dženita, Prote Bakovica 10, Sarajevo: was one of the recommendations of the locals. I ordered some sort of mixed plate of their specialities called Sarajevski sahan, among them were stuffed peppers, grape leaf and onion, and basically meat in many variations.
Čajžinica Džirlo, Kovači 6, Sarajevo: is a small cafe that (despite its high popularity among tourists) maintains authenticity and adds a special charm to Sarajevo. First and foremost, thanks to owner Hossein, who serves you coffee, tea and salep (drink made from orchid roots).
Inat Kuča, Veliki Alifakovac 1, Sarajevo: the restaurant is placed in a house, which was moved (brick by brick) to the other side of the river Miljacka at the request of the owner, due to building the City Hall at it's original location. I recommend the sirnica, the Greek salad was excellent as well.
Revolution 1764, Ferhadija 5, Sarajevo: a modern restaurant with a great (cosmopolitan) food offer. Salad with salmon was fantastic!
S One Sky Bar, Courtyard by Marriot Hotel, Skenderija 1, Sarajevo: Erna took us there to celebrate our first visit of Sarajevo. We enjoyed cocktails ("raspberry mojito without sugar for me, please!") and amazing view of Sarajevo.
Cafe on the top of the hotel Hecco Deluxe, Ferhadija 2, Sarajevo: another recommendation from a Bosnian friend. We had coffee with the view, a few hours before leaving town.
Dibek Sarajavo, Luledžina 3, Sarajevo: a bar that is popular among young locals and tourists to get some shisha. We spent a lovely evening there.
Sarajbosna, Gajev trg, Sarajevo: this was a recommendation of my friend Aida. Of course I needed to bring some Bosnian sweet treats home, so I picked a box of baklavas at Sarajbosna. This exact place actually convinced me that baklavas as are truly amazing, when Aida brought me some a few years back. I guess, you need to try "the real thing"…
What to do in Sarajevo?
Sarajevo is a city with rich yet turbulent history, which left marks on Sarajevo's architecture, people and culture. You can still see the consequences of the war, one of the "must see" places is the war tunnel, which was turned into a Sarajevo War Tunnel museum. You should definitely walk the Latin bridge, the location of the assassination of Archduke of Austrian-Hungarian Empire, Franz Ferdinand (the event that set off a chain of events leading to the start of the World War I). The most beautiful building, and surely the most Instagramable one, is the Town Hall, also known as Vijećnica. When we visited it, there was also the exhibition of the Mersad Berber works. Baščaršija represents the heart of the city. It is where you can see the mixture of different religions, walk the cobbled streets, do some shopping (I bought myself and my sister a few silver rings), sit down, drink coffee or have a delicious meal. Sebilj represents its center. Speaking of water, Vrelo Bosne, the source of Bosna river, is worth visiting as well. The most unforgettable for me was probably the view from the Yellow Fortress (Žuta tabija). We visited it when sun was setting, the light was just fantastic and you could see the whole Sarajevo beneath. A bit higher, there is also the White Fortress (Bijela tabija). Sarajevo is a wonderful city that offers a lot, especially for history lovers and true gourmets.