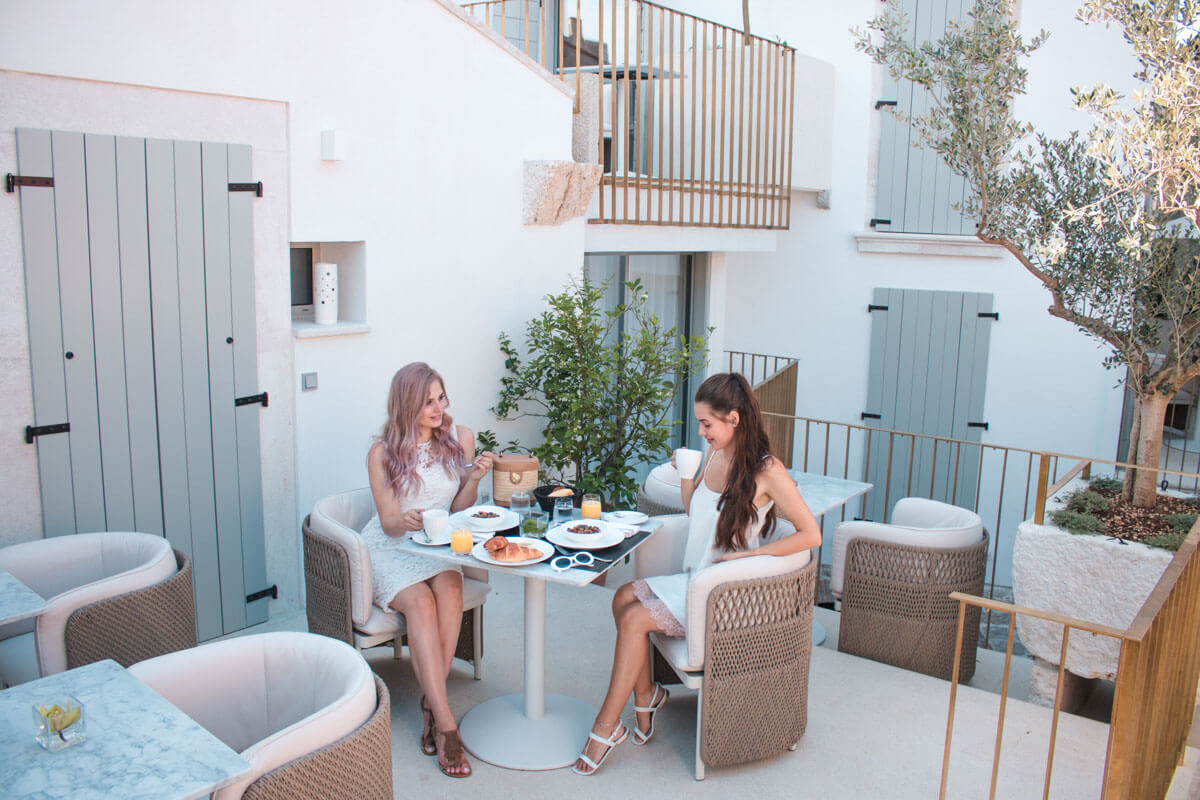 Rovinj is a labyrinth of beautiful streets, that hide many true gems. One of them is definitely the newly opened Spirito Santo Palazzo Storico hotel, located in the heart of the old historic town. Together with my blogger friend Vanesa (Takeoff with love) we stayed there for one night and made a clear plan to visit it once again in the near future.
A little Santorini in the Istrian peninsula: Spirito Santo Palazzo Storico
Even though Rovinj in summer months is packed with tourists, it hasn't lost its charm. Probably because each and every person in the old town is trying to preserve its true, historic beauty. The same goes for the owner of Spirito Santo Palazzo Storico hotel (who actually comes from Slovenia), who carefully restored the building from 1920s in to a 7 double room hotel. As you can (hopefully) see from the photos, Spirito Santo Palazzo Storico has a luxurious Santorini/Mykonos vibe. Bright and rustical interior and exterior have been restored to its original form, keeping in mind the original cultural and historical heritage of Rovinj, while adding a modern and luxurious touch. A lovely reception with a fireplace, lounge bar, wine vault (with a great selection of Slovenian, Croatian and Italian wines) and an inner garden with a water tank (originating from 1964) have a cosy, yet sophisticated feel. Having delicious breakfast there was truly something. While the open inner garden is stunning in the morning, it fully shines in the evening – the lightning of the space is amazing! Spirito Santo Palazzo Storico is located at 44 Augusto Ferri Street, 3 minute walk from the old city centre, which makes it perfect for discovering Rovinj streets and beaches. The location itself is a reason for the name of the hotel, because the part of the town where it lies was once called "contrada Spirito Santo".
Room Santa Croce offers a stunning view of the old town of Rovinj
Spirito Santo Palazzo Storico is a luxurious boutique hotel with only 7 rooms, all named after the streets of Rovinj. It will offer piece and luxurious pampering, no matter which room you book. We stayed at room Santa Croce, which is located on the 3rd floor. With 21 m² Santa Croce is one of the smallest rooms at Spirito Santo Palazzo Storico hotel. It is spacious, bright and amazingly decorated with a French bed, skylights, marble bathroom and a small window view of the old town of Rovinj and sea. A perfect choice for a romantic getaway!
Spirito Santo Palazzo Storico hotel
44 August Ferri Street, 52210 Rovinj
website: http://hotel-spiritosanto.com/