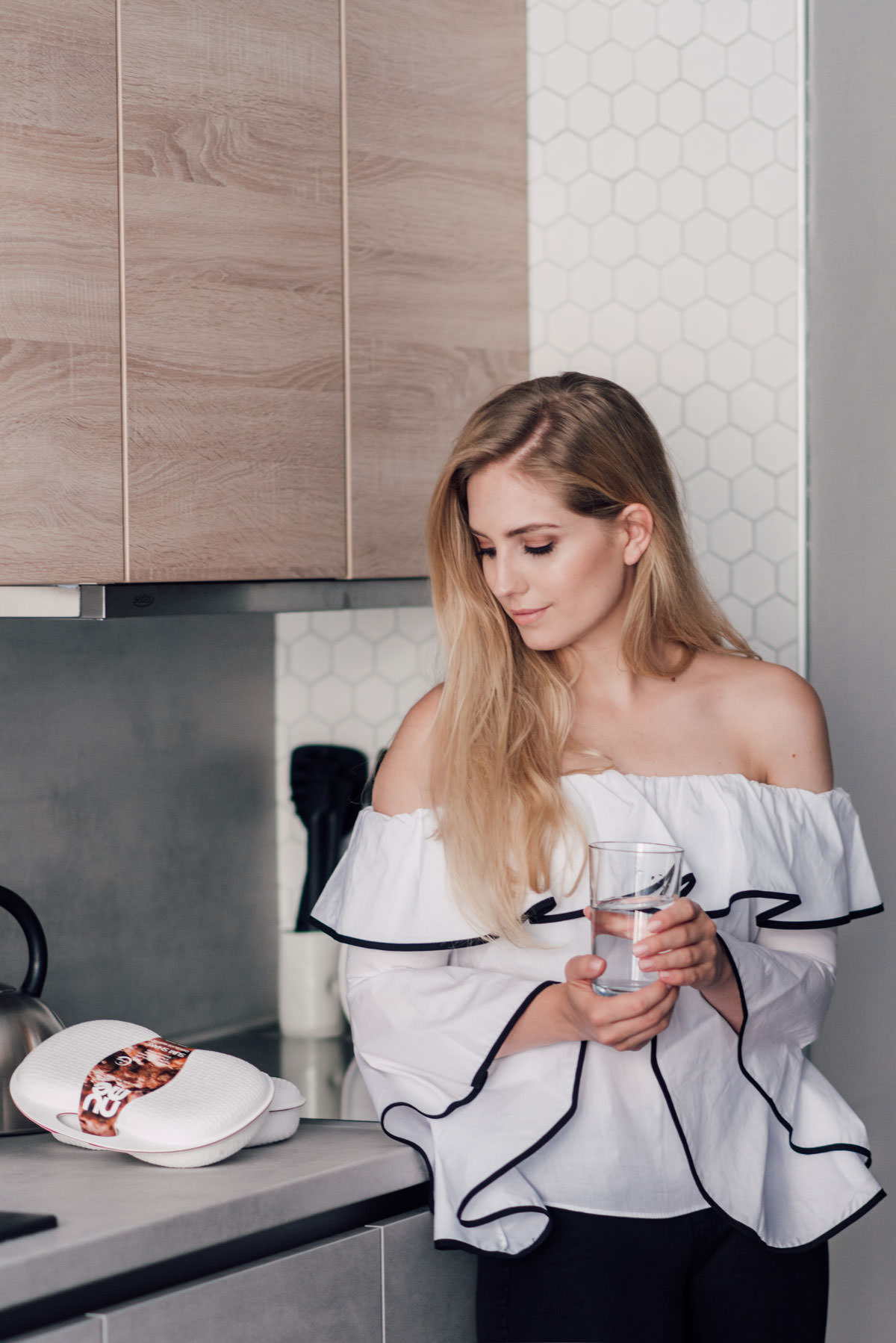 I came across NuMe a few months back. It immediately caught my attention with the unique nutritional solution. NuMe Slim Shakes, Soups and Bars help to balance a healthy lifestyle and lose weight, providing all the necessary daily intake of nutrients, vitamins and minerals (with a very low kcal intake!). This year I found myself at the point when I realized, that disorderly eating is affecting my body and energy level more than ever. I found the solution in NuMe diet.
I did not opt for the full NuMe plan (which offers the best results in weight loss, obviously), but only for their meal replacement – breakfast, snack or dinner. NuMe is perfect for days when I really do not have time to prepare a healthy meal. Instead of a regular breakfast, I often prepare myself a Slim Shake, sometimes adding frozen berries. Similarly, for a quick snack, I take a Slim Bar on the go. In the evening, I like the vegetable soup, sometimes alone, sometimes in combination with a salad. NuMe allows me to quickly prepare something good and healthy, instead of the unhealthy snacks. I did not give them up completely, but I try to limit myself as much as I can. The past month, I was travelling a lot and consequently didn't follow a healthy eating regime so religiously. However, I am trying to get back on track now!
Among the NuMe Slim Shake's is, surprisingly, my favourite the Bourbon Vanilla (why surprisingly? Because I usually do not like vanilla at all!). I prefer to mix the Blueberry Raspberry Heaven with frozen berries, while Chocolate Muffin and Morning Cappuccino shakes are also great as a base for preparing all sorts of healthy low-calorie desserts. I prepare my shake in the NuMe Shaker, which (without exaggeration) is the best shaker ever. It is chic and really nicely designed (btw, Karim Rashid was the one who is signed under the design of all NuMe products), inside it hides a mixing ball, plus it has a glass attached below. The taste of the Slim Soup Garden Veggies is really yummy and creamy, the only downside is the fact that it only exists in one flavour. That's why I sometimes spice it up with fresh spices. Certainly, the most delicious part of the NuMe nutrition are the Cookies & Cream Slim Bars, which for me really are a great alternative to the classic unhealthy chocolate bars. They are ideal for taking them on the go (I need to stock them up asap for the upcoming weekend trips)! In addition to nutritional products, NuMe also offers sweet caramels that totally blew my mind away. Certainly, NuMe Slim Boost strawberry caramels are my favorite NuMe product. All those who know me know that I love sweets. And believe me these are amazing. Not only that they are a healthier option, they also reduce the desire for sweetness, appetite and, consequently, food intake as they fill your stomach. They only have 17 kcal, they are of natural origin (glucomannan) and they taste amazing. I recommend!
NuMe: https://www.nu-me.eu/
photo: Katarina Veselič