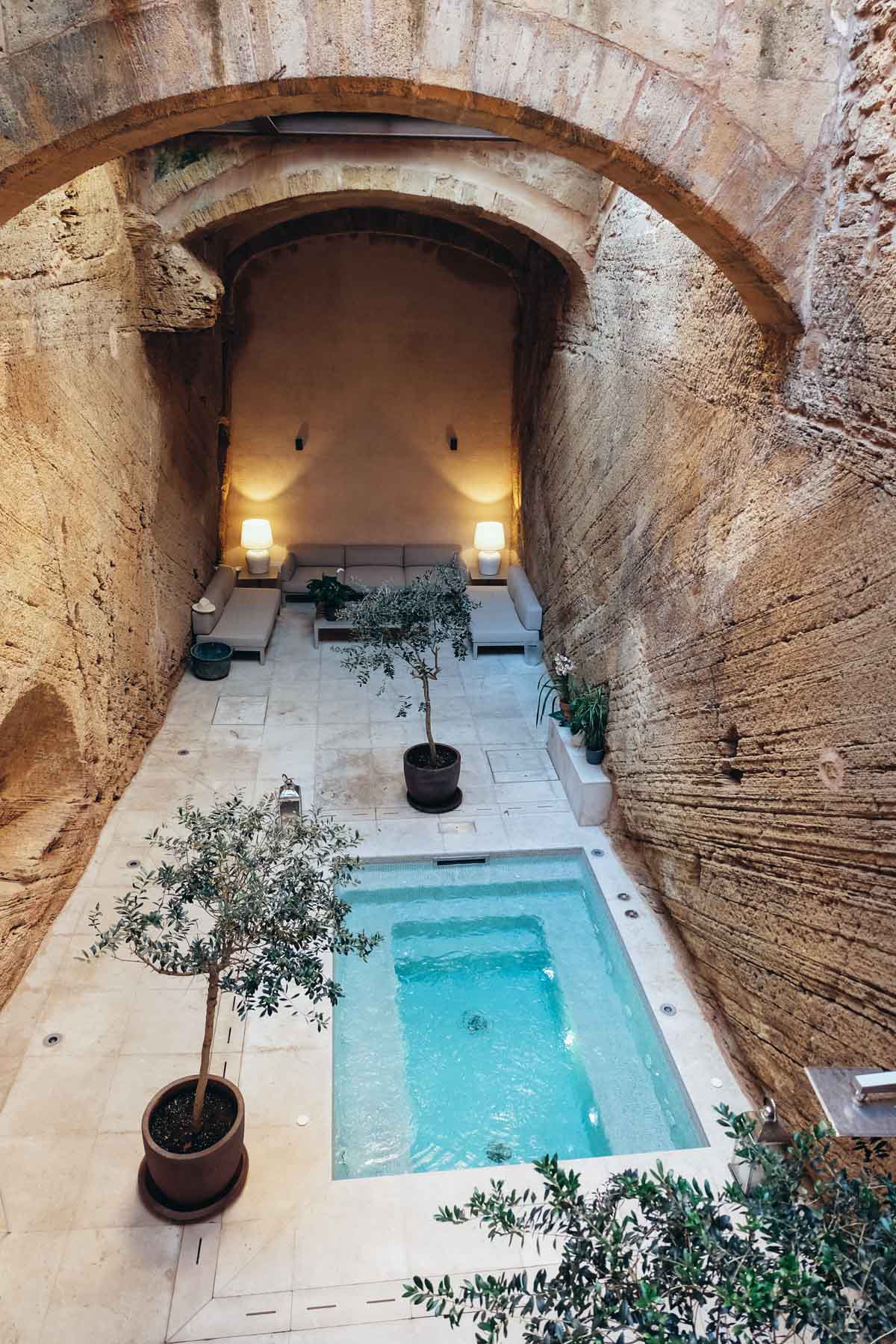 Mallorca was just wonderful. It stole my heart with crystal clear turquoise water, diverse landscapes and cute little towns. Small little gem Alcudia, 45min drive away from the capital Palma, was our first stop on the island. Staying right in the centre of this small town surrounded by walls was an amazing experience thanks to Hotel Can Mostatxins.
Where Gothic historic elements meet modern design
Hotel Can Mostatxins is a superbly located boutique hotel in the old town of Alcudia, Mallorca. The property dates back to the late 15th century, some parts of the old building are still visible. Now a designer hotel that still has some old Gothic features retained, combined with modern state of the art furnishings. Its symbol is a moustache, which can be seen in the logo, as well as around the property (like in a form of cute egg cups), the hotel name itself is actually Mallorcan for moustache. Hotel Can Mostatxins in a contemporary first class hotel with only 8 bedrooms, offering piece and relaxation. The room detail, which stood out for me, is the exposed original pale sandstone, right next to the bed. We stayed there for 2 nights, enjoyed the delicious breakfast and the amazing location, which was perfect for discovering the old town of Alcudia, the nearby Playa de Alcudia, S'Albufera National Park as well as Playa de Muro beach. Overall, it is also a great starting point for discovering the whole island. We started our day with an absolutely delicious and filling breakfast, drove around the island discovering its stunning beaches and ended our day at one of the restaurant near the hotel in the heart of Alcudia.
The stunning view of the hotel's 15th century tower
Mixing typical Mallorcan manor house elements with modern style, leaving some old historic features, the owners really knew what they were doing when they completely renovated the hotel a few years ago. The whole property is charming, elegantly and minimalistic designed, superbly located and its main feature is definitely the 15th century tower with the spa pool area. The view from the glass walkway is simply breath-taking!
Hotel Can Mostatxins
location: C/ Lledoner 15, Mallorca, Spain
price: 200 EUR+