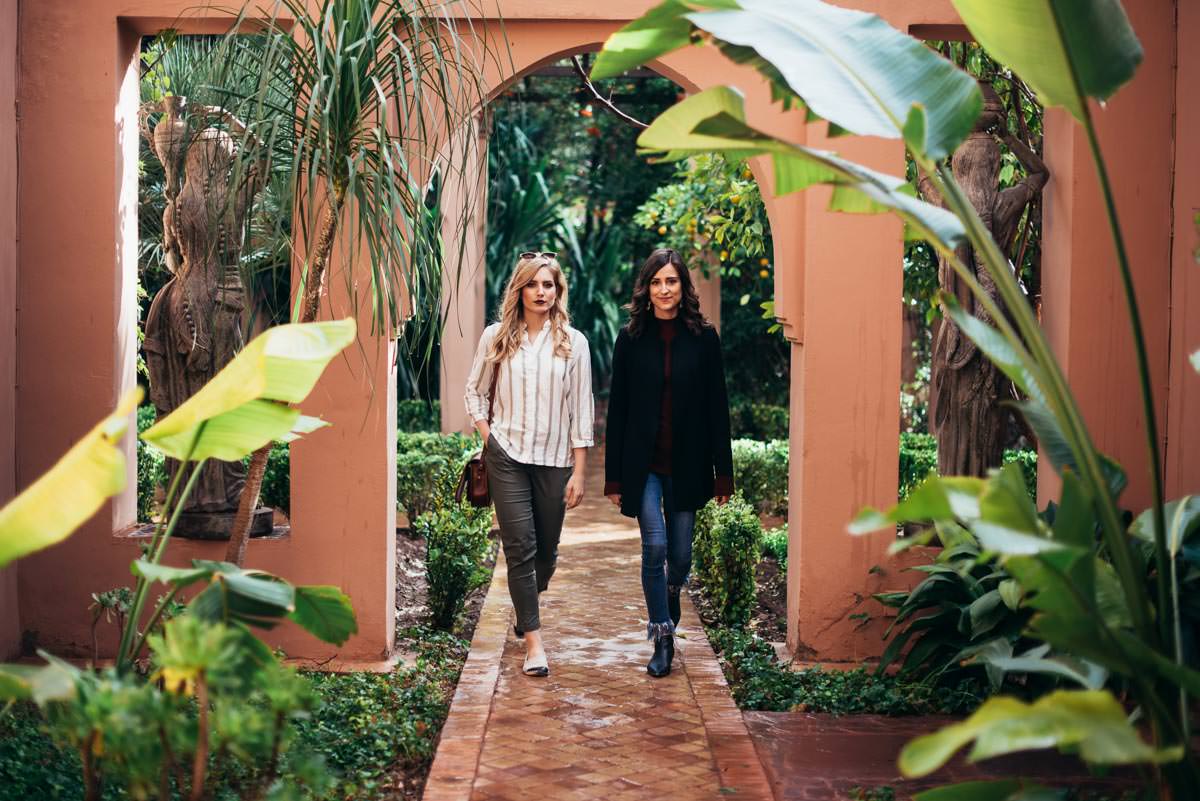 Back in freezing Ljubljana, I am ready missing colourful Marrakech. The past year has been crazy for me travel wise, and I am ending it with a Morocco blogger trip with my friend Tesa (Magnifique blog) and photographer Katarina. What we've been up to, you will be able to discover in the following few posts, today I am sharing with you our stay at the amazing Dar Ayniwen.
Located in the Palmeraie of Marrakech, Dar Ayniwen Villa Hotel represents a peaceful getaway.
In 1972 Stephane Abtan's father bought the land, which was around half the size it is today. He wanted to build a dream house. 10 years later he finally decided to build it, while on the break of the millennium the opportunity came and he bought the land right next to it as well. Being quite big, they decided to build a guest house, a pavilion to be exact. That is the same pavilion we stayed at. Since then, Stephane has developed the concept of a genuine home hotel. Instead of a typical riad or a hotel, Dar Ayniwen Villa Hotel offers the completely different experience. Located in the Palmeraie of Marrakech it offers a peaceful and relaxing getaway, while still being close to the bustling Medina (which you can explore whenever you want, they organize a free transfer to the city on your request).
The Roman Pavilion, the sound of the birds singing, the fascinating wildlife and flora… this might be paradise!
Dar Ayniwen is more than just the usual hotel. Spread over 2 hectares with only 8 suites and 2 rooms, you get plenty of space to enjoy the fascinating flora and fauna in peace and tranquillity. Exploring the garden (and getting lost there) is true pleasure, as well as swimming in the heated outdoor swimming pool or relaxing on the Moorish patio underneath the palm trees. The main attraction is definitely the bird sanctuary with some truly fascinating species. Dar Ayniwen is a five-star hotel as a home concept in mind, which means you get the best combination of luxury and personal experience (the service is superb – personal but discreet. We were warmly welcomed with some Moroccan tea and sweets then escorted to our pavilion. The Roman Pavilion with 70m² (and a 100m² private terrace and garden with jacuzzi) offered a true place of peace and relaxation. Decorated by mixing Moroccan pieces and antiques, each item was picked by Stephane's family. Keeping the environment green, with ecology in mind, the whole place is heated by burning olive nuts, they have a special water system (using the wastewater to water the plants), overall they keep our nature in mind on every step.
Our start of the trip at Dar Ayniwen was a true blast, it gave us energy and power to fully explore the city of Marrakech.
photo: Katarina Veselič and Ajda Sitar