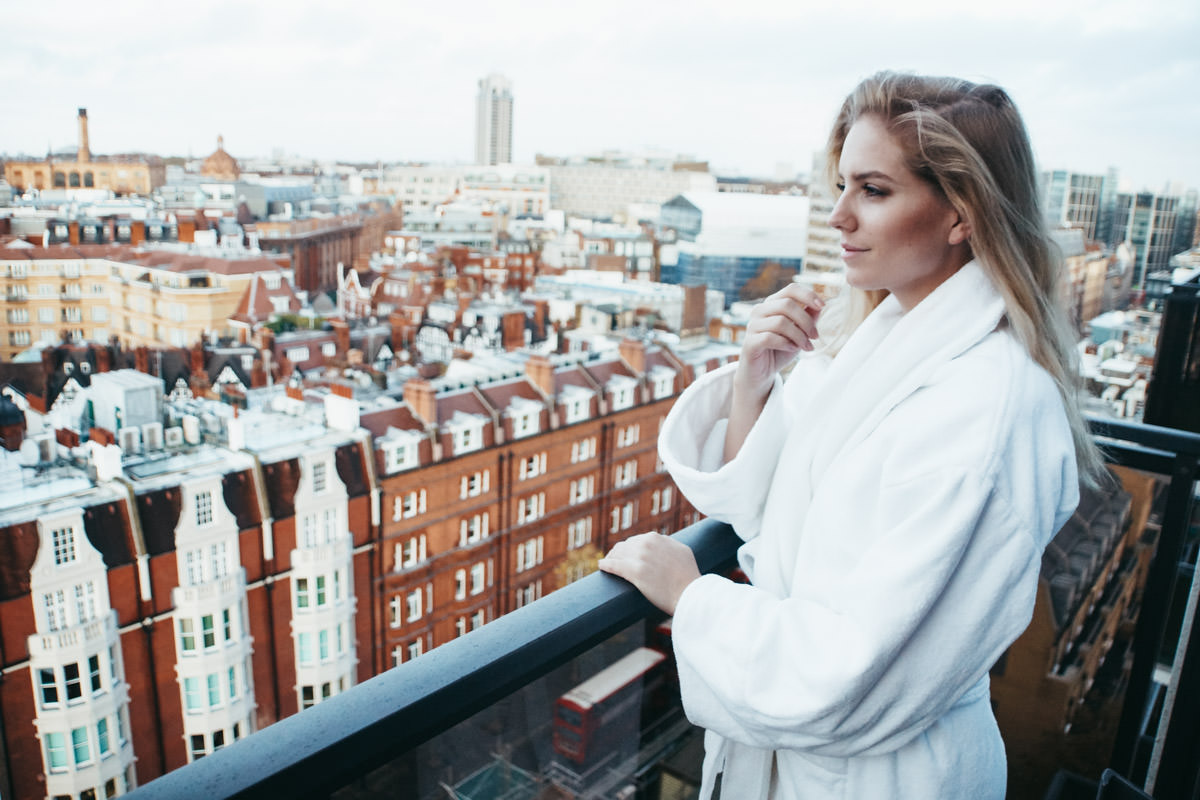 For our sisters' getaway, we decided to visit London. I had the chance to visit this historically rich and exciting multicultural metropolis some years back, however this was Alja's first time (if you don't count the Diamond League meeting she ran at a few years ago). We had so much fun discovering the city, so you can for sure expect some additional London related posts from me. But first, I will share one of the most memorable and luxurious experience from our trip, the magnificent stay at the Jumeirah Carlton Tower hotel.
Located in the heart of Knightsbridge, the Jumeirah Carlton Tower is the best destination for luxury shopping
Jumeirah Carlton Tower hotel is a five star hotel in central London, located on Sloane Street in the heart of the Knightsbridge. This makes it the best starting point for luxury shopping; everything from luxury boutiques on Sloan Street, to Harrods and Harvey Nichols is just a short walk away. The close proximity to Hyde Park makes it a great starting point for enjoying the evening walk thought Winter Wonderland in winter, while overall most of the spectacular attractions are just a short drive away.
The luxurious stay and the spectacular view from Chesham Suite
Jumeirah Carlton Tower is definitely one of the most luxurious hotels in London. Its main advantages are the stunning view of the London skyline, access to private gardens, superb The Peak Health Club & Spa with a variety of luxury treatments (everything from beauty treatments, spa sessions, workouts in the gym or swim in the 20m indoor pool) and their award winning The Rib Room Bar & Restaurant. Their lounge area Chinoiserie is stunning as well, we had the advantage to sit, relax and sip coffee there while waiting for our room to be ready. Although we checked-in hours before we were supposed to, the room was ready in a few minutes. And not just any room!
Out of 216 rooms in Jumeirah Carlton Tower, we were given one of 58 suites, the Chesham Suite on the 11th floor to be exact. Situated on the corner of the building it offers a stunning view of the London skyline – you can see everything from a small park in front of the hotel, to the main luxury shopping street, even Harrods, the rest of the Knightsbridge area as well as south London and beyond. Being so high up in the skies, you truly get to enjoy the view in peace. While the window view from the living area has left us speechless, the view from the room balcony was even more magnificent. I can totally see myself reading a book and catching the first summer sun (I definitely need to return and visit London in summer!). And not only that, the bathroom had its own balcony as well. Speaking of bathroom, it was indeed beyond stunning. Decorated in a classic style, equipped with a jacuzzi bath (with its own TV), walk-in shower, double vanity, underfloor heating and heavenly smelling beauty products Roja. Believe it or not, there was also a guest bathroom right next to the room entrance. This 63 square metres luxury suite is full of vibrant colours, unique pieces mixing classic, elegant and modern. Mini bar area with a Nespresso coffee machine, HD LCD TVs (not that we watched them, however the staff put on some relaxing "sleep mode" music each evening to help us sleep even better), giant bed, spacious living area with a dining corner… What else could you wish for?
Delicious breakfast at The Rib Room Bar & Restaurant
Although, we had the option to order breakfast in our suite, we decided to rather have it in The Rib Room Bar & Restaurant. It truly lives up to its reputation, the staff made us feel welcome and made sure to fulfil our requirements. Superb service by all of the staff, especially bartender Bartek (who made us a delicious and extremely Instagramable coffee), made sure we started our day full of energy. The food was delicious, the variety of different fresh and cooked gourmet cuisine was overwhelming. I wouldn't mind waking up to fresh avocado and poached eggs on toast each morning, and I bet Alja is still dreaming about her Eggs Benedict.
The perfect location, luxury pampering of body, mind and soul, the spectacular view of London… Jumeirah Carlton Tower offers it all.