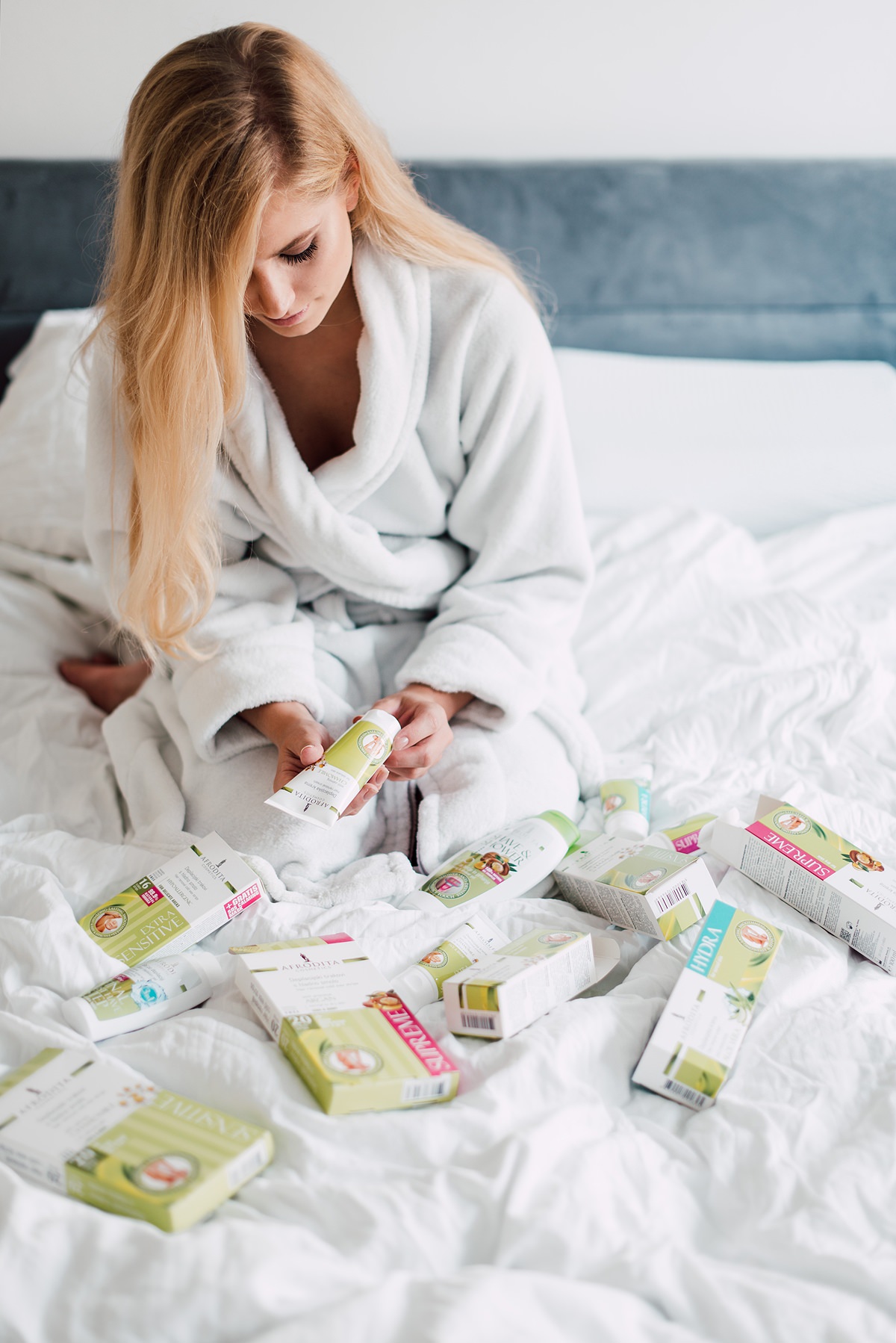 When it comes to hair removal, it seems like an easy task, but on the other hand you often hear stories where something went terribly wrong. It actually can be easy, at least if you find the right method (and product) for you. I've been constantly on a search for the ultimate hair removal product, the years of trying different methods taught me what to look for, when and where to be careful, as well as some useful tips and tricks. I've done waxing (at home and at the salon) with cold and hot wax as well as sugaring paste, tweezing, tried home IPL laser removal, epilators (gosh, no!), of course used our old friend – razor and depilatory cream. Finding the right method can be a tough job, since it depends on a variety of factors: the amount of time you have, your skin type and sensitivity, the body part you want to remove your hair from, your level of pain tolerance, while money is a factor as well. The latter is not a problem, if you're opting for the (re)new(ed) Afrodita Cosmetic range. For those of you who are wondering, Afrodita Cosmetics is a Slovenian skincare brand, known for superb quality and (mostly) affordable prices. I've been putting to the test their depilation range for the past two months and decided to share with you my thoughts on their products and some tips that might come in handy to you.
Shaving
Using a razor is probably the most widespread option out there. It works on every body part and it's the easiest option if you're lacking time. However, for the hair to grow back and start noticing it might take from only 1 to 3 days, so the most important thing is to find a good razor (men's are usually best, at least in my opinion), as well as a great shaving gel / product. Here is where Afrodita Cosmetics has the product that you're going to love: Afrodita Shave & Shower gel is a hybrid between a shaving product and shower gel. It's easy to use and it will help you get the closest, smoothest and least irritated cut as well as save some time (you won't need to use the regular shaving cream, gel or foam).
Useful tips: shave in the direction the hair grows, replace your razor often, wet your skin and apply Afrodita Shave & Shower gel to get the best shave.
Waxing
Waxing at home can be a difficult task. Unless you have high pain tolerance, I wouldn't recommend you go for this method of hair removing anywhere else than on your legs and maybe hands (if you remove your hair there anyway, I don't). Waxing the bikini area can be quite a challenge, while the result is a spot-hairless skin for up to 4-5 weeks. Afrodita offers two versions of cold wax strips for the body – Supreme and Sensitive. Supreme is suitable for those with dryer skin type, since it contains nourishing argan oil and vitamin E, while the Sensitive version with camomile and calendula extract is the best option for all who's skin is more sensitive. My winner is the Supreme version, it works amazing for my skin – with minimal redness, no bumps or infections. I tried it once on my bikini area as well, it worked great, however I am not sure I will go down this road again (it's not the most pleasant experience out there, if I may say). Afrodita Extra Sensitive hair removal cold wax strips are the additional product, designed specifically for the delicate areas, such as face, armpits and bikini area. My mum and mother-in-law use them for their face, they both swear by them from the first usage.
Useful tips: hair needs to be at least few millimetres long for the wax to grab it, make sure your skin is completely clean and dry before waxing, use a calming product afterwards (Afrodita After Depilation gel 3 in 1 is my recommendation).
Hair removal creams
Hair removal cream is a chemical-based product, which after being spread on the skin for a few minutes dissolves the hair. After washing it off, your hair is removed leaving your skin super soft without any pain. Regarding the time it takes the hair to grow back, it's definitely not as efficient as waxing, but way better than shaving. I've tried many in the past, some of them irritated my skin, however the newest Afrodita acquisitions don't. Afrodita offers three different versions, each turned out to be equally efficient in removing hair, at least for me. Supreme hair removal cream has a nourishing formula, containing argan oil and is suitable for dry skin (and therefore being my favourite out of the bunch). Hydra version with aloe vera is moisturising and works well for normal skin, while the Sensitive one has a calming effect containing chamomile. They are all affordable (5,50€ each) and last definitely more than 5 usages (applying them on the lower parts of the legs). Hair removal creams are easy to use and definitely a better alternative to waxing if you're a beginner (or not having the highest tolerance for pain). If you fancy one for your face, Afrodita has the Extra Sensitive version in their lineup, which is best for delicate areas such as face and bikini. I've never tried it on my face (since I don't need one there), however this is in fact the only hair removal cream I've ever put on my bikini area. It surprisingly didn't irritated my skin, while it left a silky smooth hairless final result.
Useful tips: make sure you spread hair removal cream equally, keep it working for 3 to 10 minutes (not more!), rinse off thoroughly with water afterwards.
After
Applying a post-shave treatment is a must especially after waxing. Afrodita After Depilation gel 3 in 1 has the calming and antibacterial effect, reduces the appearance of unwanted red spots and helps prevent ingrown hair. It is also proven to slow down hair growth, which sounds promising, right? I've been using it after cold-waxing and I must say it truly makes my skin more calm and less irritated. As far as slowing down hair growth, I am not completely sure, but anyway, it is a must step for me.
photo: Katarina Veselič