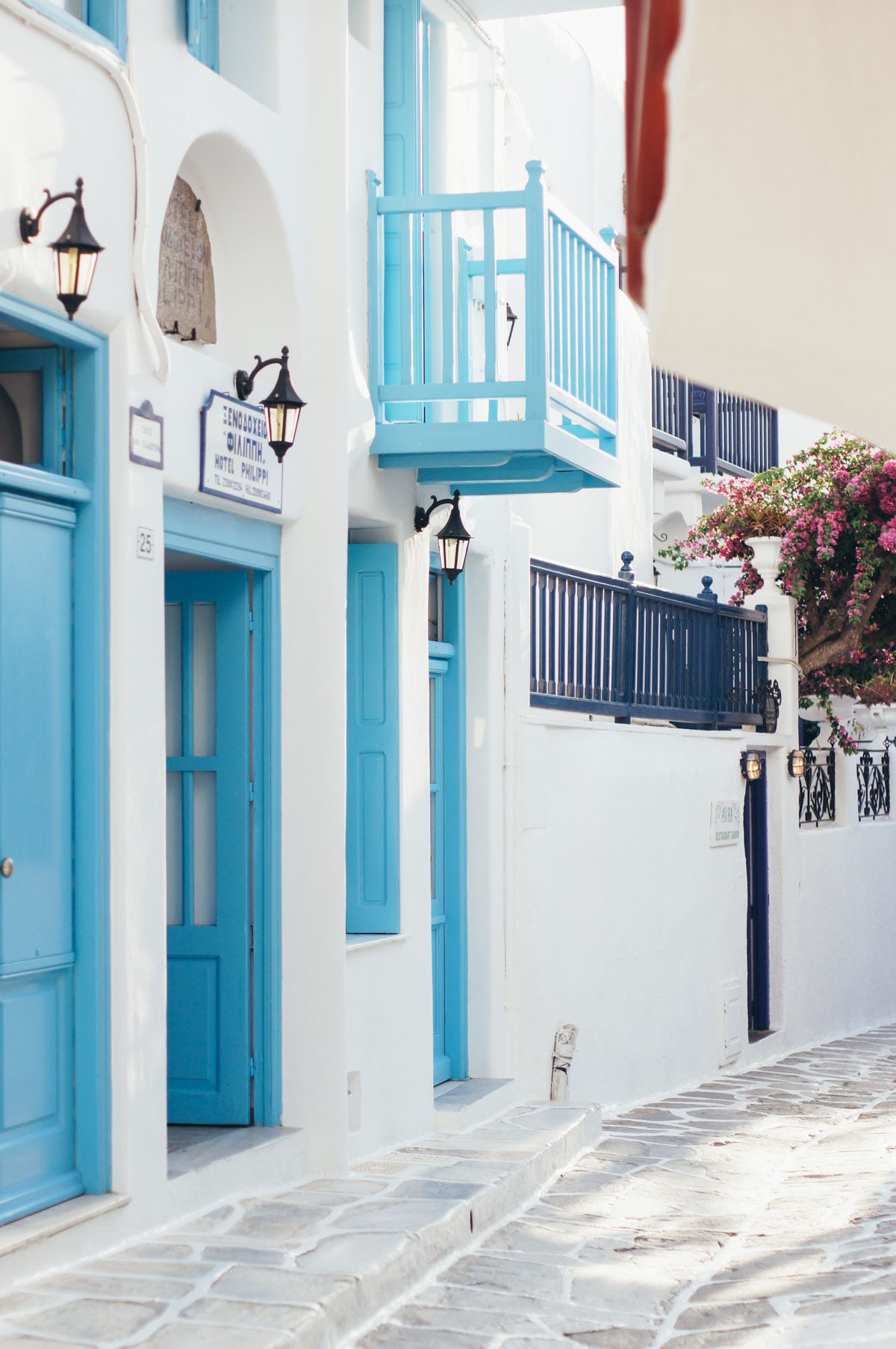 All you need to know about planning your trip to Mykonos… in a Mykonos Travel Guide!
Mykonos is one of the most stunning cosmopolitan tourist destinations in the Greek islands. It's a part of the Cyclades, located in the middle of the Aegean Sea. According to mythology it was formed from the petrified giants killed by Hercules and is named after the grandson of Apollo. Mykonos is well-known for beautiful beaches, luxurious resorts, active and crazy nightlife. It's the perfect place to try delicious Greek food, enjoy the beach-life, explore the history and tradition as well as watch amazing sunsets. I've done it all with my friend Aida and today I am sharing with you the Mykonos Travel Guide in order to help you start planning your first (or second) trip to this beautiful Greek island.
Location: Mykonos, Cyclades, Greece, Europe

Area: 105.183 km²

Language: Greek, English is widely spoken

Time zone: UTC + 3 (27th March to 30th October) / UTC + 2 (30th October to 27th March)

Currency: Euro (€)

When to visit
Mykonos has hot dry summers and mild winters. It's windy all year long. High season is between July and August, however weather is superb in June as well. To escape the crowds visit Mykonos in spring or autumn. We headed there right after our exam period, in the end of June.
How to get there
We took a flight from Venice, Italy, flying with Volotea to Mykonos and back with EasyJet. The flight took about 2 and a half hours both ways. A return ticket can cost you as little as 70-100€, depending on how flexible you are with the dates and airport location (we also booked a GoOpti transfer from Ljubljana to Venice , which was about 45€ both ways). You can also opt for a ferry or boat from Athens or one of the nearest islands, like Santorini.
Getting around
Aida and I rented a car via the place we stayed at for the duration of our stay, because we wanted to explore the island to the fullest. For daily trips around the island I would definitely recommend you do the same (or at least rent a scooter). However, there's also a bus transfer available, but I am not sure how reliable and frequent it is, but for sure it doesn't give you as much freedom as having your own means of transport. You can always call a taxi as well, but as far as I know, prices aren't that affordable.
Where to stay
We stayed at the Sofia's Bungalows Mykonos, which is a set of spacious high-end villas located in the Agios Ioannis area, the westernmost part of Mykonos. They offer a stunning sea view, are less then 10 min drive to the Mykonos Airport and 5 min drive to Mykonos town. It was a great choice; it offered access to all the important Mykonos points as well as private and peaceful relaxation. Keep in mind, prices of accommodation in Mykonos can be rather steep (compared to the rest of Greece), especially in high season.
Eat & drink
Local Aeagen specialties will water your month for sure. You can find many restaurants in the bigger cities in Mykonos, everything from high-end to local taverns. You should definitely try some of their cheeses, the local mezes / appetizers, almond and honey based pastries, grab a gyro and go for a cocktail at one of many night clubs or restaurants. One of the small culinary gems of Mykonos is definitely Kiki's tavern, located right next to Agios Sostis beach. Once a hidden gem, now became a hip place, where reservations are not available, customers sit and wait for hours to get a table. While waiting they will serve you free wine and you can have a chat with the owner. After 45 minutes of sitting on a bench watching the bay, we enjoyed some delicious food from the grill (I recommend the sea bass). Prices were reasonable, besides a long wait, I can't complain.
Mykonos beach recommendations
You should definitely explore at least a few Mykonos beaches. I did a full Mykonos beach guide a while ago, I suggest you check it out.
What to do in Mykonos
Besides dipping yourself in the sea and sunbathing, partying all day, all night, you should definitely take a walk through Little Venice and Hora (Mykonos) town, see the windmills, visit the remarkable Armenistis Lighthouse, church of Panagia Paraportiani, the Town hall, some of many museums and the castle situated above the harbour. You might even come across the famous pelicans when wondering around Mykonos streets. Mykonos is also a great place to windsurf and scuba dive.