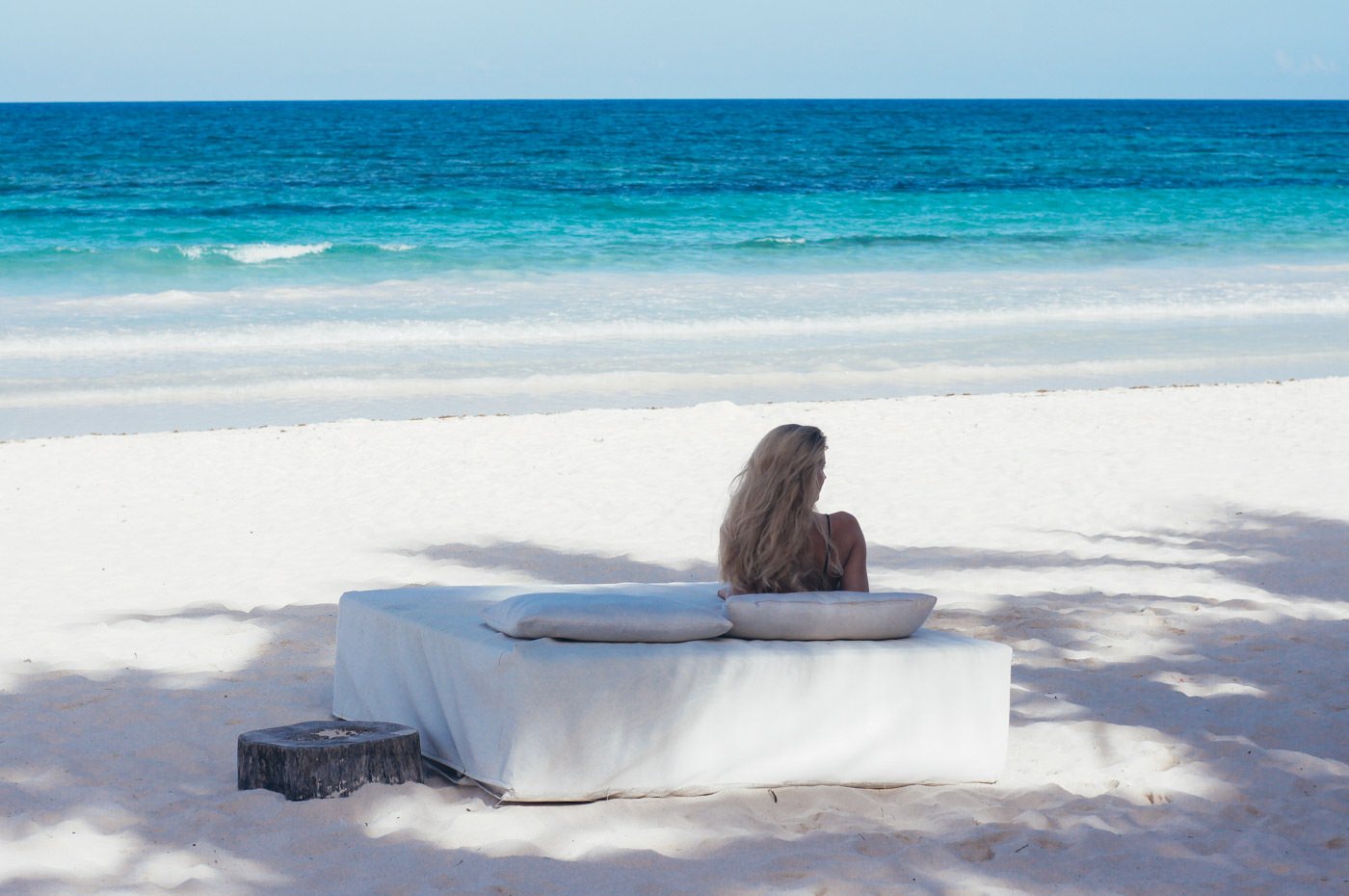 On the eastern part of the Yucatan Peninsula on the Riviera Maya, there is a place called Paradise. Wait, did I say Paradise? I meant Tulum. There's no surprise this place was once worshiped by Mayan Kings, it's definitely one of the most heavenly places on Earth. Beautiful scenery, bohemian vibe, miles of white sandy beaches and palms, eco hotels with stunning ocean-front views, all in all, Tulum is magnificent. Straight from touristy Playa del Carmen, Tulum was waiting for us.
One step outside the room: sandy beaches, palm trees and turquoise water
We stayed at Luv Tulum in one of their 12 ocean-front rooms and cabanas. This family owned resort impressed us with an intimate atmosphere, stunning location (imagine my first walk from the reception in the lush jungle to our room on the pristine sandy beach; it left me speechless); Mayan-inspired décor and eco vibe. Believe it or not, one step outside our Ocean Front King room opened miles of powdery white beaches, we had our own terrace, a private place to chill underneath the palm trees and glance at the infinite crystal turquoise Caribbean water.
Filled with bohemian vibe and the eco-chic mentality
All the places along Tulum beach have limited electricity supplied by generators (which means no hairdryers and no air conditioning!), and it's the minimal use of lighting that allows you to observe the crystal clear night sky full of stars. Night is also the time when turtles come to nest on the shore, we weren't lucky enough to spot any in our 3 nights stay at Luv Tulum. But the bohemian vibe and the allure of white sandy beaches stretching for miles made us cancel our plans to visit Cancun at the end of our trip and rather return back to Tulum, but more on that in one of my next posts (we were also more lucky with the turtles, saw two little ones as well as the "mama grande"). Who could say "no" to wearing no shoes for days, drinking fresh coconuts (which just fall of the palm tree you lie under), laid-back vibe and turquoise Caribbean waters?