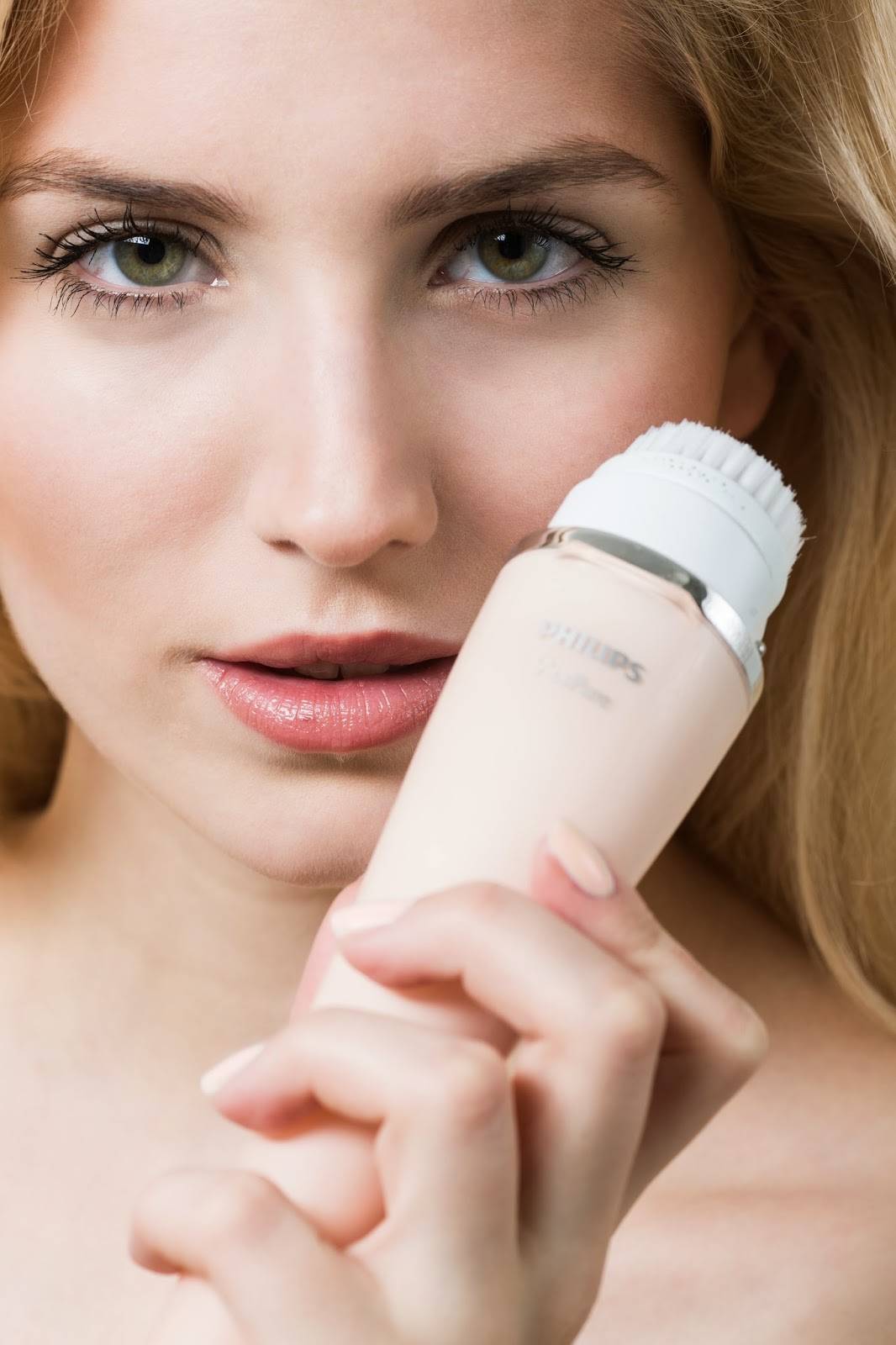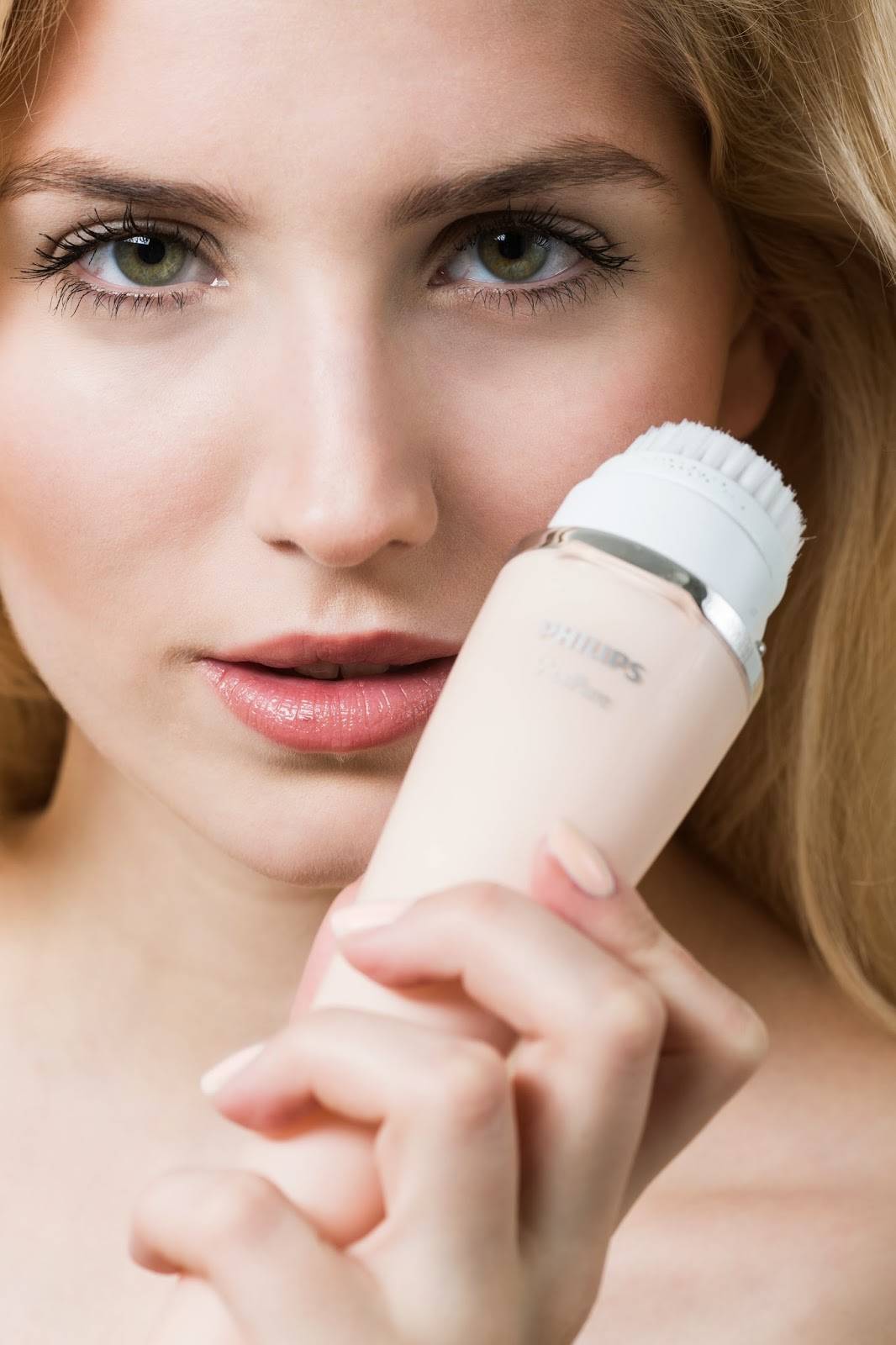 Looking for a deep gentle cleansing product to reveal soft and radiant skin? Philips VisaPure brings a new face care technology that will take your daily cleansing routine to the next level with no extra effort. A gentle way of leaving your skin clean, soft and radiant. Do you want to read about my experience?
What they say at Philips?
Philips VisaPure is a facial cleansing vibrating and rotating brush that is 10 times more effective than hand-cleansing, although it is as gentle as your hands. It leaves your skin feeling soft and smooth and therefore easily integrates into your current routine. The brush rotates and vibrates. The vertical pulsating movement gently breaks up surface impurities including dirt, dead skin cells and make-up residues. The rotating movement sweeps the impurities away, leaving the skin deeply cleansed. The co-ordinated movements of the bristles give you a thorough and comfortable cleansing experience. Philips VisaPure provides 2 different speed settings: speed one, »gentle cleansing«, for a mild and soft cleansing. Speed two, »deep cleansing«, for a comfortable and more intensive cleanse. Philips advises you to divide your face into three zones: T-zone, left cheek and right cheek. You should change areas after 20 seconds to leave a short pause. The full program lasts 1 minute, after which Philips VisaPure automatically switches off to prevent overtreatment. It is waterproof and can be easily used in the shower (max. 40⁰C). You get tw brushes when you purchase the device – one for normal skin and one specifically designed for sensitive skins. An exfoliating brush head is available separately, with exfoliating effects to gently remove dull and dead skin cells. The stand elegantly complements the iconic design of the Philips VisaPure. It holds the brush, taking less space and letting air dry the used brush naturally. When connected, it fully charges the Philips VisaPure in 6 hours. When fully charged, it has enough power for 30 cordless uses, equivalent to 15 days when used twice a day. You can take it with you when you are travelling, as you get the travel bag in the package. This elegantly shaped compact device is perfect for modern woman's needs.
What do I say?
Electrical facial brushes are the talk of the beauty world. You can find a lot of sceptics and a lot of those who can't imagine a face cleaning routine without it. My personal opinion is that a judge can only be someone who tried it. I must admit I was a bit scared before using it for the first time, because I didn't know what to expect (I haven't used a similar product before). I followed the instructions, moistened the brush head with water and applied the cleanser to my face (I recommend the Shiseido Ibuki Gentle Cleanser, Vichy Normaderm Purifing Cleansing Gel or Delarom Face Cleansing Gel with jojoba pearls) and follow the 3 skin zone advise. You can also apply the liquid cleanser directly on to the brush head, but I prefer the other way. I was totally impressed after my first use and since then haven't stopped using it. I use it in the morning and night – speed one for gentle cleansing and speed two when I want it more intense. Once a week I go for the exfoliating brush head as well. I've used the brush for sensitive skin three times – just to test it and tell you the results and I can definitely say it works great, does the cleansing job really well in a gentle manner. However, I'm currently using a brush head for normal skin. It is recommended to change the brush head every three months. The sceptics are usually concerned about the hygiene. I must admit I was a bit worried if I'll be able to clean the brush properly. I soon realized my worries were unnecessary. The brush can easily be cleaned and it dries really fast (I always wipe it with a towel and leave it to dry). The brush is made of synthetic fibres that dry really fast. I can say that the brush looks and feels clean enough. However, the results are really amazing and I don't doubt the efficiency of the VisaPure system at all. The best results are visible where the blackheads appear. They are minimised and my skin looks better than ever before. The feeling after use is amazing, my skin feels totally clean, soft and looks healthy. The only disadvantage of the VisaPure brush is its charging stand. It does look elegant and the shape is as it should be, but I just think it should be made out of harder plastic, because it doesn't provide sufficient support. If you are a bit clumsy or just in a hurry, it might lead to some unwanted events – like the VisaPure landing on the floor. The price (149,99 EUR) is a bit high, but you should consider all the factors – how long it will last (probably a really long time + you have a 2 year warranty), what will you profit (proper skin care is a great investment in your skin), quality etc. Philips VisaPure is a perfect product for improving your skin's appearance by cleaning it optimally, increasing the circulation and massaging it (you can even do it with an oil or serum). I am totally addicted to this product, and I believe you will find it as amazing as I do as well.
price: 150€
photo: Domen Blenkuš