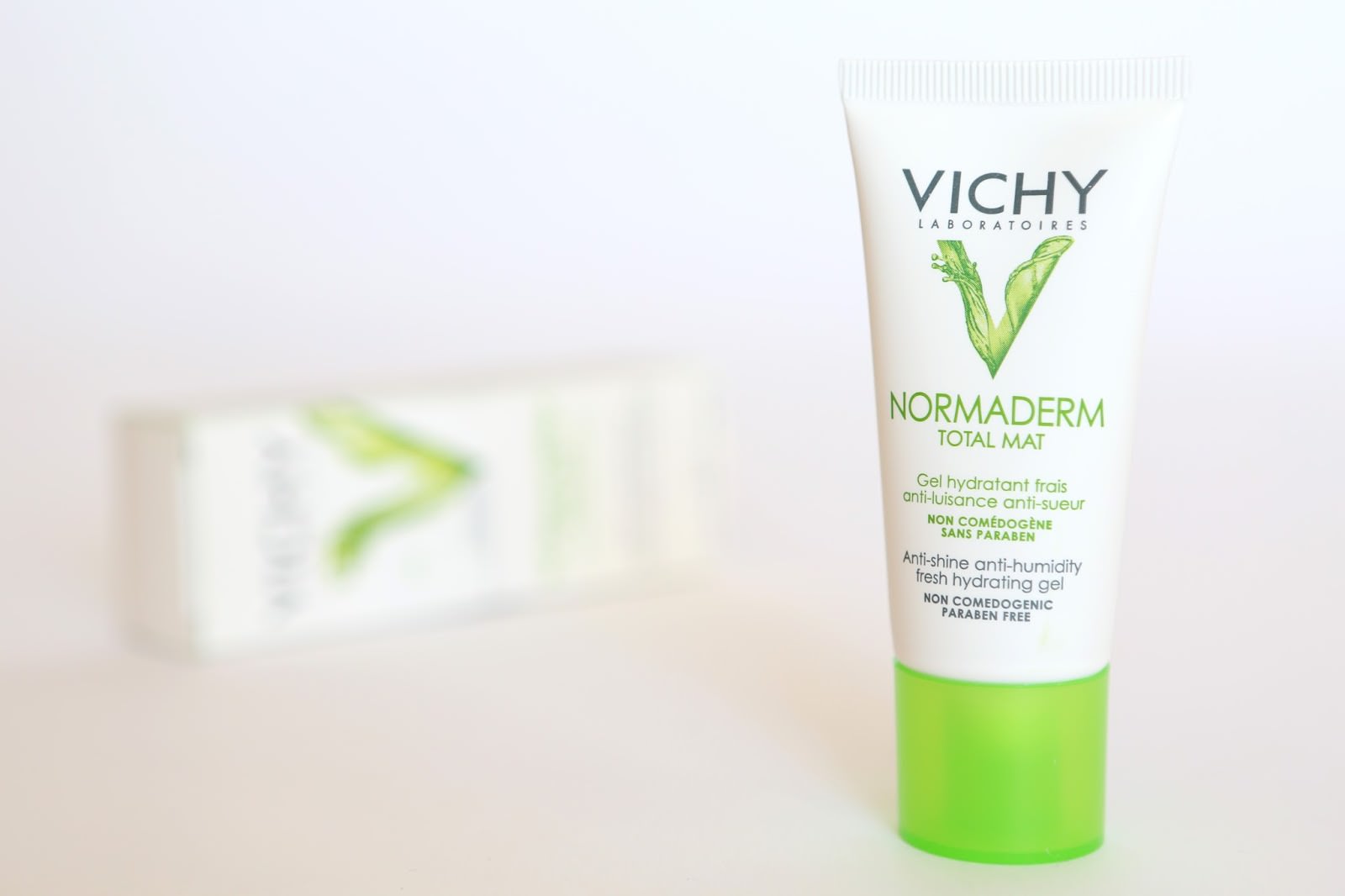 Vichy's Normaderm line provides complete care for imperfection-prone skin. Their complete range combats the 6 signs of imperfection and acne-prone adult skin: blemishes, pores, shine, oily skin, marks and uneven complextion. In the past I tested their Normaderm Hyaluspot, which works great (read the review by clicking here). It's time for the Normaderm Total Mat gel, which is an amazing product to go for if you want to achieve matt look of your skin.
What they say at Vichy?
Normaderm Total Mat is a fresh hydrating gel with "biotting" effect micro-powders. It neutralises all causes of shine, even sweat. The formula is enriched with Perlite, Polytrap and targets sebum, sweat and shine. You get the feeling of clean skin all day. Product efficiency has been confirmed under extreme conditions such as stress, heat, humidity and physical effort. The formula is suitable for all skin types, even sensitive skin. This hydrating gel with a dry touch and matt finish provides long lasting hydration. Apply in the morning on clean and dry skin. Can be reapplied during the day when necessary.
What do I say?
I use it once a day, in the morning (for night care I go for something more enriched). My skin is perfectly matted the whole day and it gives fresh complexion all day long. The formula is super light, non-sticky and rapidly absorbed. That's the main reason I love it so much. You don't need to have super oily skin to use this product. I have a normal type and it works great. It's great for T cone and the gap between the eyebrows and hair (I have a small gap and that's the part where the imperfections appear – mostly because I'm touching that part often during studying). The application of the foundation afterwards is easy, they blend together perfectly. I love it's performance during and after workout! The skin stays fresh and clean for a really long time. It doesn't dry your skin to the point of "tightening". To sum up, I'd like to say that Normaderm Total Mat is perfect product for those with normal, mixed or oily skin who want to achieve matt looking skin. It helps your make up stay as it was. I'm sure every sportman or sportwomen will love it!
Price: 14-15€ (30ml)
Ingrediants: Aqua, Dimethicone, Alcohol Denat., Glycerin, Propylene Glycol, Lauryl Methacrylate / Glycol Dimethacrylate Crosspolymer, Ammonium Polyacryldimethyltauramide, Perlite, Nylon-66, Peg-12 Dimethicone Crosspolymer, Salicylic Acid, Sodium Polyacrylate, Sodium Hydroxide, Phenoxyethanol, Poloxamer 184, Disodium Edta, Caprylyl Glycol, Biosaccharide Gum-1, Parfum (Paraben Free)